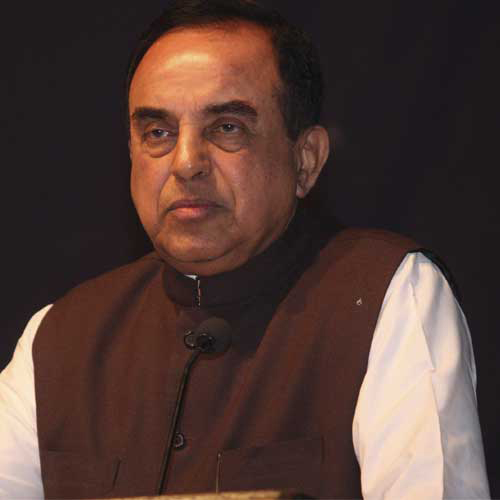 In 1939, Jawaharlal Nehru said, "In public life we must presume the bona fides of each other. I trust that all our criticisms will be based on policy and not on personalities." If one has followed Shyam Benegal's serial Sanvidhan on Rajya Sabha TV, one would understand what Nehru exactly meant. Representatives of various ideologies came under one umbrella and debated rigorously. However, not once did anyone cast aspersions on the opponent's character. Atal Bihari Vajpayee too, adhered to the words of Nehru. In 2002, he had criticised Narendra Modi for passing slanderous remarks about Sonia Gandhi's Italian origins.
However, John Quincy Adams, in the United States presidential election of 1828, had reportedly said his opponent Andrew Jackson was a cock-fighter and a cannibal with a prostitute for a wife.
Therefore, it would be safe to say Subramanian Swamy leans more towards Adams, and Nehru dies a new death every time Swamy opens his mouth. Commenting on Priyanka Gandhi's willingness to contest elections from Varanasi, he said she would have been thrashed if she had done so as she drinks too much alcohol and has a bad name.
There is no love lost between Swamy and the Gandhi family. He has constantly passed despicable comments regarding Sonia Gandhi's Italian origins. He had accused Rahul Gandhi of being a drug addict as well.
Swamy had also said lawyer and Rajya Sabha MP, Ram Jethmalani, had many girlfriends. His disgraceful remarks about Vajpayee being a drunkard and a womaniser are well known. He had written, "In Delhi, a Japanese minister had organised a party. I was shocked to see that Vajpayee, the external affairs minister, was drunk, fully intoxicated."
It is not just politics though, where the participants have crossed the line. In 1982, when England's Ian Botham came in to bat, Australia's Rodney Marsh asked him, "So, how is your wife and my kids?"
Some banter in a competitive world is expected, but not at the cost of dignity. Sunil Gavaskar once dropped himself down the order to number four instead of opening the innings against West Indies. It so happened that he walked in to bat with the score zero for two. When he walked in, Viv Richards went up to him and said, "Man, no matter the position you bat at, the score is still zero." Even today, Gavaskar fondly describes this anecdote during commentary and follows it up with a laugh.
In politics too, Vilasrao Deshmukh and Gopinath Munde shared an immense bond despite being political rivals. Manmohan Singh and Vajpayee share a courteous relationship as well.
How healthy the off-the-field-relationship is between rivals is a great indicator of the welfare of the game. And the current political scenario does not give encouraging signs. Narendra Modi's remark of '50-crore girlfriend', calling Rahul Gandhi 'Shehezada', the unbecoming language used by Manish Tewari while talking about Anna Hazare, Mani Shanker Aiyyar's classist remark on Modi... The list goes on and on. Even pepper spray has now been used in the parliament.
Renowned sociologist Andre Beteille had once said that the long-term effects of continuous discord and disorder within Parliament is an erosion of public trust in the institution itself, and chronic mistrust between the government and the opposition impairs the foundation of democracy.
Therefore, in the current political scenario, what we desperately need is an anti-thesis of Subramanian Swamy. He has been the epitome of the degradation of the political ethos and the amusing aspect is that not even once has the BJP deplored his cheap comments whenever his voice has polluted the air.
One has to be completely out of his senses to take Swamy seriously. It is no wonder he was kicked out of Harvard. Someone said on Twitter that the only reason Swamy exits is so that we can convince people one can end up being a pathetic joke even if one has been to Harvard.
He seldom chastises rivals' policies and focuses on passing malicious remarks, which have no political ramifications. Then why does the BJP not distance itself from him? Apart from making personal remarks, he has said many things that expose the garb of the BJP's inclusive politics. He had asserted that being gay is a 'mental disorder'. He recently tweeted, 'Remember that Babri Masjid was built by two foreign citizens Babar and Baqi. Foreigners have no right to property except due process.' One does not need to be reminded of his profound hate towards the Muslim community either.
If at all the Modi-led NDA come to power come May, it will be intriguing to see if Swamy finds a place in Modi's cabinet. If he does, the message is loud and clear.