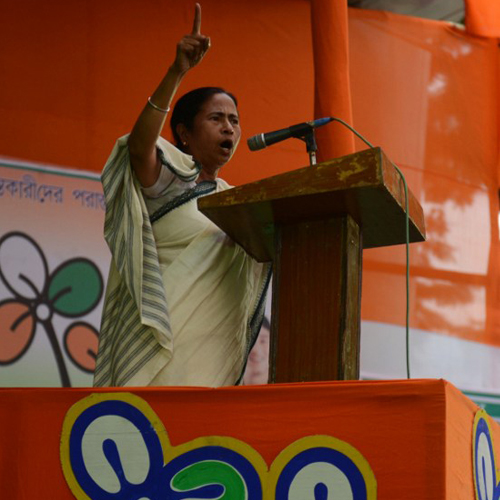 Courting controversy or flaunting the "dekhiye debo" ('I will see you') attitude is not something new to West Bengal Chief Minister Mamata Banerjee. Earlier, it was the ruling Communist Party of India (Marxist) (CPI (M)) and its leaders, and this election season everything except her own party she considers the opposition.
So when the Election Commission (EC) recently put its foot down after Bengal's administrative machinery failed to earn the trust of the people to ensure fair elections in the state, and decided to transfer six senior officials directly from Delhi without consulting Mamata, she said, "It is a conspiracy by a media house, central government, Congress, EC, BJP and CPI (M). I will fight alone and I don't care for your conspiracy. I only care for the people." All the parties mentioned above are bracketed in the same category: the opposition.
Though the media hype is around BJP prime ministerial candidate Narendra Modi in the ongoing Lok Sabha elections, it misses the larger picture around regional parties like the Trinamool Congress (TMC), who aspire to expand their influence beyond their state. And this aspiration has arisen from Mamata's dream of being the third largest party in the Lok Sabha after May 16. It has become an existential question for her, given her failed attempt to enter the national picture after Anna Hazare backed out of the TMC's Delhi rally. However, there is no denying that her party has deftly penetrated the north-eastern states and neighbouring Jharkhand in these elections.
So, how should we read Mamata's blatant, continuous defiance of the Election Commission, ever since the last panchayat elections when she was at loggerheads with State Election Commissioner Meera Pandey on the deployment of central paramilitary forces? Many analysts agree that the prospect of a four-cornered Lok Sabha contest when she is going alone has made her fidgety to some extent. The prospects of the BJP gaining ground in Bengal have also worried her, given it may supposedly cut into her middle class votes and benefit the Left Front.
However, there is a different angle to this story as well. The rise of Mamata in West Bengal politics is an interesting phenomenon. At a time when the Jyoti Basu-led Left Front dominated the political landscape of Bengal for decades, she broke away from the Congress and formed the All India Trinamool Congress (AITMC) in 1998, and after 13 years quite singlehandedly unseated the left government. In many people's imagination, her story still stands as another David versus Goliath battle, where a simple saree-clad chappal-wearing woman challenged the entrenched power of a cadre-based party like the CPI (M). She knows this is her biggest USP among the voters even today.
So, when Mamata dared the Election Commission to arrest her for refusing to carry out its orders on transferring her trusted officials, she sent out the message of another possible iconic battle to the people. It may look irrational on the face of it, but people are reminded of the same lady who fought an upfront battle with political heavyweights like Jyoti Basu who could not tame her fighting spirit. The more opposition Mamata builds up, the more are her chances of consolidating her support base, which can swing the elections for her party.
But whether this trick will work for now or even later can be debated. With her unflinching support to party chief of Birbhum district Anubrata Mandal and Labhpur MLA Monirul Islam, both accused in murder cases and under fire after the intervention of the Kolkata High Court, a sense of disillusionment can be seen among many people. Her threats of revenge and the subsequent attack on EC officials by TMC workers in Malda have not gone down well with many urban voters as well. Questions are being raised, asking why, in an age when there is nationwide awareness on the criminalisation of politics, is Mamata hell-bent on protecting and encouraging dubious characters in her party?
People knew Mamata as another name of protest in West Bengal. It was she who organised the massive protest in front of the Writers' Building on July 21, 1993, as State Youth Congress leader to demand photo identity cards be made compulsory to ensure fair elections. Police firing at this rally led to the loss of 13 lives. It was she who praised the role of the Election Commission after her party turned the tables and won the Lok Sabha and Assembly elections in 2009 and 2011. So, what is the rationale behind her attack on the Election Commission today? It definitely doesn't bode well for Bengal's polity and Indian democracy if a mass leader of her stature starts treating the Election Commission as her opposition.