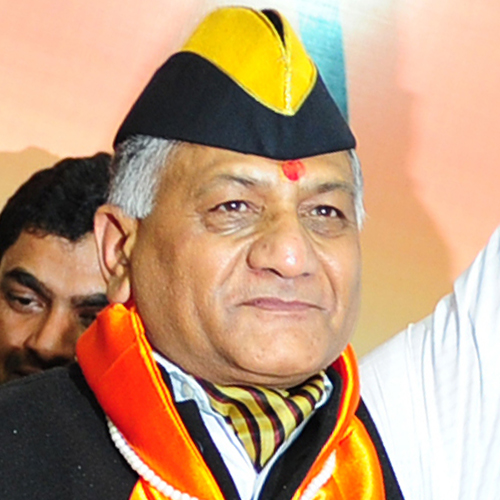 Former Army Chief and now BJP candidate from Ghaziabad, General VK Singh, is no stranger to controversies. After wading through the long list of questions which were raised by both, the judiciary and media alike, Singh is back in the news, this time criticising the outgoing UPA government's decision to appoint Admiral RK Dhowan as the new Navy Chief, and continuing the process of appointing Lt Gen Dalbir Singh Suhag as the new Chief of Army.
In a recent article in The Sunday Guardian titled 'VK Singh makes final bid to derail army succession', journalist Vishal Thapar highlighted instances that showcase Singh as a person who managed to bring vengeful politics and communal opportunism within the top ranks of the Indian Army. Thapar portrays Singh as an uncharacteristic soldier, who looked to benefit familial ties within the army and went to what seem like great lengths to make his agendas successful. These lengths include the audacious report of an army troop movement near Delhi which "spooked" the government.
After his retirement from the army, these very traits of General Singh were seen in the political sphere as he tried to make space for himself. First, he tried to make his space in the early parts of whatever it was that was brewing between Anna Hazare and Mamata Banerjee's Trinamool Congress (TMC). In fact, General Singh even approached experts for help in order to create a proper strategy route-map for what he was hoping was going to be a new political front. However, as the Hazare-Banerjee ship sank, Gen Singh managed to make his way into the BJP instead.
For the BJP, inducting Gen Singh was not a tough decision in view of their ticket distribution policy, which is based on a 'whichever candidate can win' point of view. Plus, the General's Rajput background was ideal for the Ghaziabad seat, which was vacated by another BJP veteran who is a Rajput, and whose name is also now cropping up for the post of India's next defence minister. Though doubts remain whether Gen Singh will actually win in Ghaziabad, a seat where the BSP is also expected to make an impact this time, the hope that his army background will attract votes has been seen as a clever move. Irrespective of his troublesome background in the ranks, electorally in a place like Ghaziabad, all such matters that made news in New Delhi would not have had a big impact at the polling booths.
However, opinions suggesting that Gen Singh will be awarded with a plush post if Narendra Modi was to become the prime minister, such as defence as some passing remarks suggest, are far-fetched and devoid of logic. The reasons behind this are many, including the institutional practices of the BJP as a party itself.
Gen Singh is a new entrant into the party, and this will drop his chances of being picked up for any major assignment in a new BJP-led government ahead of the party's career politicians. Second, Narendra Modi, in his defence and foreign affairs bend, will look to have a bold and scientific policy, which is traditionally expected of a BJP-led government. Gen Singh's hawkish personality will not be seen as an ideal fit. Third, his skewed service record and the general unease that his name creates within the bureaucracy, specifically in the Ministry of Defence and the Indian Army, will work heavily against him. Lastly, culturally speaking, major posts in a BJP government are given to well-tested candidates who also have the blessings of the RSS.
Gen Singh is technically perfectly cut out for a life in politics. However, the fact that he first showcased these traits in a sacrosanct institution such as the Indian Army has created big stumbling blocks for him for a successful and far-reaching political career, at least in the immediate future.
The BJP will hope for his win in Ghaziabad and that is the region where Gen Singh will be contained in as far as party work is concerned, although his expertise will come in use for the government in areas such as parliamentary committees and so on. If Narendra Modi does become the next occupant of 7 Race Course Road, he will be coming into power bearing the weight of huge expectations on his shoulders. The margin of error for Modi will be next to nil, and to protect himself, he will build his decision-making circle with faces he trusts without question. People, in the opposing political parties, the public and certain colleagues of his within the BJP, will be waiting for one misstep to seize an opportunity for themselves, and Modi will be made to work hard to avoid giving away any such opportunities.
Kabir Taneja, 28, is a Delhi-based journalist and scholar at The Takshashila Institution. He tweets at @KabirTaneja.