A day after Barmer went to poll, Rishi Majumder looks at the politics of ageism in India through BJP rebel and senior politician Jaswant Singh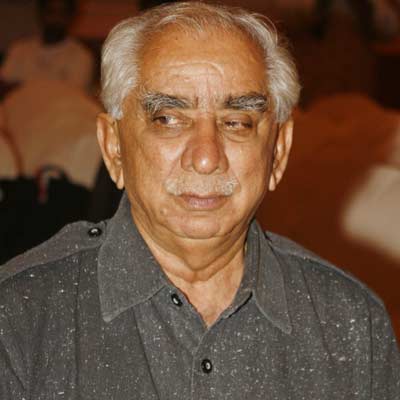 Jaswant Singh went to the polls on Thursday, and no, I don't know if he will win. I do know this. Despite what many reporters, commentators and psephologists tell you. Those who vote for him will not do so just because he's a Rajput.
On the evening of April 15, at Siwana, a small town in his constituency of Barmer, 73 year old Singh was on a stage holding his last campaign meeting before the elections. Dressed in pure white—a kurta shirt and pants—he seemed to be speaking to himself. It took me a while to realize he was probably going over his speech before he took the dais. As he got up to speak, his hands seemed to tremble, slightly. He had been up since 3:30 am in the morning. Yet, in the middle of a tent packed to the point of bursting with people cheering at every punchline the speakers before him delivered in his honour, Singh was the epitome of calm. His back erect, his head bowed, his gaze fixed firmly on the floor.
When he finally took the stage he delivered a speech in Marwari, his voice steady and strong. His appeal for votes was direct and dignified, except for the odd subtly incisive turn of phrase one has come to expect from Singh. The crowd seemed to love it.
On March 23, just over three weeks ago, Singh broke down on national television. The 9th term MP, who had been holding a Darjeeling seat, had wanted to contest from his home constituency of Barmer but was unexpectedly denied a ticket by the party he had been a part of since its inception.
It is not nice to see an old man cry on camera. Any old man. This feeling of discomfiture is compounded if the old man has a long and honest innings of work behind him. Something Singh has.
Former Minister of External Affairs, Finance and Defence during the NDA rule from 1998 to 2004, Singh is referred to as being part of old guard of the BJP, a troika comprising him, Lal Krishna Advani and Atal Behari Vajpayee. Feathers in Singh's cap include, launching the first Free Trade Agreement in South Asia (with Sri Lanka), navigating tricky diplomatic waters with the US after nuclear tests in 1998 and helping steer the country into the new millennium of Indian liberalization.
Of course there can be many criticisms for his ministerial tenures. There always are. But that doesn't take away from the fact that the man has done work that has helped shape this nation. Senior officers I have spoken to, who have served under Singh as Minister, have commended him, above all, for his honesty and uprightness.
There is a difference between age and seniority. The candidate the BJP chose to give the ticket to instead of Singh, Sonaram Choudhary, who defected from the Congress to join the BJP less than a week before his nomination, is nearly his equal in age. But he has a lot to catch up on in terms of seniority.
On March 23, in the same TV interview in which Singh broke down, he had said, "My honour cannot be subject to trading", and "I said to them, I've come back. If I don't come back home, where will I go?" For those of us who were moved that day, it could have been our parents and grandparents on screen, or someone we respect from another era. This someone had been slighted.
It was being made to look like he was irrelevant. But whispers abound that there was more to the decision than that. That those responsible for this slight were more concerned about his relevance than his irrelevance and what that might do to their chances of holding posts in a new government at the centre.
Singh, by deciding to contest Barmer independently, is addressing that humiliation. Those who vote for him will be addressing their discomfiture.
One day after the polls, it is difficult to say who has voted for him. Voting in the area is seen to happen primarily along caste lines. The constituency is divided into Jats, Rajputs, Bishnois, Muslims, Scheduled Castes and Scheduled Tribes. As per the complex caste equations, there are equally good reasons for Singh, BJP candidate Choudhary or sitting Congress candidate Harish Choudhary to win. Let's not get into that.
Let's, instead, return to that crammed tent in Siwana. The crowd cheering Singh was made up of shop owners, businessmen, college students and unemployed youth… there was even a bearded Shiv Sena member, wearing a shocking red shirt and trousers, who claims to have been "chief villain in every prominent Rajasthani movie of late". It's a stretch to believe that all the Rajputs among this motley crowd saw themselves in the decidedly urban, dignified ex-minister on stage. What they did see was a past generation that commanded respect.
Singh's slight came at around the same time reports of two other snubs within the party emerged. On Advani, father figure of the BJP, being forced to contest from Gandhinagar in Gujarat though he had expressly asked for a ticket from Bhopal in Madhya Pradesh; and on senior leader Murli Manohar Joshi being denied his Varanasi ticket.
Both these leaders seem to have made peace with the treatment meted out to them. Singh, no stranger to adversity (he was earlier expelled from the party in 2009 for his stand on Mohammed Ali Jinnah), has not. He is quietly, assertively fighting back. That was why the crowd roared.
Let us pause for a moment now and examine the compelling new vote-bank that every party seems to be vying for. The youth. Like the Muslims, the Dalits and the umpteen religions and sub-religions, castes and sub-castes that are supposed to vote together, crores of young, new or relatively new voters, encompassing a statistic that is believed to swing elections, are often seen to want the same things.
Surveys and reports suggest one of these things is the BJP's Prime Ministerial candidate Narendra Modi. That he is infinitely more attractive to India's youth than, for instance, the Congress election frontman Rahul Gandhi.
Bewildering though, for a youth icon, is the manner in which Modi has chosen to engage with Gandhi's criticism of him. Instead of debating them with facts and argument, he chooses every time to attack Gandhi on account of his youth. Modi uses this interchangeably with naïveté, dismissing Gandhi for being 'childish', because he used the words "toffee" and "balloon" as allegory in his speeches.
Part of the BJP supporter's campaign is a series of slickly produced YouTube parody videos that depict Rahul Gandhi and Youth Congress members as silly, stupid children.
This is the same party that has attempted to justify Singh's ouster as routine change of old guard with new— deciding on the behalf of the former when they are no longer needed. Whether or not that is the real reason Singh has been shunted out or whether this is merely the use of ageism as a front for another design, is another question altogether.
At a time when youth seems to be the buzzword nearly everywhere, those opposed to Singh may be excused, perhaps, for hoping that his unceremonious expulsion will not be questioned.
Also bewildering, is the fact that Modi, who rails against Gandhi for tearing up an ordinance and acting against his Prime Minister, has continued to stand by as his senior party members, those he calls his "mentors", are humiliated in line.
For Modi seems too willing to stand by. On April 12, Modi was in Barmer to campaign. He did not mention Singh. Instead, in his presence, other state leaders did the bashing. "I was denied a ticket but I did not leave the party. Instead, I worked for Manvendra (Singh) and helped him win by a huge margin," said former MLA Jalam Singh, to what purpose only he can tell. Lokendra Singh Kavi claimed he had lost a ticket in 1999 as Singh had lobbied for his son— a terribly forced analogy. Another leader reportedly accused Singh of abandoning his "mother". One supposes he was referring to the BJP.
There were other reactions too, some indirect, each telling:
RSS Chief Mohan Bhagwat: "Change is inevitable."
For everyone other than the RSS, one assumes.
Arun Jaitley: "The party will find an alternative way of using Jaswant Singh." A politician who is denied a ticket must accept the decision with a "smile" and take "no" for an answer.
Here's wishing Mr. Jaitley the best for his elections.
Raman Singh: "Jaswant's leaving the party is definitely a loss for us but the next generation will make up for it."
Yes. Because the BJP is so evidently full of leaders who have reams of experience in governance.
After his meeting Singh drove to his birthplace Jasol to give an interview (link: http://www.india.com/election-2014/lok-sabha-elections-2014-meet-your-candidate-jaswant-singh-independent-barmer-40203/). He was seated outside his one-room cottage. There was no other habitation in sight. We were surrounded by the silence of the desert. It was the night of a total lunar eclipse but at the time the moon was shining bright. A visibly tired Singh took a few minutes to settle in but once he did he was all there— lucid, honest and wonderfully insightful in his replies.
He was apologetic for having made the team wait, concerned that they may not be able to make it back in time for dinner. Concerned, not merely polite. This may seem like a routine nicety but, after having been on the campaign trail for a while and met quite a few politicians, I can tell you routine niceties have been rare.
It makes me think of what the oldest man on his campaign, his neighbor in Jasol (he wishes to remain unnamed), said to me about Singh: "He's a statesman, not a politician."
The youngest members on the team, Delhi professionals Himmat Singh and Abinash Chaudhary had said while waiting for Singh with us: "This campaign has been exhilarating." Himmat didn't know Singh would stand independently when he took a break from his job to join him. Now he's considering "doing this full time".
At a time when the whole country has been obsessing over the likely outcome of this election, I finally seem to have come upon a campaign that is defined by a journey more than its destination.
"The Hindi word for independent is 'nirdaliya'. I prefer to call it 'swatantra'. I feel free," says Singh towards the end.
For the leader who began his career as an independent candidate 47 years ago, this is his real homecoming.
It also makes me think of Gabriel Garcia Marquez, who passed away on the date on which Singh polled at the age of 87. Who said: "It is not true that people stop pursuing dreams because they grow old, they grow old because they stop pursuing dreams."