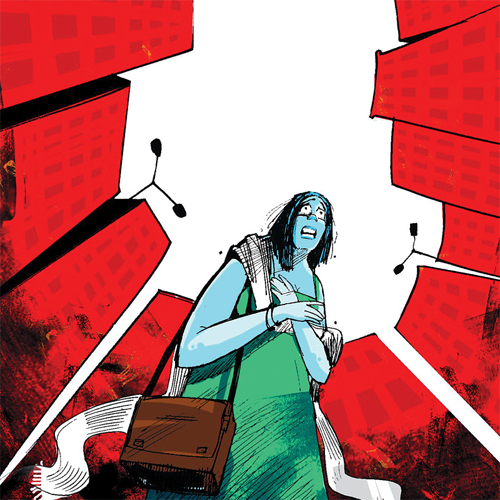 Locking in, or silencing, is the de facto solution for any issue that threatens the status quo of policy paralysis and socio-political indifference in our country.
No sooner do women complain of unsafe cities (and villages), they are expected to lock themselves in. One of the reasons why women have not been able to optimally realise their potential is their concern for safety.
According to the data provided by National Crime Records Bureau, crimes against women are on the rise and Indian cities are becoming increasingly unsafe for women.
As per an ICRW survey conducted in New Delhi in 2012, at least 95% women admitted to feeling unsafe in public due to perceived threat of sexual violence. In 2013, many outstation Delhi University aspirants shared with groups like Pehel that they were being discouraged by their families to study in Delhi.
Not just the students, even working women seem to be deliberating upon their exit options. Various surveys have indicated that working women see safety concerns as impacting their productivity and would prefer to work in a safer city.
The employers, on the other hand, are reluctant to recruit women because of their 'low productivity' and overhead costs involved in providing safe transportation etc. Clearly, the first step towards achieving gender equality must be an attempt to make the public spaces safer.
During this election season, close on the heels of an historical uprising for women rights, at least national parties were expected to give due weightage to women's safety concerns.
Sadly, it's the same old story of indifference at best and misogyny at worst. What, after all, stops the policy makers and society at large from making the cities safer for women and therefore harnessing their full potential? While much gets discussed about 'women rights' and idealism attached to it, barely a whimper is heard when it comes to practical interventions.
Announcement of the Nirbhaya fund was hailed as a step in the right direction for women empowerment and yet even after a year it remains unspent.
In contrast, the women's helpline in Delhi languishes for lack of funds thus flagging the lexis-praxis dichotomy of our governance. While the rhetoric around women rights emphasises their taking the legal course once wronged, public offices, police stations and courts are some of the most gender-biased spaces in India.
Why could the Nirbhaya fund not be utilized to make the lower courts more woman-friendly by at least constructing some toilets? Speaking of toilets, in India 20% of urban houses do not have toilets. One can estimate that around 20 million women are exposed to unsafe situations due to lack of a basic amenity such as a toilet in their own homes.
Jagori's safety audit of Delhi tried to determine the factors that make a place more woman-friendly. Appearing on this list, better lighting, accessible toilets, continuous footpaths, well-lit parking areas and better designed transport facilities clearly indicate that women's safety cannot merely be looked at as a social problem needing the much touted 'change in mind-sets' but as one that has practical and simple solutions which require monetary investments.
The keenness of companies like McDonalds and Airtel for partnering with MCD in 2010 to construct public toilets in Delhi is an encouraging example for similar initiatives aimed at making cities safer for women. That the project got shelved due to CWG scam is another story.
A Delhi based architect recently shared an innovative public-private partnership model for street lighting and electronic surveillance of public spaces during an international conference on safe cities. Hybridising two existing ideas- automatic photographing of traffic rules violators and bill payments through mobile phone – a toll on nuisance makers can be levied by creating a CCTV network in the city and linking the footage with social networking sites for identification of culprits through user data base. While the idea may seem outlandish, it holds promise for the cities' vigilance mechanism.
Another interesting idea shared by the architect was conceptualisation of a safety index for public spaces and corporate set ups. A Hindi television show based on reported crime has already set a similar idea in motion by soliciting the viewers to share information about crime-prone areas in their respective cities. The data will be collated to identify unsafe pockets in the city and the same will be shared with public to spread awareness. It is a step in the right direction since "the broken windows" theory propounded by the Chicago School of Sociology states that a part of the city where there are signs of violence is susceptible to even more violence.
Through identifying broken windows, a focused process of combating crime can then be set in motion. Safety index for workplaces will quantify gender neutrality of the space, adherence to Vishakha guidelines and other categories of safety and friendliness, which will then be used to rank businesses and organisations. All these entities will become compliant to the demands of the index which will set in motion a positive movement towards women's safety. When potential employees apply to a company, they will make an informed decision on the basis of this index.
The Justice Verma Committee report stated that the responsibility to fight crimes against women cannot be solely rested on police personnel as they still lack adequate training and SOPs to tackle such cases. Institutional education on gender issues must become a priority for public services. While similar training is required in educational institutions, unfortunately schools and colleges do not see gender mainstreaming and education as their responsibility and use 'change of mind-set required' as an alibi. These problems need to be identified as policy issues instead of treating them as abstract social issues. A nationwide gender sensitisation programme can even generate employment opportunities and utilize the expertise of people trained in disciplines like gender studies, sociology, law and political science. Gender consultancy may emerge as a lucrative profession.
Decades of women right movements across the world have demonstrated that theory and praxis must join hands in order to bring about a sustainable change. While gender inequality and violence related to it are often seen as a sociological malaise, they require tangible prescription in the form of investments at the levels of policy formulation and implementation. Exploring and implementing ideas to make this process participatory with adequate incentives will ensure that half a billion Indians, hitherto locked in, unleash their power and contribute in nation's growth.
Nishtha Gautam is an Associate Fellow at the Observer Research Foundation, where she focuses on gender issues. She also teaches English Literature in a Delhi University college. A committed equal rights activist, she expresses her concerns through articles, stories and poetry on her blog compulsivescribbles.blogspot.in. She can be reached at nishtha@orfonline.org and tweets at @tedhilakeer.