As Kerala goes to polls, here is Rishi Majumder's sweeping report on what has happened to the Left Democratic Front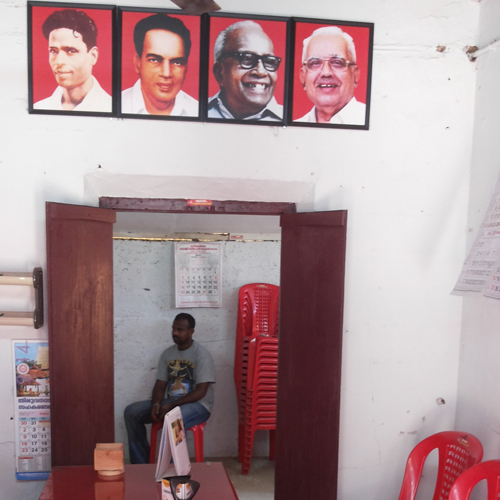 There is a deathly silence at the Communist Party of India (Marxist) (CPI (M)) headquarters at Thiruvananthapuram that makes you want to scream. Or pry. It is lunchtime and the mammoth five-storied structure, the nucleus of Left power in Kerala, is nearly empty. On the third floor, beyond a bold red hammer and sickle at its entrance, a dim corridor is lined on either side with locked doors – office cabins missing nameplates, each christened, instead, with tiny red digits: 40, 39, 38…
Red is the only colour you see. Alongside some of the doors are windows that offer a peek into boring offices with drab chairs, desks, shelves – and red curtains. On nails driven into the wall next to some doors hang keys attached to key chains with plastic red squares. Back at the entrance to the corridor, there is a square board with many hooks that hold more keys and more red squares.
It is hard to believe the Lok Sabha elections in Kerala are just days away. On the second floor of the building I find, at one end of a maze of vacant wooden cubicles, a man and woman working quietly on antiquated computer consoles.
Ground floor. A library. The librarian is seated with someone dressed so inconspicuously he is almost invisible – in faded white shirt and brown trousers. They are attempting a conversation, in monosyllabic whispers. Next to them are the complete works of EMS Namboodiripad – Left god, long dead – on a shelf. Next to these on the floor, against the wall, is placed delicately a large framed black and white photograph of another Left legend of the yesteryear: AK Gopalan. Next to him is an aquarium with goldfish, the most vibrant beings I have encountered at the office so far.
The first floor is connected to the main road via a slab of concrete, like a drawbridge to a fortress, stuck in time. The headquarters is at the corner of A Raghavan Road, a crossroad at which this monolith was built in 1979, 16 years after another crossroad –when the CPI (M) was formed as a breakaway from the Communist Party of India (CPI). The reasons cited for the split are innumerable, but if one were to sum things up simply, the former didn't want to ally with the Congress. Today, the breakaway is the leader of the Left Democratic Front (LDF), which, along with the CPI and the other parties, form an opposition to the United Democratic Front (UDF), that is led by the Congress. The two fronts straddle Kerala politics. The BJP hasn't been able to make a dent. Even with Narendra Modi's recent valiant efforts at rallies and meetings, BJP leaders have only grown so bold as to suggest that they may aim for a vote-share of 9%-11% in the national polls.
Back in the building. A golden-brown hued impressionistic portrait of Namboodiripad, the father of the CPI (M), smiles into the distance from above the reception desk. At the desk is a wiry man buried deep in the Deshabhimani (literally, national pride), the party mouthpiece. In a waiting area, around a TV showing regional news, are some boys lounging on plastic chairs. It is in such a setting that the building's 'office secretary', Sanjivan, appears, wearing a white mundu, a shirt and a veshti.
Sanjivan, who has been with the party for 24 of his 44 years, is a self-effacing man with a moustache and specks of grey hair. He abides by the silence that is the theme of this afternoon. "I cannot disclose how many rooms the headquarters has. That is not for public knowledge." Instead, when I continue to prod, he guides me to the Chintha Weekly office, across the road. 'Chintha' or ponderous thought. Subtle is the Left.
Chintha Weekly is a magazine that was founded after the CPI (M) split, because the new party's leaders needed a space to air their views which Deshabhimani had refused them back then. Since the two parties have reconciled it has become a place for unified intellectual Left commentary and essays in Malayalam (as opposed to more accessible reportage in the daily) and has been dubbed 'teacher' of the party.
The office of this magazine too, is mostly deserted. There are shelves and desks with a lot of paper, and no computers or laptops. CP Narayanan, CPI (M) Rajya Sabha MP and editor, a gentle man who is a clam arguer, is willing to talk.
Narayanan outlines the party's plans for catching up. He scoffs at questions about why the Left hasn't really gotten onto social media platforms like the BJP and the Congress. "The Left has always been in step with the latest technology when it comes to media," he says. "We were among the first to move from the 'flat-bed rotary' to 'circular rotary' in printing, with the Deshabhimani. And then from the 'rotary' to 'off-set'." But: "Truth is, only a small percentage of the electorate is online." Instead, the LDF's propaganda strategy for this election hinges on two more rudimentary ideas.
First, the family. "We have comprised over 20,000 'booth committees' – one for each booth. Each committee is holding three to five 'family gatherings' in the last two weeks before April 8, when campaigning has to stop." Each gathering will have 20 families and about 60 people in all. They will be intimate settings that will comprise not of speeches but of discussions on local, state-level and national issues. The idea is that if a party is able to convince a family to vote for its candidate (in this case 60 to 100 families per booth), then each family will act as a powerful influencer with regard to other families it knows.
Second, regional TV. "We have identified about 15 Malayalam TV channels," says Narayanan. "These channels have a high local viewership – especially among housewives." The LDF has appointed a set of speakers who will be present on debates on each of these channels, everyday.
Both these discourses will essentially revolve around price-rise, corruption (the 2013 Solar Panel Scam that has been traced all the way to the Congress CM Oommen Chandy's office) and the recommendations of the Kasturirangan Report on the Western Ghats which poses the classic environment versus livelihood conundrum for many.
What still remains, however, are the issues plaguing the Front itself.
Issue one: the outsiders
In and around Thiruvananthapuram, in posters on walls, on light posts, on hoardings at village festivals, everywhere, has sprung up the image of a near-bald, tall, dark man who is always grinning. In a way that is can hardly be coincidental, these images emerge, strategically, right next to similar posters and hoardings of Shashi Tharoor, the Congress candidate from the area.
Bennett Abraham matches his posters to a fault. He has a penchant for amicability. When you meet him for an interview he asks you to "take care of him" and grins. He listens to your questions while grinning and after each answer he grins. He has a positivity about him that's indefatigable. "He keeps grinning all the time," one of Tharoor's aides said, his voice a mix of exasperation and mirth. "He was grinning through a debate he had with Dr Tharoor and Mr O Rajagopal (the BJP candidate). And in the middle of this very serious debate he began waving to someone he knew in the audience."
Abraham is grinning and waving again, to no one in particular, from the top of his campaign vehicle. His hand rises, his lips spread, in tandem with the photographer next to him raising his camera.
Abraham is one of five new or independent candidates the Left has hosted this election. He has joined the CPI rather than stand as an independent with Left support. Poovachal Sudheer, a Poovachal Local Committee secretary with the CPI, had resigned at Abraham's candidature and said to journalists on March 14 that it "was impossible" for him to work in "a party which has lost all Communist values".
It is believed Abraham was nominated to secure the area's Christian Nadar vote.
"To see a party which is avowedly atheist, avowedly Marxist and so on, openly campaigning on the basis of caste and clan is certainly to my mind a negative step in Kerala politics," says Tharoor.
"It's not like we're nominating any Nadar," says Narayanan. "He's a medical doctor, a self made man. He was put in charge of a small dispensary and he worked and developed it into a hospital. He went to Christian Medical College, Vellore (a renowned institute)." He points to all the new candidates the Congress, the BJP and the AAP have inducted, at the time of elections, including Tharoor. "For purposes of legislation and government, the party needs specialists," he says, referring to Abraham's medical expertise.
The other new 'Left' candidates too have been strategically chosen, so as to be able to identify with a communities whose members exist in great numbers in their respective constituencies. There are two ex-congressmen: V Abdurahman, a Muslim standing from the Indian Union Muslim League (IUML) stronghold Ponnani; and a Christian, Philipose Thomas, from Pathanamthitta which has a sizeable Christian population. Innocent, a Malayalam comic actor, is thought of as ideally positioned to bag the Catholic Christian votes in Chalakuddy. But Narayanan points out that he's also president of the Association of Malayalam Movie Artists. Also, he had been elected as a councillor, backed by the Left, as far back as 1979.
All of these candidates are independents. A fifth candidate, another Catholic Christian, former IAS officer Christy Fernandez, is the CPI(M)'s new inductee for Ernakulam, a prime seat with a significant Catholic population.
But in Kerala, proudly India's most literate state, while voters may rally support for their respective castes or religions, they may not actually insist on having a representative from among themselves. As a boatman on the Kovalam backwaters says: "Even the Nadar community in Thiruvananthapuram will vote for Tharoor. They will vote for whoever can serve them better."
The Left, with its traditional denial of communal ties, should understand this more than anyone. In Mallapuram, for instance, where the 2011 Census puts Muslims at 68.5% of the population (the second largest in any district in India), it has positioned against IUML heavyweight E Ahamed, PK Sainaba, a woman who refuses to wear the hijab even though she has invoked criticism on this count from many of the area's conservatives. Contrast this with Ahamed, a minister of state for external affairs, who has put up billboards all over the constituency with Mahmoud Ahmadinejad, Saudi Arabia's King Abdullah and Dubai's Sheikh Mohammed bin Rashid Al Maktoum, among others, all exhorting the electorate to vote for him with the words 'Let us be proud of this World Citizen'. Apparently the idea is that Ahamed has helped many constituency members who keep travelling to the Gulf on work.
Issue two: the violence
"Don't you want to take revenge on them," Kallur's Congress MP and candidate K Sudhakaran was heard screaming into a microphone just last week. "Don't we need to avenge the cold-blooded murder of TP Chandrasekharan? Of Shukkoor? The killing of Fasal? Of Navas?"
TP Chandrasekharan, the CPI (M) leader who broke away to form the Revolutionary Marxist Party (RMP), was hacked to death on May 4, 2012, near Onchiyam, Vadakara. His is the most sensational murder to have hit Kerala's headlines in recent times.
Abdul Shukkoor, 21, an IUML worker killed on February 20, 2012, by a mob at Keezhara.
Mohammed Fasal, 45, a National Development Front (NDF) worker and newspaper agent, was murdered on October 22, 2006, at Thalassery.
And finally Thaliyappadathu Navas, 40, was hacked to death in Perinjanam, a case of mistaken identity, on March 2, 2014 – barely over a month ago.
CPI (M) members have been accused or convicted for these killings, each so gruesome it would put the most abominable slasher movie to shame. The last, however, pushed events beyond the craziest bounds of tragicomedy. The police arrested CPI (M) leader NK Ramdas for allegedly hiring goons who killed Navas instead of BJP activist Kalladan Gireesh. Apparently, after the killing, Ramdashad organized a hartal to protest it, and collect funds for Navas.
Two of these murders were in Kannur, and so the Left has put up in the constituency, against 'Tiger-of-Kannur' Sudhakaran, a kind-faced, bespectacled, older lady who is an ex-health and family welfare minister. Watch PK Sreemathi, nicknamed 'Teacher', deliver a speech in gentle broken English accompanied with nervous laughter, and you will realize that she has possibly been put there not so much to win (this is her first LS contest), as to make Sudhakaran's outrage seem perhaps a bit far-fetched.
Or not. Sainudheen, 2008, another murder where the accused are CPI (M) workers. "The Left have just become violent," a cab driver in Thiruvananthapuram say simply, by way of explaining why he won't vote for them. "Too violent." The benefits of having a mass cadre comes with disadvantages – it's almost impossible to control them.
And the same holds true for mass leaders. Last week the RMP demanded the arrest of CPI (M) Vadakara candidate AN Shamseer, for call records which indicated he and one of the convicts in the Chandrasekharan case had been in touch till the day before the murder.
This February, ex-Kerala Chief Minister VS Achutanandan had broken party protocol by writing a letter to Oommen Chandy, demanding a CBI probe into the Chandrasekharan case. This led to a storm within the party.
Luckily for the LDF things have been resolved now and the 90-year-old star campaigner – whose ire had been invoked by Rahul Gandhi asking Kerala's voters if they wanted an octogenarian chief minister (Achutanandan retorted by calling Gandhi and his followers 'Amul babies') – is back to enthralling audiences at campaign rallies and meetings.
And then there are those that haven't been able to reconcile their differences.
Issue three: the alliances
Of the 20 Lok Sabha seats, the CPI (M) has fielded candidates in 15, the CPI in four and the Janata Dal (S) in one. The Revolutionary Socialist Party (RSP), a Left ally for over 30 years, was denied the Kollam seat. The party walked out of the alliance and is now part of the UDF.
Now RSP leader NK Premachandran is contesting the seat, against MA Baby, the only CPI (M) Politburo member fighting these elections from Kerala. The Left may lose simply because the RSP will draw a lot of votes from LDF supporters because of old ties in the area.
But the Front has gained allies too. Just last month an alliance with a faction within the Communist Marxist Party (CMP) was formalized on March 22, in a rather simplistic fashion. KR Aravindakshan, who led the splitting faction, simply converted the CMP's Kannur district committee office into an LDF cell. This new alliance could erode at least some of the support the original CMP offered to UDF's Sudhakaran in Kannur (CMP founder MV Raghavan hails from here).
Meanwhile, posters of feisty 94-year-old KR Gowri Amma, advertising her support for LDF, have sprouted up all over Alappuzha, where Left candidate CB Chandrababu fights UDF's KC Venugopal. The veteran leader declared a month ago her return to the left, which she had left in 1994 to form the Janadhipathya Samrakshana Samithi (UDF ally till this year). LDF leaders took great glee in terming Gowri Amma's return, announced in Alappuzha where she was born, a "homecoming".
"To have a united front there must be give and take," says Narayanan. "The RSP was holding the Kollam LS seat till 1998 and it was only then that it was decided that the CPI(M) should take it over."
He adds: "The CPI (M) is the strongest party in the front. But it cannot have everything."
Indeed. The party lost the Kollam seat last polls, which was what prompted RSP's Premachandran to insist on it this time round.
At a shack just outside the CPI(M) headquarters, lunch is being served to cadres. The shack owner, jolly, middle-aged, serves me a coffee. Hung on a wall in the shack is a colour photograph of a well-built, if over-weight, bespectacled man, in a mundu and white shirt and black sandals, holding a glass of black tea, sitting at this very shack.
"Baby," says the shack-owner, beaming almost with coy pride, as if the politburo member who is Premchandran's opponent were his offspring.
The picture is faded and seems to belong to another era though it must not have been taken long ago. The shack itself is just two years old. Baby keeps a straight face yet in one corner of his lips you can make out the shadow of a smile. In the midst of an election campaign that is an insane din of warring posters and hoardings, it radiates warmth, an everlasting calm.