England debutant Moeen Ali was rather severely criticised by the media when he said that his beard was a label or uniform that represented his faith. Arunabha Sengupta gives several reasons to show that such criticism is both unfair and unwarranted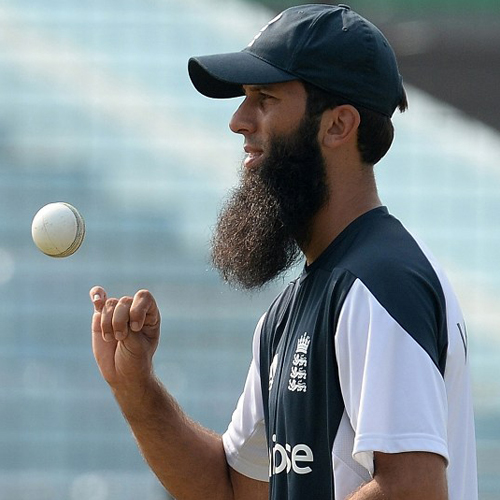 When we look at the looming shadow of WG Grace over the formative days of modern cricket, it seems rather strange that flowing beards continue to cause controversy in the game. Stranger still is the fact that facial hair worn for personal reasons can create a stir even in these enlightened days, when the 22-yards have already been lorded over by the likes of Hashim Amla and Mohammad Yousuf.
However, England debutant Moeen Ali's personal choice of sporting a beard for religious considerations has managed to stir a hornet's nest. Some journalists, specifically Michael Henderson of The Telegraph, have taken issue with his proclamation that his beard was like a uniform, a label representing the Muslim faith.
Rather curiously, the chief argument against Moeen has been that as a member of the national team he could represent only one thing — the country he played for. And somewhat more curiously, Henderson wrote that the 'uniform' was the symbol of equality irrespective of financial status, political inclination or ethnicity, and "a man who belongs to a team and draws attention to his beard as a symbol of his faith is opting to stand out".
Moeen's views about his own beard have been condemned, with critics citing examples of luminaries of the England teams from the past — of diverse nationalities and often with deep-set religious inclinations — who always represented only England and never allowed any national, ethnic or religious views come between them and the sport in the dressing room. Names dropped with casual abandon ranged from KS Ranjitsinhji to Nasser Hussain, from Basil D'Oliveira to Rev. David Sheppard.
Let us look at the remark that caused this incredible amount of petulance and the exaggerated use of historical allusions. Quizzed about his beard on the eve of his first Test at Lord's, the talented Worcestershire batting all-rounder replied that it had to do with representing the people of his faith.
Even in retrospect, after all the sound and fury that has followed, we cannot really conclude that the response was politically incorrect or naïve — for the simple reason that there is no other earthly answer to the question.
In some ways, the question asked by the journalist was rhetorical. Everyone knows the reason behind a beard of such dimensions. It represents a particular faith, and that is all there is to it. Whether it is Saqlain Mushtaq, Saeed Anwar, Mohammad Yousuf, Hashim Amla or Moeen Ali sporting one, it is indeed a symbol of faith. And seldom has the outgrowth come between a cricketer and his performances or his loyalty.
Hashim Amla admittedly did not proclaim he was representing people of the Islamic faith bysporting his beard, perhaps because no one asked. As long as his strokes were as luxurious as his beard, no one complained. But it did not stop Dean Jones from branding him a terrorist in a stage whisper — which was unfortunately caught on the microphone. The beard is that obvious, everyone knows what it stands for. Asked about it, what else can one answer?
This is not the first time a cricketer has flaunted his faith on the cricket field — even if we ignore all these sterling bearded gentlemen. Both Wes Hall and Dennis Lillee charged in with their intimidating deliveries while their crucifixes dangled from their necks and swung like crazy pendulums. If someone had the nerve to ask them why they wore those shiny accessories on the cricket field, what would they have answered? They could have used the words 'representing my faith' or perhaps they would have phrased their responses differently. Lillee in particular might, if badgered about what he chose to wear, might have come out with some colourful expressions which would have remained unprintable. But they could not have denied they were devout Christians who carried their faith with them. If this caused them to 'stand out in the dressing room', none of their teammates complained. Neither did the Indians have any issue with Bishan Bedi's colourful patka, even if he 'stood out' in every team photograph because of the trappings of his faith.
What about Viv Richards and his Rastafarian wristbands of green, yellow and red? He batted for West Indies and proudly represented his African brothers. If we look at the battered and bruised bowlers of the day, it did not matter much that his wristbands eloquently proclaimed that he represented more than just his team on the field.
Plagued by his qualms — perhaps with justification— about the lack of loyalty among the South Asian and Caribbean immigrants in England, Conservative politician Norman Tebbit suggested a method of evaluation, something that has gone down as the 'Tebbit Test'. It comprised of finding out which team the immigrant supported when England locked horns with the country of his origin.
Moeen Ali, a second generation Pakistani immigrant from Birmingham, has already played three One-Day Internationals for England, scoring 44, 10 and 55. The left-hander has also scored a fluent 48 on his Test debut, including a nonchalantly struck six over the cow corner off Rangana Herath. He has followed it up by tossing the ball up, making it break away from the left-handed Kumar Sangakkara and inducing the great batsman to snick to the keeper — and few can wish for a bigger first wicket in his Test career. He has long passed the Tebbit Test and gone way beyond. He does not simply support England, he plays for them to the best of his considerable abilities.
As long as he does that, the way he sports his beard, and the reasons that contribute to the sustenance and shape of vegetation on his chin, should not be anyone's concern but his own. It will perhaps be best for the game if the media stopped splitting hairs about this trivial issue.
Arunabha Sengupta is a cricket historian and Chief Cricket Writer at CricketCountry. He writes about the history and the romance of the game, punctuated often by opinions about modern day cricket, while his post-graduate degree in statistics peeps through in occasional analytical pieces. The author of three novels, he can be followed on Twitter at @senantix.