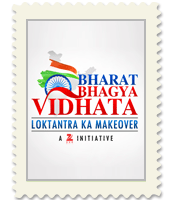 We can't say if she can win an election yet.
Or that the BJP and she can arrive at a common ground.
But Kiran Bedi, the queen of India's social-media activitism, with nearly a million twitter follows already, hit bulls eye on Zee Media's Bharat Bhagya Vidhata (Twitter: #BBV) Wednesday, imploring us to weild the cellphone each time a corrupt babu wants us to shell out money.
Bedi has the theory of Harvard professor David Yoffie backing her.
The smartphone is nearly as powerful as an entire PC was in 2001.
Plus, as Yoffie tells Fortune 50 clients of his research, the smartphone is a living representation of Moore's Law (the number of transisters that can be embedded on an integrated circuit doubles every two years).
Also, phone cameras are able to pack in more mega pixels, better battery life and more recording prowess with each model: Yet their MRP keeps coming down.
Finally, better internet and social media where you don't have to be a celebrity to have 2,000-5,000 follows is a game changer.
But Bedi's theory works only in a limited number of front-facing situations; typically, a road-side cop, unsuspecting of your camerawork, trying to act funny. Dito for the profiteering autowallah asking Rs 30 as "rounding off " for Rs 170 you actually need to pay to him or the pizza delivery boy trying his luck similarly.
You won't get very far with your phone swimming against alligators crouched in the deeper recesses of the corruption Ganga.
Tip: Don't even think of Bedi's smartphone idea with India's Toll Gate mafias or even sub-registrars registering your property. Also, don't even think about filming your-friendly-neighbourhood taxman. They'll simply break your phone.
This isn't to suggest that a cesspool should be tolerated.
My case is for a deeper dive in 5 cess pools where corruption breeds:

1) The scourge of flouting the prescribed poll expenses limit (eg Rs 40 lakh in big states for Parliament and Rs 16 lakh for Assemblies!). Let's be honest and admit that if we had burnt Rs 20-30 crore for a Lok Sabha election, it would've been nearly impossible for us to remain honest. Who, we must ask as a society, funds 3-4 candidates who spend this kind of money in a Parliamentary constituency? And surely, only one among them wins. So, how do the other 2-3 (and countless other minor players) recoup their life's savings?
Imagine if only every every candidate knew that there's no way out, and the exceeding the limits committed under affidavit before the Election Commission via benami, is tantamount to perjury!
2) Blackmoney in the registration of property: Here circle rates, and the value at which the sub-registrar accepts a transaction, are utterly different from actual value. Any one who has bought or sold an inch of land knows it, and falls to the registry mafia. Even Arun Maira, a plan panel member in a Transparency International meeting, and Congress leader Renuka Chowdhary in #BBV, said they were being coerced to pay.
If only value of registries can be placed online and any member of the public allowed to come forward and make a better bid, the land mafia, with its tentacles spread into the electoral system, can be tackled.
Bonus: yeilds of government's registries and capital gains will rise!
3) 'Civil Services Boards' for transfers, positing, disciplinary proceedings for officers of All-India Services posted in the states and at the Centre:
At present, an elected representative, and those who've lost a lot of money, redirect their energies into planting pliable officers at key positions. For this, they indulge in increasingly rapacious forms of bidding with interested officials.
If a district magistrate has paid Rs 25 crore to get a plum posting in, say, Noida, which yeilds nearly 40 per cent of revenues of Uttar Pradesh, who can expect him/her to remain vigilant about public service? A civil services board, as envisaged in the Prakash Singh vs. U.O.I.case for the police, can insulate public servants from becoming personal servants of the political master.
For those wondering about the constitutionality of keeping the elected representative away from control over babus, the matter has been thought through in a PIL submitted by 85 distinguished civil servants pending before the Supreme Court. The PIL, anchored by former cabinet secretary TSR Subramanian, who featured in #BBV, has suggested a definite role to the chief minister or the Prime Minister as the case may be, including the power to supercede the recommendations of the civil services board: he/she merely has to record the reason of his dissent in writing!
4) Delivery of judicial conjoined to restoring faith of the poor in equity and justice: This requires immediate modernization of the criminal procedure code and the conduct of lawyers; sadly enough, an excellent template written by the Justice JS Malimath Committee languishes in a cupboard in the Ministry of Home Affairs.
5) A law that Parliament gives up it power to change commercial laws ex post facto: Restrospective tax demands breed insecurity. This also breeds corruption and extortion by junior officials. All they need to do is slap notices; the validity of their claims and what their action has done to investor confidence in the "India Story" remains least of their concerns.
This isn't a comprehensive list for the Indian elephant to get out of its diffidence. But it's a force multiplier for India's 1.2-million #BBVs and their smartphone!
The essayist is a Harvard Business School alumnus.