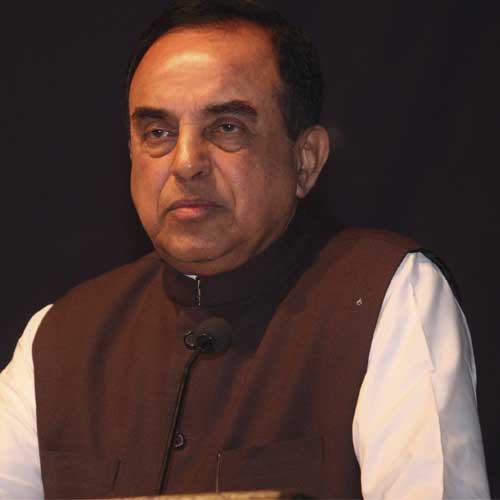 Few years back, a visionary leader of India had warned us about RSS and the intrinsic values of fascism which it stands for. He had warned us about how the RSS is dangerous for the unity and the secular fabric of India. He had extensively spoken about the propaganda machinery of the Sangh parivar.
Do you know who that leader is? He is the respected leader of BJP, addressed as Guruji by many of his online fans- Subramanian Swamy. Unbelievable, right? Well not quite if you look at the political career of the man.
Swamy has been the champion of U-Turn politics. From being a vocal supporter of Sonia Gandhi (he addressed her as Goddess Lakshmi) to running a smear campaign against her, from calling Vajpayee a drunkard and womanizer to merging his party with the BJP and from being one of the strongest critics of RSS to being their best friend, the man has been a source amusement for many.
In the last few years, Swamy has become the icon of the Hindutva trolls on social media after spewing venom for the minority communities through various channels. Apart from this, Subramanian Swamy has also projected himself as the friend of Bhindranwale, giving interviews to Punjabi TV channels and singing ballads in the 'Saint's' name. To describe Swamy in Ramkrishna Hegde's words- "he is the kind of pervert that secretly writes dirty messages on toilet walls."
But this is just one aspect of his interesting life. There are other colors in his flamboyant life which no one talks about. If The Guinness Book of World records starts a category for maximum number of lost cases in the court or the maximum number of rejected petitions, no one would even come close to the shiny career of Mr.Swamy. During one of the hearings,Ex-CJI Altamash Kabir angrily asked him,"Who are you?",but that didn't deter him for filing more petitions.
The recent revelation by Wikileaks of him feeding information raises a very important question. Swamy has been working hard to disrupt the communal harmony of this country and has also been tirelessly working to sabotage the image of the Nehru-Gandhi family. Whose agenda is he pushing? The nation needs to contemplate and media needs to ask him the same.
(All views are writers own and do not reflect dna's stand)