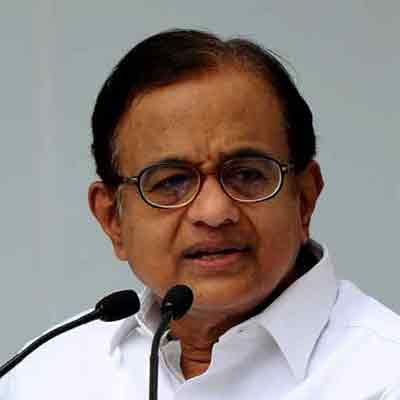 The Union Minister for Finance P Chidambaram has decided to take a break from the electoral politics in this 16th Lok Sabha election. He wants his son Karti to take a plunge into the hurly-burly of the electoral politics. This is why it is Karti who is contesting from his father's seat Sivaganga in Tamil Nadu and looking forward to winning so as to make an entry into parliament.
Congress is a dynastic centric party and, therefore, it would not mind P Chidambaram passing the baton on to his son. But, it is really the BJP that is taking P Chidambaram to task for his decision to announce a break from politics at this juncture, when the Indian economy is at an all time law.
And BJP is right in their opinion of Chidambaram, who has been the Union Minister for Finance during the better part of the UPA regime, and owes an explanation to the nation for such a pathetic shape in which our battered economy finds itself. Nothing can be more tragic than the fact that an incumbent minister is choosing to shy away from facing the electorate in the crucial Lok Sabha election.
This 16th Lok Sabha election is all about development and making India's economy robust in the years to come. This is why when Chidambaram takes the decision to launch his son's political career at the altar of his career, not only the timing for such a move raises questions, but it also reflects Chidambaram's fears.
Another thing is that, the BJP's prime ministerial candidate Narendra Modi and P Chidambaram have been involved in a war of words ever since the campaign for this Lok Sabha election started. Who can forget Narendra Modi's famous potshot highlighting his humble background full of hard work without the Harvard degree? Who can forget P Chidambaram's famous jibe summing up Narendra Modi's knowledge on economy on the back of a postcard? The country was looking forward to an interesting and fiercely fought battle between the two. But P Chidambaram has disappointed many by not taking up the electoral challenge when his party needs him the most.
That said, the war of words between Narendra Modi and P Chidambaram continues unabated. Narendra Modi refers to P Chidambaram as recounting minister. P Chidambaram has counterattacked this by calling Narendra Modi an encounter minister. Smriti Irani the BJP leader from Amethi has rushed to Narendra Modi's defence by attacking P Chidambaram. She has minced no words in stating the fact that P Chidambaram is scared of losing and this is precisely why he is not contesting this Lok Sabha election.
It is noteworthy to mention here that Smriti Irani is taking on Rahul Gandhi in Amethi and the contest promises to be extremely intense between Irani and Gandhi. The reason is that the Congress will leave no stones unturned to retain its traditional bastion despite of a huge anti-incumbency wave against its heir apparent Rahul Gandhi.
But the fearless Smriti Irani has shown that she is not scared of taking on big guns like Rahul Gandhi and P Chidambaram and this is why she has fired a salvo at P Chidambaram to convey to the Congress' rank and file that the party's senior leaders know that the Modi wave is a reality that they can no longer deny. And thanks to this Modi wave, its senior leaders are trembling with fear and running away from the battlefield. This psychological blow from Smriti Irani is going to strike where it hurts the most.