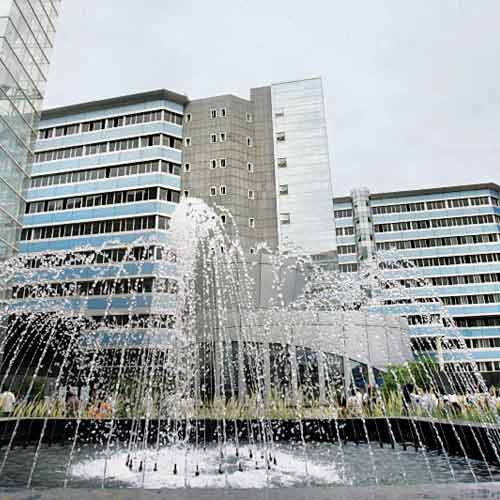 The diamond trade is aghast at media reports aimed at thwarting the easy availability of lab grown diamonds. The Gems and Jewellery Export Promotion Council (GJEPC) has been lobbying for a minimum customs duty of 10% on all import of lab-grown diamonds.
The suggestion is preposterous for several reasons.
First because lab-grown diamonds (also known as manmade diamonds, cultured diamonds or ethical diamonds) are almost like earth-mined diamonds. They are made by replicating the same conditions (heat and pressure) that Nature created and are layered on a 'seed' of another diamond.
Distinguishing an earth-mined diamond from a lab-grown diamond is extremely difficult. This is notwithstanding a diamond testing centre that GJEPC opened in India (in partnership with Gemmological Institute of India (GII) in December 2013. In fact, De Beers wanted the US government to call lab-grown diamonds synthetic stones. But the curts ruled that they could continue using the nomenclature lab-grown diamonds. As one industry source says, "Can a test-tube baby be called a synthetic baby?"
Second, because the diamond cutting and polishing industry works on wafer thin margins. The value-addition of a cut and polished diamond is barely 20%,and much of it goes towards interest costs and losses on account of currency fluctuations. Rough diamonds,it may be recalled, are purchased in one country, cut, polished and processed in India (India cuts and polishes 10 out of 12 stones n the world), and sold to a third country. Diamond traders have therefore to deal with currency movements in at least three countries for the 3-6 month period when the roughs are converted into polished goods in India.
With net margins of barely 5% importers of lab-grown diamonds will find any levy of a 10% duty quite excessive. They will be compelled to mix such diamonds with other roughs, and then mis-declare all to be earth mined diamonds instead. That, in turn, will force the customs department to seize stocks of diamonds and send them to laboratories, thus locking them up for another month or two. No diamantaires can afford interest costs for another month. It will cripple the diamond industry if such a proposal is mooted.
Third, the market wants lab-grown diamonds. They are almost blemish-less (which is a worrisome factor for people who believe that blemishes bring in bad luck). They are ecologically friendly (as they do not scar the earth with mining).They avoid the stigma of blood-diamonds. In fact, several global celebrities (including Kate Middleton, now Prince William's wife) have gone on record stating that they would prefer ethical diamonds instead. And, most importantly, they are more uniform, yet cheaper than earth-mined diamonds. Linked to this is the fact that GJEPC has still not come forth with any names of the exporters and importers of lab-grown diamonds who have duped any custmers.
Fourth,because irrespective of whether the diamond is earth-mined or lab-grown, most of them will have to come to India for cutting and processing. The industry employs around 6 lakh people. The gold jewellery industry, which uses these diamonds for studding, accounts for another 3.5 crore workers. Any disruption of imports could prove to be counter-productive to the employment potential that this trade enjoys.
Fifth, supplies of earth-mined diamonds are becoming quite irregular. This is because of two reasons. One is the cartelized approach of the De Beers conglomerate to the supply of diamonds. The second is because most diamond mining centres have started their own diamond beneficiation centres. Thus, countries like Zimbabwe and Botswana, which together account for a large share of diamond production worldwide, have their own diamond cutting and polishing centres. India gets only the residual stones.
Sixth, since many Indian entrepreneurs own these cutting and polishing centres in countries like Botswana and Zimbabwe (often in association with entities closely linked to the De Beers conglomerate), they also lobbied through the GJEPC in September 2013 to allow duty free import of cut and polished stones, which DNA pointed out was a move that would destroy Indian jobs Mercifully, the commerce ministry put paid to such lobbying efforts.
Seventh, this is not the first time that GJEPC has lobbied for making import of diamonds from sources not approved by De Beers extremely difficult. It did this when India found import of diamonds quite cheap from Russia. There was a move to allow duty free imports only for diamonds purchased from the Diamond Trading Company (DTC) a De Beers Affiliate. The same happened when India tried importing roughs from Australia's Argyle mines.
Then when India found it could get diamond roughs cheap from Sierra Leone and Zimbabwe, De Beers began lobbying along with GJEPC for a ban on 'blood diamonds' as they were violative of the Kimberly Process norms vetted by the UN. How the UN was persuaded to pass a resolution against blood diamonds is reminiscent of the manner in which it passed strictures against Iraq in the early 1990s. It may be recalled how a PR firm Hill & Knowlton got the media to cover a story about how Princess Nayirah of Kuwait was witness to babies being stripped of their incubator oxygen masks and left to die by plundering Iraqi soldiers. Later, it came to be known that such an incident did not take place atall.
Even Amnesty International was gulled by such reports and later had to aplogise.
Similarly, there is enough documentation to show how De Beers has always objected to any supply of diamonds from any other source other than its own affiliates. It may be recalled that in in December of 1953, Sir Ernest Oppenheimer appointed Sir Percy Sillitoe, who was earlier the head of the British counterespionage service known as MI-5, to create a system which could stop independent producers (often referred to as smugglers) from selling diamonds in the open market. Those who did not accept the price offer made by De Beers and its associates were beaten into submission, killed, mugged or even ransacked.
DNA has access to RTI queries filed between relating to lab-grown diamonds, and there is no reply forthcoming from the Gems and Jewellery Export Promotion Council (GJEPC) on any of the issues raised. Media reports also mention that GJEPC had appointed experts - A T Kearney and Bonas & Co. (management consultants and De Beers brokers respectively) - to assist in the project of 'establishing the current status, prepare a 'framework/guideline for the industry members to trade in natural and synthetic diamonds'. But no details of their recommendations have been made available to the trade. So what is all the hush-hush about? DNA wrote to the president of GJEPC, but got no response from him.
So is the clamour for imposing an import duty of 10% on lab-grown diamonds just another attempt to block their entry into India? Will India's policymakers be taken in by such arguments? The coming days will tell.