Here's to those choking the driveway of the new Microsoft CEO's parents, shoving gun mikes into his reticent parents-in-law, his high school teacher, his favourite ice cream vendor, and the cricket umpire! Satya Nadella isn't a "power point" India has made – it's he, the US and Microsoft who did it together!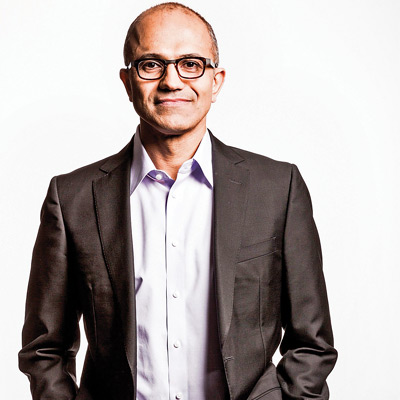 Please don't misunderstand the headline when it says Nadella's 'India angle' is being overplayed.
It is a big deal for a Hyderabad boy, the son and son-in-law of two babus, to break out of the "baap IAS, beta-damaad IAS" syndrome. It's nicer still that the new Microsoft CEO carries his original Indian name and has not resorted to some horrible rewrite job like Piyush Jindal did to become Bobby, unsure as I am if the passport is still Indian too.
However, it is equally important to note how Satya Nadella, only the third CEO in Microsoft's history, isn't really such a great example of India's "power point", as one newspaper tried to say.
The script has nuances.
First, Nadella didn't (or couldn't?) really go to India's most celebrated schools – clearly the conventional wisdom in the mid-1980s would have had him try for Delhi Public School (RKP), the holy grail for a seat in the IITs, not Hyderabad Public School, where he and Madam Nadella (a few years later) went and presumably met.
After his schooling, neither Nadella nor Anupama Venugopal, his wife now for 22 years, went to the famed IITs. The Manipal Institute of Technology it was; the acronym was "MIT", but to put it politely, that itself made it a bit of a laughing stock among the elitists at the time. And the open secret was that most kids got through 'MIT' via pull and/or capitation fee.
Yet, predictably enough, Nadella's association with the Manipal Institute and the Hyderabad Public School, and the fact that his father BN Yugandhar and father-in-law KR Venugopal are well regarded IAS officers, has fuelled nauseating amounts of chest-thumping since news of his appointment as Steve Ballmer's successor trickled in late on Tuesday (IST).
It would be interesting if an Indian reporter button-holed Nadella some day on whether (or why not) he himself toyed with the idea of taking the IAS exam – still the Great Indian Dream Job at that time, until the Mandal recommendations took much of the shine away. Particularly so as his dad and his dad-in-law, too, were in the IAS.
That said, my point isn't about Nadella's choices while in India or undermining his astonishing career graph. It's about placing on record that the road to his starry achievements seems to have been laid only once he left India.
In fact, Nadella's decision not to stay in the India of the late 1980s, in my opinion, made all the difference.
Clearly, the B-category undergraduate degree got him only so far as the better-regarded masters at Wisconsin-Milwaukee. Not an IIT M.Tech, mind you. Did he even try? I am yet to read the answer to that. Similarly, there's little we have heard or read in the Indian media about that career-defining move and how the families put the funding together.
Then came the move to Sun Microsystems, and most crucially, the MBA from Chicago Booth. Truth be told, better CVs like DPS/IIT/Berkley are, no doubt, reporting to out Manipal man – mainly because he seemed to have that one fantastic habit: never to rest on past laurels, never to be undermined by a faux MIT degree, but struggle and learn every single moment even twenty five years hence.
A tweet on 20 July, 2009 on Nadella's page (in the four years that he's been on the medium, there are only 26 tweets!) should help us see the near maniacal devotion to hard work:
I may break my continuous work day record!

— Satya Nadella (@satyanadella) July 19, 2009
So, let's give credit where it is due:
a) The relatively non-hierarchical US system that allowed a Nadella to keep growing irrespective of his rather modest academic foundations back in India.
b) Nadella's own extraordinary abilities to not have bloomed around his teen years, but reserving energy and drive for the next 25 years – and, of course, not to budge out of Microsoft for the last 22 years!
c) The good fortune of being at the peak of his prowess just when the 57-year-old Steve Ballmer had had enough. In cricketing terms, what if Nadella was like Padmakar Shivalkar or Rajinder Singh Hans, breaking their heads but failing because Bishan Bedi and Prasanna were already in the Test team!
d) The role his doting wife Anupama would have played, considering she too had an MIT (Manipal, I mean) degree, but clearly took a step back to be the wind beneath an extraordinary man's wings.
Sorry, if this straight talk hurts those who read at Hyderabad Public School or the faux 'MIT' on our side of the Suez. Sorry, even my IITian friends! You are neither the point, nor India, the power point!
Rohit Bansal is CEO & co-founder, India Stratgey Group, Hammurabi & Solomon Consulting. He tweets at @therohitbansal.