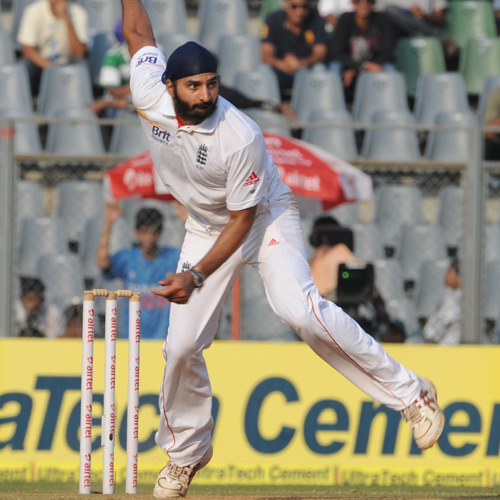 The last week has witnessed two unfortunate incidents in which Cricket Australia (CA) has had to apologize for actions of their contracted staff.
First, David Nixon, the on-ground announcer at Alice Springs, introduced England left arm spinner Monty Panesar in an Indian accent. Monty Panesar is an England cricketer and a Sikh. The Indian accent was seen around the world as an indication of David Nixon, and hence CA perhaps, mocking an English player using a casually racist archetype.
CA was immediately on the back foot. They sacked David Nixon and issued an apology. "Cricket Australia deemed the conduct of the PA announcer as inappropriate and as such he will take no further part in the match."
This was perhaps an attempt at an edgy race-based joke that went horribly wrong. David Nixon obviously thought so. In response to a tweet that indicated he had been stood down, he tweeted: "Really? I love Monty P – cult hero. He should bat at No 3. My style didn't fit theirs. That's all." It was all a simple issue of a style-misfit.
On 5th December, CA was forced to issue an apology once again – and once again, Monty Panesar was involved. CA's official Twitter account posted a picture of four bearded and turbaned men, all dressed up as Teletubbies along with the tweet: "Will the real Monty Panesar please stand up?" The implication here was, of course, that all Sikhs (or Asians, if you wish to extrapolate the essence of the tweet) look alike and perhaps we need to give them different coloured clothing to tell them apart. This was, at best, an example of casual racism and, at worst, a comment that was potentially insulting to Monty Panesar and Sikh people.
The tweet was immediately removed after outrage from around the world. CA, instead, said "We certainly apologise for any offence caused with the tweet. It wasn't our intention to offend and it has promptly been removed from Twitter. To reiterate, if the tweet was interpreted in a manner that offended Twitter followers, we certainly apologise for that. This has been addressed internally and CA acknowledges it was an error of judgement." Of course this was an edgy tweet gone wrong and clearly, things went pear-shaped very quickly for the tweeter and for CA.
Casual racism happens all around us. It happens when someone uses a particular characteristic of a person or a group of people and highlights that in order to make a point that they think is funny. They may make the remark even without humour as their intent, of course. More often than not, the person making the comment may not even realize what they have uttered is inherently racist; they just go with the flow.
In the David Nixon case, he conflated Indian accents with the fact that Monty Panesar is brown-skinned and of Indian descent. That Panesar was born in Luton and speaks with an English accent did not stand in the way of Nixon having a laugh at Panesar's expense. Perhaps we shouldn't be thin skinned, prickly and hypersensitive about it. Perhaps we should laugh along with Nixon. If it was a friend I knew really well – and I knew that that friend did not have a racist bone in his body – I probably would have laughed along. If the context and setting was a stand-up comedy night, I may have laughed along too. However, Nixon was a formal announcer at a cricket game.
Comedians say silly things all the time and some of what they say may be interpreted as racially offensive. But then Louis CK is hardly ever called out for his comments – and some of them may be seen as casual racism – because that's what comedians do all the time. They make rape jokes or racist jokes in a very careful and mostly tasteful manner, and in so doing, the good comics often enable us to think about our stereotypes, assumptions (and sometimes) identities. Through their work, they challenge or reinforce assumptions, identities and culture. And that is where we have the problem. The CA tweeter isn't a comic and their context is very different to that of Louis CK.
In both these incidents, CA quickly issued an apology. That is the honourable thing to do. However, in both these incidents CA also hurriedly convened a meeting and "internally addressed" the inappropriate behaviour quickly. Note that CA has had to construct such internal courts quite often in the recent past to deal with either errant staff or a wayward player, or misbehaving cameramen named Joe.
It must be clear by now to CA that its twitter handler(s) and ground announcers need to demonstrate greater responsibility in undertaking their duties. It is all fine to be seen as the organisation that develops a 'Spirit of Cricket' document which is signed by all the people contracted to the organisation. It is also all fine to want to be seen as the organisation that wants to be respected as rule makers of the game. However, this is exactly the problem with meting out internal justice in hurriedly constructed boardroom courts and then being continuously deluded that all of this constitutes a legitimate world-view of the game.
In this instance, it is quite likely the CA tweeter was merely continuing the verbal jousts that the Australian players and media have been dishing out to the visitors from England. The tweeter, a CA representative no less, threw his bit in to the verbal jousts, picked on the newest player to play in the series and came up with a crude and edgy tweet. That tweeter must have thought he wasn't crossing the "line in the sand" that Australian officials constantly talk about.
For many years now, Australian cricket has been living under the impression that the unwritten rules it plays the game by are acceptable to (and lauded by) the world at large. And this is exactly why we keep hearing the phrase "line in the sand" a lot in the context of cricketers and sledging.
There are lines in the sand. But whose line do we go by? Yours or mine? Who is to say that my line is not better? After all, "monkey" is a phrase used in India a lot as a term of endearment. My line includes monkey. My line does not include a mockery of my accent or my religious head scarf. Whose line do we use?
And if we used Anil Kumble's line, would it have been acceptable to Andrew Symonds, CA and Australia at large if Anil Kumble had said exactly what CA said on Thursday and dealt with an 'error in judgment' internally?
And that is the problem with lines in sand. We need to continually ask: whose line is it anyway?
The author is a cricket tragic, music rasika, tweets at @mohank, and blogs at http://www.i3j3cricket.com and http://mohankaus.blogspot.com