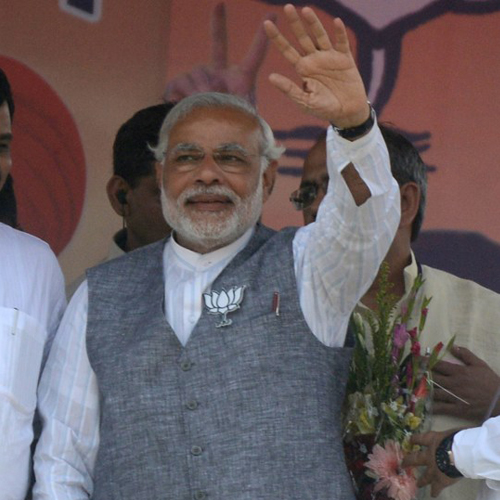 Dev Kant Barooah, the Congress president during Emergency, proclaimed in 1974, "India is Indira and Indira is India". Indira Gandhi was at the peak of her prowess during those days. In the 1971 general elections, she had triumphed with 352 seats. It was indeed a wave of Indira Gandhi.
Following the 2014 Lok Sabha elections, the various exit polls have thrown up amusing results. One predicts 340 seats for the NDA, suggesting an Indira-like Narendra Modi wave. However, other exit polls meander from 270 to 290 for the NDA. Would that qualify as a Modi wave? Or does that mean it is more of an anti-Congress wave, ably complemented by Modi's charisma?
In the 1977 general elections, people largely voted against Indira and the Congress, and the Janata Party won 298 seats and formed the government. Therefore, whether this is a Modi wave or anti-incumbency is worth pondering.
However, in cricket, pundits often say mere numbers cannot be the criteria to arrive at a conclusion, especially when we are comparing two different eras. Similarly, in the age of fractured mandate and powerful regional satraps, it would be unfair to analyse a clear majority for the NDA as an anti-Congress wave. The fact that Modi has propelled the BJP and the NDA is undeniable.
But does that qualify as a wave? In Uttar Pradesh and Bihar, definitely. If the exit polls' predictions come true, the BJP will get around 45-50 seats in UP. In 2009, they had got merely 10 seats, so this is an astounding leap. Amit Shah's groundwork along with Modi addressing rallies and evoking hope on the basis of his Gujarat model seems to have worked wonders. The effect has spread to neighbouring state as well. Nitish Kumar seems virtually wiped out and the BJP is making great gains in Bihar. The fact that this has happened after Nitish broke up with Modi enlarges Modi's success.
The Congress suffered a near sweep in the assembly elections that occurred six months ago, and exit polls are suggesting a repeat. While the routs in Madhya Pradesh and Chhattisgarh were expected, because of strong local leadership, the BJP's success in Delhi and Rajasthan was a clear case of the anti-Congress wave.
Modi's magic has not made significant impact in the southern states and the northeast. Here, regional parties and, surprisingly, the Congress are doing better.
Thus, it would be fair to say there is a Modi wave in some parts of the country like Gujarat, UP and Bihar. In states like Maharashtra and Rajasthan, it is a case of anti-incumbency and a lack of alternative. The success of MP should be attributed to Shivraj Singh Chauhan and, to an extent, a decimated Congress. Interestingly, in states like Punjab and Delhi where the Aam Aadmi Party (AAP) has a robust base, the anti-Congress wave is not galvanised entirely by the BJP.
Plus, we cannot turn a blind eye towards the impact of the media in creating the Modi wave. Only two news channels highlighted the poor state of health and education in Gujarat, and the quagmire Muslims find themselves in. That other channels showed no audacity to do such stories was bewildering.
People often say cleverly used the media to his advantage, but to turn the argument around, the media allowed itself to be used as a propaganda machine. Indira had no such privilege.
However, who had stopped Rahul Gandhi from doing what Modi did? And even if he had attempted to do so, one can be certain he would not have been able to make the sort of impact Modi has made. While there is no doubt Modi has run a brilliantly organised campaign, striking a chord with voters, and the despicable incumbency has helped him, the fact that his positives have been embellished and negatives, to an extent, concealed wrinkles a bit.
This suggests it would not exactly be appropriate to generalise the mood in the country as a Modi wave. There is wave in some parts of the country, monsoon in a few, and a drizzle in others.
Parth MN works with the LA Times, and tweets at @parthpunter.