The Indian political class is completely disengaged with the environment because the issue does not get votes. And the poor, who will be the most affected by climate change, are mostly unaware about it, though it is an existential issue for our country.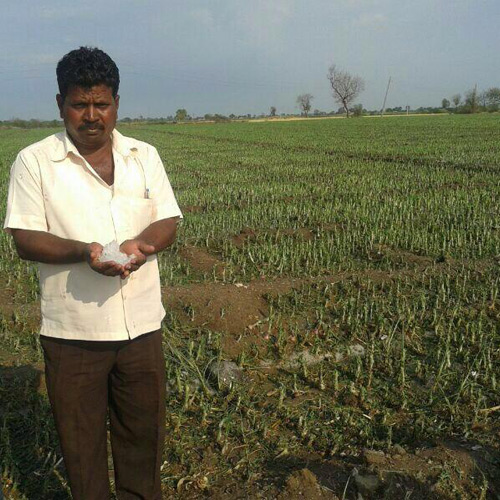 In William Shakespeare's play Julius Caesar, a series of bizarre events happen in Rome before Caesar's assassination, leading a soothsayer to warn him: "Beware the ides of March".
Did you notice something strange about the weather reports last week? In mid-March, we had hail storms in Maharashtra, heavy rains in Delhi and the highest snowfall in decades in Jammu and Kashmir. Just a week before that, sudden snow storms broke all records and shut down the entire East Coast of the United States.
Can I please be blunt about it? Climate change is an existential issue for our country. Since the last century, the world has succeeded spectacularly at the cost of the environment, and we have only just begun to grapple with the consequences of our actions. However, between the trite arguments on secularism and corruption, the pre-election discourse in India has no time for a debate on an issue that is the single largest threat to our long term national well-being. When was the last time a major politician explained their stand on international climate change negotiations, or laid down their vision to mitigate (we are well beyond the stage where we could reverse it) the impact of climate change?
No debate on development models, agriculture, price rise or even national security is complete without a conversation about the environment. For example, experts believe the unseasonal rains last week were due to the El Nino Effect – an increase in the temperature of the Pacific Ocean which disrupts the Indian monsoon. Since it rained during the harvest season, there was substantial damage to crops like wheat, mustard, potato and pulses in Maharashtra's Marathawada and Vidharbha, Telangana, and parts of Madhya Pradesh. This has direct implications on the price consumers pay for these products.
Agriculture in India primarily depends on the quantum and timing of rainfall we get, and any disruption of the monsoon cycle will be disastrous for the sector. A 2013 World Bank report titled Turn Down the Heat: Climate Extremes, Regional Impacts and the Case for Resilience highlighted the impact of warming on agricultural production in India. Rising temperatures will result in unpredictable farm yields (in Assam, the production of tea – a highly weather sensitive crop and one of India's largest exports – has declined over the last few years even though the area under cultivation has expanded), an increase in the aridity of land (by affecting evapo-transpiration), reduction in soil fertility, increase in the frequency of extreme weather conditions like droughts, heat waves and floods, and a lowering of the underground water tables because more than 60% of our ground-water is rain fed.
Let's look at national security. According to a report by the Asian Development Bank last year, Pakistan is now one of the most water-stressed countries in the world. Pakistan has emergency water reserves for only 30 days, as against the recommended 1000-day supply for countries with similar climates. The Indus river, Pakistan's main source of fresh water, has already seen reduced water flow due to low snowmelt as a result of climate change. With the temperature in Pakistan expected to rise by three degrees in the next 50 years and the country set to witness a population explosion, water crisis could further destabilise the country. And this necessarily has implications for India. Extremists have already started blaming India of "water terrorism", while the moderates in Pakistan are calling for a renegotiation of the Indus Water Treaty with India.
Another national security issue for India is the influx of illegal migrants from Bangladesh, a problem which will only aggravate with climate change. Rising sea levels, the evil twin of global warming, has already submerged low-lying areas around the Sunderbans delta and parts of Bangladesh. In October 2013, British risk consultancy Maplecroft came out with a report titled Climate Change and Environmental Risk Atlas. It said the economic impacts of climate change will be most keenly felt by Bangladesh. Of the 50 cities ranked in the report based on the Climate Change Vulnerability Index, the top five 'extreme risk' cities included Dhaka, along with Mumbai and Kolkata.
We have not even begun to discuss the other fall-outs of climate change like water scarcity, tropical cyclones (Cyclone Phailin, for instance, caused an estimated $4.15 billion of damage to the agriculture and power sectors in Odisha alone), contamination of drinking water and ground water, deaths due to heat waves and cold waves, disruption of life in port cities like Mumbai (where most people live on reclaimed land), and an increase in vector-borne diseases.
Even if some of our grim predictions come true, climate change still remains an existential threat which needs to be urgently dealt with, using sound policies in the present. This includes how the next government handles the coal sector, lays down housing standards, revisits the ban on drought resistant GM crops, builds urban infrastructure and, most importantly, chooses the environment minister.
However, our political class is completely disengaged with the environment because the issue does not get votes. That is probably because its consequences are financially invisible and not loud enough. An individual forced pay a higher electricity bill to use the geyser in March will not blame it on climate change. The same person will however cringe when he has to pay a bribe. When Narendra Modi organised a "Chai Pe Charcha" with the farmers in Yavatmal whose crops had been destroyed by untimely rain and hailstorm, there was no discussion on climate change.
Even though the poor will be most affected by climate change, the lack of awareness and public debate about the issue in India is very disturbing. According to a BBC poll last year, 39% Indians have not even heard about climate change. That probably includes the deputy chief minister of Maharashtra Ajit Pawar, also the nephew of our agriculture minister, who said we could solve India's drought problem by peeing in our dams.
Apurv Kumar Mishra, 25, is currently a Young India Fellow at Ashoka University.