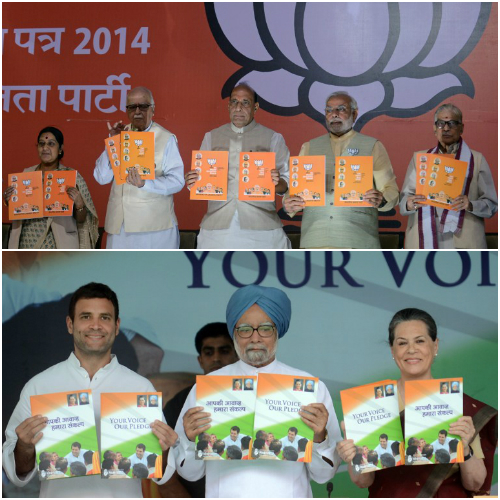 At last the BJP's much awaited manifesto was released on Monday, and much to the voters' relief they can go through both the Congress and the BJP's documents and decide wisely before availing of their fundamental right to vote to choose the next government.
The Congress released its manifesto in the last week of March. At the time of releasing it, Prime Minister Manmohan Singh promised, "We envision an inclusive society, a rapidly expanding economy in which growth benefits all sections of our society and we want to generate lot more new jobs to provide for the youth of the country."
He thus made it clear his party was looking forward to luring the youth of India into its fold by promising new jobs, and the main thrust will be on growth that benefits all sections of society. This is why its agenda has several points that raise serious questions.
For instance, it talks about providing quality healthcare and functional toilets which are every citizen's birthrights. Even after ruling India for six decades, the Congress has done almost nothing to provide these two birthrights to its citizenry. It is asking for one more shot at governance to implement them. Its job agenda will ensure 10 crore new jobs, but we all know that its previous two regimes have set precedent of an economy without jobs.
It has finally admitted that economic growth has fallen, so it will keep an eye on production to bring back the economic growth. Then its tendency to give away freebies in the promises of fixed pension schemes for the aged and disabled again creates doubt on its intent of bringing back the high economic growth.
Eight percent of growth within hundred days of coming to power is something even a miracle will not be able to achieve. Why the Congress is making such a tall promise is anybody's guess. It wants to impose more taxes upon the hapless middle class in the form of direct tax code and goods and services to aggregate revenue.
But the overall focus is on freebies such as economic security to the low economic families, special focus on the labours working in hazardous conditions and so on. There is something sinister about the Congress poll manifesto that says the Congress believes in borrowing from Peter to pay Paul, and this approach has already cost the country's exchequers heavily over past one decade. Another noteworthy aspect of the Congress's poll manifesto is that it includes so many rights as well, leaving Rahul Gandhi's firm imprints on it.
The BJP's poll manifesto that was released on Monday, known as 'One India, Best India – Unity and Development for Everyone' has development at its core. It promises to tackle price rise, generate employment opportunities and end corruption. Quite strongly, it promises to bring back the black money, end policy paralysis and improve relations and coordinations between the states and the Centre.
What is noteworthy in the BJP's manifesto is that it does not promise any freebies. It has Moditva written all over it. It knows there are no free meals. What it promises are good governance and the system reform. It promises a revival of the economy and intends to do away with complex taxation system. The thrust is on industrialisation and labour – the two important drivers – to take the country forward. India's vast potential as a tourist hub finds its mention in this manifesto as well, which the BJP-led government at the centre will look to leverage.
The transport infrastructure and the rail network too will receive facelifts to make travel fast and connect far flung areas with the main areas. The focus of the BJP's manifesto is on development and good governance. Its appeal lies in its nation-first approach and in the concept of the universal brotherhood, whereas the Congress's manifesto promises over- dependence on the government for everything. And it aims at encouraging poverty by promoting the culture of freebies at the taxpayers' expenses.
The two manifestos reflect two different mind sets. The voters have their task cut out for them at a time when the first round of polling has already begun. That said, the decision that the voters arrive at will have long term repercussions on future of the country.
Irfan Iqbal Gheta is a Bangalore-based compulsive writer who likes to write on current affairs and politics. His twitter handle is @_GheTa.