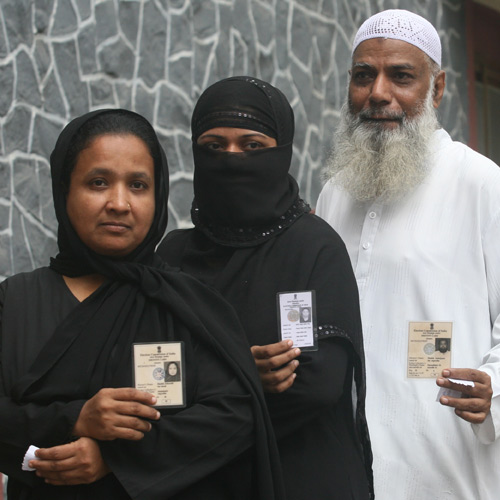 I am currently on tour in Uttar Pradesh, the biggest state of India which will surely decide the winner at the Centre. Over the last few days, I have been in Moradabad and Bareilly, and I am currently in Farrukhabad as I write this article.
What is interesting about these constituencies is that since the 1990s, the Congress was not really able to wrest these seats, except Farrukhabad, which current foreign minister Salman Khurshid had won in 1991. The Congress, however, had wrested all three of these in the 2009 Lok Sabha elections, but they appear to be facing a drubbing this time. Moradabad and Bareilly voted on April 17, and Farrukhabad will go to the polls in the next phase on April 24.
Ghulam Mohammad Khan had won Moradabad for the Janta Dal in 1989 and 1991, and Shafiqur Rahman Barq of the Samajwadi Party won the seat in 1996, 1998 and 2004. Only in 1999, Chandra Vijay Singh of the Akhil Bharatiya Loktantrik Congress had won it.
In 2009, the Congress gambled with former cricketer Mohammad Azharuddin here, that did them the trick. Although he won the seat for the Congress, if the party loses it this time, he would be one main reason here. Azharuddin was rarely seen here and even the Congress workers I spoke to did not appear happy that this time again an 'outsider' has been fielded. The party has fielded Beghum Noor Bano, the widow of the former Nawab of neighbouring Rampur, from here but she may not have an easy task.
Moradabad has a Muslim population of 45.536%, but the discussion in TV studios of them voting en bloc appeared falsified here as the minority voters as well as all the so called secular voters seemed divided among the SP (ST Hassan), the BSP (Haji Yaqub Qureshi), and the Congress. On the other hand, upper caste voters in the BJP appear consolidated this time here and Kunwar Sarvesh Singh of the BJP appeared to have edge in the "Modi wave."
Satyandra Narayan Mishra (40), who is a salesperson at the Khadhi Bhandar of Gandhi Ashram, says, "Our choice this time is Modi. He has delivered in Gujarat for 15 years and he will take India forward." People don't even talk about the party or the symbol, they just say, "Our vote for Modi." The contest in Moradabad appeared to be between the SP and the BJP, although in my assessment, the latter may win this seat.
Bareilly has 33.89% of Muslim population, and only on two occasions was the MP a Muslim, when in 1980 and 1984, wife of former president late Fakhruddin Ahmad, Begum Abida Ahmad had won. Praveen Singh Aron of the Congress had won here in 2009 defeating veteran BJP leader Santosh Kumar Gangwar, who had been MP from here since 1989. The BJP has fielded Gangwar this time again. Although he is not very popular anymore as "he could not fulfil their expectations", BJP workers and voters appeared consolidated, much to the dislike of the seculars, in the name of Modi.
The SP has fielded Ayesha Islam, the daughter-in-law of former MP Islam Sabir, and the fact that she is an Ansari might have helped her get the voters of the community, who comprise almost half of the minority votes. However, influential Bareilly cleric Tauqeer Raza has extended his "unconditional support" to the Bahujan Samaj Party candidate Umesh Gautam and that has divided the Muslims' votes.
I was there in Bareilly on the day of election (April 10), and I was surprised to see several of the Congress help-desks outside polling booths often deserted, but they surely got a small share of Muslim votes. The clear fight here is between the SP and the BJP, and again the saffron party seemed strong here.
Of these three districts, Farrukhabad has the least Muslim population with only 14.8% and consequently only on three occasions some Muslim had won from here: Khurshed Alam Khan, son in law of former President late Dr Zakeer Hussain – who is originally from Kaimganj that falls in this constituency – who won in 1984. Later in 1991 and in 2009, his son and current Foreign Minister Salman Khurshid won from here.
Although Khrushid is seen here as "Pride of Farrukhabad", for "making the place popular all over the world", he is facing huge anti-incumbency. As he is seeking mandate again, people are not questioning so much his achievements and work, for he has done "fairly well", but they are asking him bluntly about his "long absence from the constituency".
"Fine you make Farrukhabad proud the world over, but what do we benefit from it?" they all seemed to ask him. His followers and "core" Congress voters suggested they will still vote for him, but BSP's Jaiveer Singh seemed to be benefiting at his expense. Sensing the "anti-incumbency" and Singh's "strong-chance" many Muslims too I spoke to suggested they may vote for the BSP candidate.
Sachin Yadav, son of Narendra Singh Yadav, Minister in the AkhileshYadav Government (now sacked) was initially chosen as the SP candidate from here, but he was replaced by Rameshwar Singh Yadav. Sachin has filed as independent and that might divide the Yadav votes. BJP's Mukesh Rajput is not a very strong candidate, but we cannot completely discount him either. Farrukhabad will poll on April 24 and I would not be surprised if the BSP grabs this seat.
Thus voters clearly are polarised this time, but against the general notion of Muslims voting en bloc, Muslim voters appeared confused, divided and deciding to vote more based on a combination of local issues, candidate, etc. The attempt to "stop Modi," did come up in discussion, but this appears to be only a factor. On the contrary, at least in these constituencies, I am seeing a new trend of most Hindus, particularly the upper caste and middle class, voting "strategically" to make a particular candidate win.
M Reyaz is a Delhi-based Journalist. He tweets at @journalistreyaz.