Young people – those aged between 18 and 28 years – form the bulk of the voters in the upcoming Lok Sabha elections. Rachel Pilaka analyses whether mainstream parties and leaders have got their political advertising right to influence the new generation.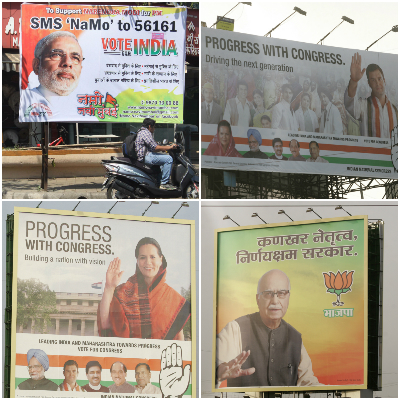 If you stop whatever you're doing and look around, log on to twitter, tune in to the radio, turn on the television, or peep outside the window and see the hoarding across the road, what do you see and hear? Elections!
Just a few days ago I heard a small child ask his father what elections meant, and "why is everyone at home talking about it all the time". My heart went out to that young man; heaven alone knows how he was going to explain and do justice to that question! It was only when I heard that child did I realise how seamlessly the upcoming Lok Sabha elections have stolen the attention from everything else around the globe. Earthquakes, missing planes, celeb drama, reality shows, rape and murder, nothing seems more important.
On Twitter, #modi, #varanasi, #kejriwal, #MyVote2014, #MyVoteForModi, #KarnatakaForAAP, etc. trend almost every day. I am surprised Twitter hasn't crashed yet. A lot has been said, ruthless trolling seems to be an everyday affair, and a lot has been tried and tested in this period of political campaigning. A lot. From interview fiascos to viral gags to social media bajaoing... political parties have again resorted to advertising, to attract-entice-engage the masses.
The chaotic yet creative industry of advertising is not renowned for its knowledge of politics. So to say, modestly, we are counted amongst the least intellectual and interested in matters of politics. The question is whether this is true. If you ask me, there is some amount of truth to it, but it isn't completely true. Yes, the Bandra boy who walks in late to work almost each day probably still thinks the 'woman with the saree' is still the president, and that this election he will vote to make Sanjay Dutt's sister the prime minister.
But then there are also the designers, the artists who are staunchly connected to ground-level political parties. There are client servicing, account planning and business development professionals who strongly believe in the "development" agenda. There are the free-spirited yet well informed writers who will want to vote a liberal government back to power.
The question then is, are the Bombay- and Delhi-based teams of uber urban, upper middle class, carefree creative geniuses getting the campaigns right?
Last month, the Congress launched a series of hoardings that had well-crafted Hindi lines taking a subtle dig at the opposition parties:
- Raajneeti nahi, Kaajneeti (dig at the BJP)
- Aarajakta nahi, Prashaasan sudhaar (a clear dig at Arvind Kejriwal)
A young, friend while travelling by car, saw the hoarding and asked, "What is 'aa-raaa-jaak-ta'? I get 'raajneeti' but what on earth is 'kaajneeti'?"
Starting a few days ago, BJP hoardings can be seen at bus stops and on main roads across cities. The ad is simple. It's a prophecy, the party is convinced, and it has decided and announced, "Abki baar Modi sarkaar." It's like telling the voters, don't bother voting, you like it or not, we're coming to power.
Then there is the Congress buying endless radio air time in Mumbai promoting the Rajiv Awaas Yojana, the UPA's flagship housing scheme. I was told by a frustrated journalist friend that this was a classic example of ignorant, senseless media planners and buyers in the industry. The Rajiv Awaas Yojana, she told me, was not even applicable in Mumbai.
Then why do we hear these commercials each time we turn the radio on? Ohh… wait, brand-image repair? Is that it? It sure sounds like it to me.
I wonder what the basis of this advertising blitzkrieg is. In advertising terms, TG (target group) kaun hai, boss? Research says there has been a phenomenal rise in the registration of voters this year. Our very own hyperactive youngistaan, the 18 to 28 year-olds, are going to be the bulk of the voters these elections.
Now, please tell me, how are any of these political ad campaigns going to strike a chord with these new generations of voters? Which dude in Mumbai understands the meaning of 'aarajakta' (anarchy)? Most of us can't even pronounce it properly! You think these youngsters believe in a prophecy, or like being ordered into voting for a political party? In fact, you can be certain that most youth will do exactly the opposite of what they are asked to do.
Do you think a 20 year-old boy cares about a housing scheme in Mumbai? He's more interested in a job. Do you think a 20 year-old girl in Mumbai is concerned about whether Kejriwal can govern Delhi or not? No, she is more interested in knowing what the government in Mumbai is doing to ensure that her city doesn't become as unsafe as Delhi. I belong to that group, and so do some of my friends, who have nothing more than resentment for the present scenario of political campaigning.
So, no, political advertising is not working. Why? Because the old and the not-so-young prime ministerial candidates and "campaign leaders" of the most prominent political parties, or should we say their campaign managers, did not get the pulse of the voters and handed the wrong brief to their advertising agencies. And the bosses at advertising agencies, collected the crores on the table with both hands but did not go to the ground, or even around the office, to conduct actual research on what's running through the heads of the young voters. They toed the client's line. You have to, I guess, when the client is the next Prime Minister.
It's not that the advertising agencies cannot come up with good pre-election campaigns that actually strike a chord. They have repeatedly done it for mass brands.
Imagine, if Idea's latest 'Ullu Banawing' was a BJP campaign!
And wouldn't Tata Tea's (Jaago Re) out of the box, simple and clever kala teeka women's empowerment ad be perfect for the Rahul Gandhi-led Congress? I mean, that's what he keeps talking about anyway, right?
I guess it's too late to change strategy now, since the polls are almost here. And as usual, the mainstream political ads are not going to swing the votes in favour of any political party. In fact, they might just work against them. Remember India Shining?
A writer by profession and a copywriter by chance, Rachel Pilaka is a copywriter at Setu Advertising, and Content Lead at Underscore, a content development agency. She is in awe of the changing faces of the advertising world and is still experimenting with the medium. She tweets at @CuttingPilaka.