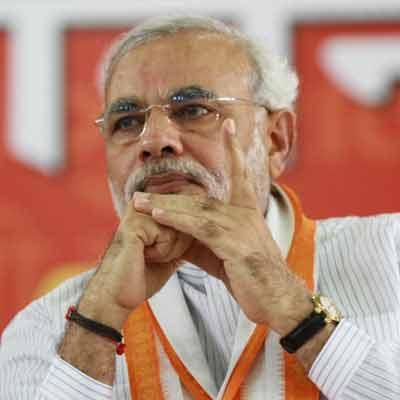 The BJP's prime ministerial candidate Narendra Modi has been under intense media scrutiny. Every move he makes comes under a microscopic view and there are different meanings derived from each depending upon which side you are on. As the battle for the 16th Lok Sabha polls reaches a crescendo, this election is increasingly becoming about Modi versus the rest.
On Wednesday, Modi filed his nomination papers from Vadodara. What usually happens is after a high profile candidate files his or her nomination papers, the details of his or her assets are soon out. But since it is Modi who has filed his nomination papers, we can expect something different. What has stirred the hornet's nest is Modi and the 'M' word.
This 'M' word does not let go of Modi. This time the much dreaded 'M' word does not refer to Muslims or minorities, but his marital status. For the first time, he has admitted or acknowledged the fact that he has a wife named Jashodaben. But the whole world knows Modi lives alone and he has dedicated himself wholeheartedly to the noble task of nation-building.
However, there are some elements who want to create controversies and try to embarrass Modi using his marital status. It is not going to affect the man, who appears destined to lead the nation a few days from now. In his speeches that arouse passions and whip up expectations in equal measure, he has always stressed that he is alone, that he has nobody to look after so why should he do anything for his personal gains.
The man is honest enough to admit he has a wife. But the fact of the matter is he is estranged from his wife. Under what circumstances the marriage had taken place, we do not know. This is part of his personal life, and if he wants to keep his personal life a secret, so be it.
What is more important is that Modi's premiership promises the deliverance from gloom and doom. He is confident he can lead the country to unprecedented development and under his leadership India will emerge as a super power. He promises the change India needs badly. And it is this promise of change that has created a huge Modi wave from Kashmir to Kanyakumari.
With the nation on the cusp of electing a brand new government, the controversy surrounding the marital status of the frontrunner to be India's next prime minister is unwarranted. In fact, it smacks of a dirty ploy employed by his detractors to divert attention from the main issues. For over a decade now, he has been ruling Gujarat, where people are happy with his style of governance and have returned him to power with absolute majority thrice in a row.
The marital status of a leader is of the least importance when he dedicates his life to the nation, and in this case Modi has a proven track record of good governance to his credit. This is why in this election, this issue will have zero impact on the final outcome. The saffron surge is imminent and the war cry is "Ab ki baar, Modi sarkaar", which no power on earth will be able to stop.
Irfan Iqbal Gheta is a Bangalore-based compulsive writer who likes to write on current affairs and politics. H tweets at @_GheTa.