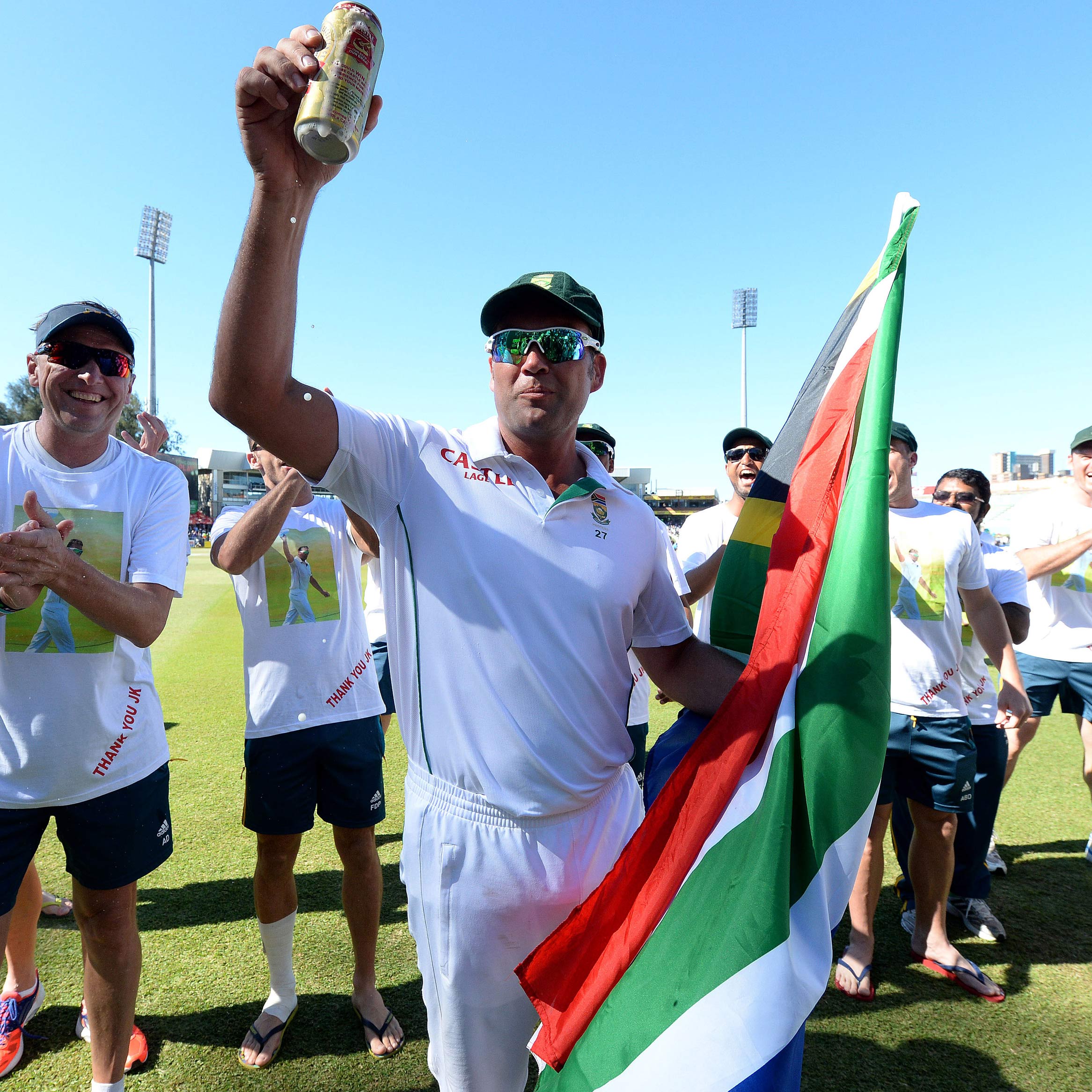 To get off the mark, means to breathe a sigh of relief. Anyone who has played a bit of cricket at a decent level knows the feeling of getting that burden off the chest. Understandably, a batsman, be it at an ordinary school level or in a high-pressure Test Match, scampers through the wicket for his first run like a kid running after a box of chocolates.
However, Jacques Kallis was a man minted in a different dye. Irrespective of the situation, he walked in with a 'been there, done that' body language. For him the first run hardly seemed like a sigh of relief but merely one of the many to follow. His first run was, mostly, a leisurely jog. As if telling the opponents, 'Guys, I have just begun'.
He did not have the flair of Brian Lara, he was not worshipped like Sachin Tendulkar and neither was he as popular as Ricky Ponting. But, in relative anonymity, he has ended his career being the only cricketer in the history of this wonderful game to have scored more than 10000 runs and taken in excess of 250 wickets in both forms of the game.
45 hundreds and 13289 Test runs at a better average (55.37) than these three legends while taking 292 wickets. Moreover, 11579 runs to go with 131 wickets in ODI cricket. Add to that his 331 catches (including Tests and ODIs), and you have a colossus, to whom any contemporary cannot even dare to come within touching distance. It might seem these numbers are achieved by three different players. And even if that was the case, those three different individuals would happily take that as an arduous but exceedingly successful endeavor.
Over his illustrious career, he played match-defining knocks many a time. But the one that defined the man himself was the second-inning-masterpiece against India at Cape Town in 2011. Wickets tumbled around him but he held the fort defying tremendous pain and also, denied India its first ever series win in South Africa. He ended up scoring unbeaten 109 with broken ribs.
As a batsman, he got runs as majestically as a liner coming into port. The mingled strength and sweetness of his cover drives cannot be hoped to describe in words. But his consistent exploits with the willow have somewhat overshadowed his decisive contribution with the ball, in an era when fast bowlers are plagued with injuries. Once, Sachin Tendulkar had articulated it precisely while giving a pep talk to Mumbai under-22 team. Mumbai had lost the opening game of the season in spite of scoring in excess of 400. The morale was down. Tendulkar was around the BKC ground so the coach requested him to have a word with players. "Observe what the South African team does", he said, "If their attacking bowlers are not successful with the new ball, Jacques Kallis comes on. He bowls that sort of a length, which is difficult to drive off the front foot but cannot be played off the back foot either. After his spell, the run rate drops down. And strike bowlers can strive for wickets without worrying about the run rate". Moreover, in the most successful bowling pairs in history, Kallis features twice.
Steve Waugh has often mentioned in his autobiography that the key to success is to maintain the emotional balance irrespective of the outcome. You cannot afford to get carried away after a hundred but neither can you survive by getting depressed after a duck. Kallis, throughout his career, appeared to have mastered that art. Seldom did he allow his emotions to come to the fore. Much like Bjon Borg played his Tennis. He went about his business in a clinical sort of way.
And his retirement from Tests was a reflection of his career. No hullaballoo, just hard-fought Test Cricket. The farewell was a fairytale. Walking out to a guard of honour, he treated his fans with a typical Kallis innings for the last time. Match hanging on a knife-edge, turning track and a fading light. Unfazed by the emotion and stage, concentration powers at its zenith, he compiled flawless 115 runs in 316 balls. A tear in the eyes and smile on the face at a time has to be a rare moment. Kallis inspired that moment when he got to the three figure mark. His teammates, in return, gave him the send-off he deserved and signed off with a victory. The script seemed to be written by the man himself before walking into the sunset. Jack Fingleton, in his book 'Masters of Cricket', has written, "The outcome of a match is interesting but not, on the scales of time, of any great moment. What is important is whether a particular contest gives to posterity a challenge that is accepted and won, or yields in classical technique an innings or a bowling effort that makes the game richer, so that the devotee can say years afterwards, with joy in his voice, "I saw that performance."' This last outing of Kallis was that sort of a performance.
Even in ODI cricket, after having a horrid series against Sri Lanka, he put curtains on his career, without any greed of one last swansong. "I realized in Sri Lanka that my dream of playing in a World Cup was a bridge too far. I just knew on that tour that I was done," he said.
Perhaps he miscalculated these decisions a bit in pursuit of playing another World Cup. Had he quit ODI cricket earlier, it might have extended his Test career by another year or two, as he was needed in the longer format much more than the shorter one. But we are not blessed with foresight. And for a man who has been a pivot around whom the edifice of South African Cricket is built, this misjudgment can easily be pardoned. It cannot take away from the fact that he remains the most valuable cricketer of modern era, for it allowed South Africa to play with 12 players for nearly two decades. In a sense, his deeds seem greater in retrospect, as though looked through a magnifying glass.
Kallis' retirement from all forms means an end of an era. Even though it is hard to come to terms with the fact that we will not be able to watch him in South African colors again, the grandeur that he has spread over the cricket field will remain forever.
While travelling through Paris, I came across quite a few exhibitions and museums of iconic artists. But it was Salvador Dali who stood out in my mind. Because his paintings were as impressive as Picasso's and sculptures as versatile as Rodin's. Whatever Dali tried, he mastered it. And so did Kallis. I may not have seen Sir Gary Sobers, but I have certainly had the privilege of watching Jacques Kallis.