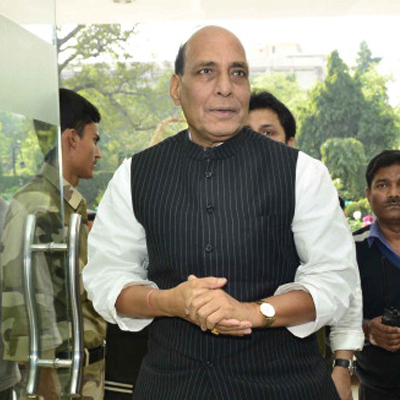 "The profound hypocrisy and inherent barbarism of bourgeois civilization lies unveiled before our eyes, turning from its home, where it assumes respectable forms, to the colonies, where it goes naked", wrote Karl Marx in 1853 while manifesting the double standards of bourgeois. Similarly, the thoughtful hypocrisy of BJP is unfolding in front of our eyes as we approach the D-day of 16 May.
While projecting itself as the alternative to the corrupt incumbency, BJP espoused the scamster Yeddyurappa in January 2014. When Cobrapost broke a sting operation regarding the Babri Demolition, BJP questioned the timing of it; but when Sanjay Baru published a book exposing Manmohan Singh, they kept harping on its content.
When Sonia Gandhi met Shahi Imam in Delhi and appealed to vote strategically, BJP rightly questioned her communal politics but within days, party president Rajnath Singh pulled off a Sonia Gandhi in Lucknow by meeting Muslim Clerics. "I feel that if India has to become a strong nation then all the castes, religions and their followers have to be assimilated and this is what the BJP believes in", he said, downplaying the incidence.
But simultaneously, BJP's candidate from Rampur, Naipal Singh, quite candidly confessed that he would not canvass in town because he is not interested in Muslim votes. On the one hand, BJP's manifesto talks about improving the condition of Madarsas in India but on the other, Meenakshi Lekhi, on Times Now, said in an alarming tone that Muslim population has increased from 9 percent in 1947 to 18 percent now.
However, BJP's this brand of politics dates back a long time. In 1992, the then incumbent chief minister of Uttar Pradesh, Kalyan Singh, filed an affidavit in the Supreme Court that as the chief minister, he will not allow any damage to the Babri mosque. However, Kar Sevaks demolished Babri on that day. Taking the moral responsibility, he resigned from the post of Chief Minister in the evening. In 2012 though, he conceded, "As chief minister of UP, I had ordered the police not to fire at Ram bhakts who had assembled at Ayodhya in 1992 during the Ram temple movement, which led to demolition of the Babri mosque. I take full responsibility".
Therefore, Modi and BJP's claims of inclusive politics remain as ambiguous as IPL's credibility. Modi's original guru, MS Golwalkar, the former Sarsanghachalak of RSS, had once said, "Hostile elements within the country pose a far greater menace to national security than aggressors from outside. The three major internal threats are Muslims, Christians, and Communists". He had maliciously asked, "In this land; Hindus have been the owners, Parsis and Jews the guests, and Muslims and Christians the dacoits. Then do all these have the same right over the country?"
They say actions speak louder than words. If BJP genuinely believes in the inclusive politics, then their leaders and spokespersons should publicly distance themselves from MS Golwalkar. Interestingly, not even one Muslim candidate has been given a ticket by BJP in Uttar Pradesh, which has around 19% of Muslim population. In the other parts of the country, the number of Muslim candidates of BJP is insignificant. Since 1998, BJP has been in charge of Gujarat but it has not had a Muslim minister in the state cabinet.
A story done by Hindustan Times, in 2012, reported that When the BJP's central parliamentary board met to decide the candidates for Gujarat polls in 2007; party leader Shahnawaz Hussain had implored Modi to field at least one token Muslim candidate from the state. "We don't need tokenism in Gujarat," Modi reportedly snapped at Hussain in response. It means that around 10% of that state's population does not have a representative.
In Hindi, there is an aphorism, which goes, 'hathi ke daat dikhane ke alag aur khaane ke alag.' Similarly, the BJP have been hedging their bets, staying loyal to their quintessential idea of Hindutva under the garb of inclusive politics. If that was not the case, Narendra Modi would not have felt the need to seek refuge in choreographed interviews.