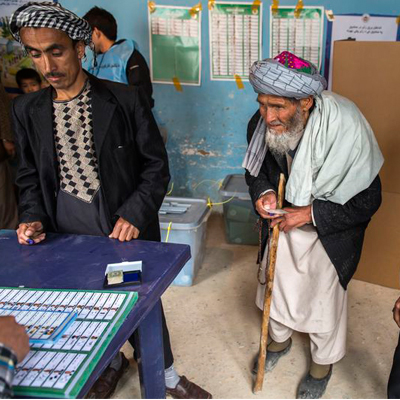 The stalemate in finding a successor to Afghanistan's President Hamid Karzai may drag for at least two more months now as none of the candidates have got the required 50% votes in the preliminary results announced on Saturday evening.
On Saturday evening, the Afghanistan Independent Election Commission (IEC) announced the preliminary result of the Presidential Election, two days later than earlier scheduled date of April 24. Abdullah Abdullah, who was leading from the announcement of the first round of result, has maintained the lead with 44.9% of the total votes polled, but fell short of the 50% mark.
The tally of nearest rival Ashraf Ghani Ahmadzai came down slightly from the third round of the result announced earlier to 31.5%. Abdullah has got a total of 2,973,706 votes, while Ghani was 884,289 votes behind with 2,089,417 votes. None of the two leading candidates appeared happy with the result as they criticised the IEC of irregularities, although both refrained from accusing the IEC officials of being partisan. Abdullah has alleged that "the complaints have not been addressed properly," adding, "Organised fraudulent election results will not be acceptable to us." In a press conference on Sunday, he urged the IEC to be "more transparent," wanting to know which ballot boxes have been declared invalid and on what ground. Abdullah's camp has, however, indicated that they are prepared for the run-off.
The Electoral Complaints Commission (ECC) has received about 900 serious complaints (total over 3000), of which about half are related to the Presidential Election, and rest in connection with the Provincial election held simultaneously. The final result can take weeks more to come only after all the complaints are deposed, and that may even impact the result. Ghani alleged that both election commissions (IEC and ECC) were "lacking in many areas," adding that there is no clear winner in the first round and hence a runoff is imminent. "We are going to the second round with strong determination," he said in a press conference on Sunday, adding that "the second round of election is a new opportunity for national unity" for a "comprehensive national government."
He denied the rumours of any deal with anyone, "I did not promise any positions to any one and nor have I sold any positions to anyone," he said on Sunday. Even before the election there were rumours of some 'understanding and deal' to avoid second round. Dr Abdullah too has made it very clear though that he and Ghani are not in any kind of negotiation. Meanwhile, the country prepares for the run-off between the two candidates. In response to a question on possible round-off, Muhammad Yousuf Nursitani, the head of IEC said on Saturday, "From what we've analysed so far, we might go into a runoff. But we hope not," hinting at possible negotiation between the two leading candidates, adding that if runoffs were to happen, it will take place on June 7. It was originally scheduled for May 28.
Asked about the preparedness of the run-off, which appears likely, unless there is some sort of 'deal' between the leading candidates, the Head of IEC Secretariat, Zia-ul-Haq Amarkhail added that the "IEC had planned ahead for a possible runoff, both financially and technically."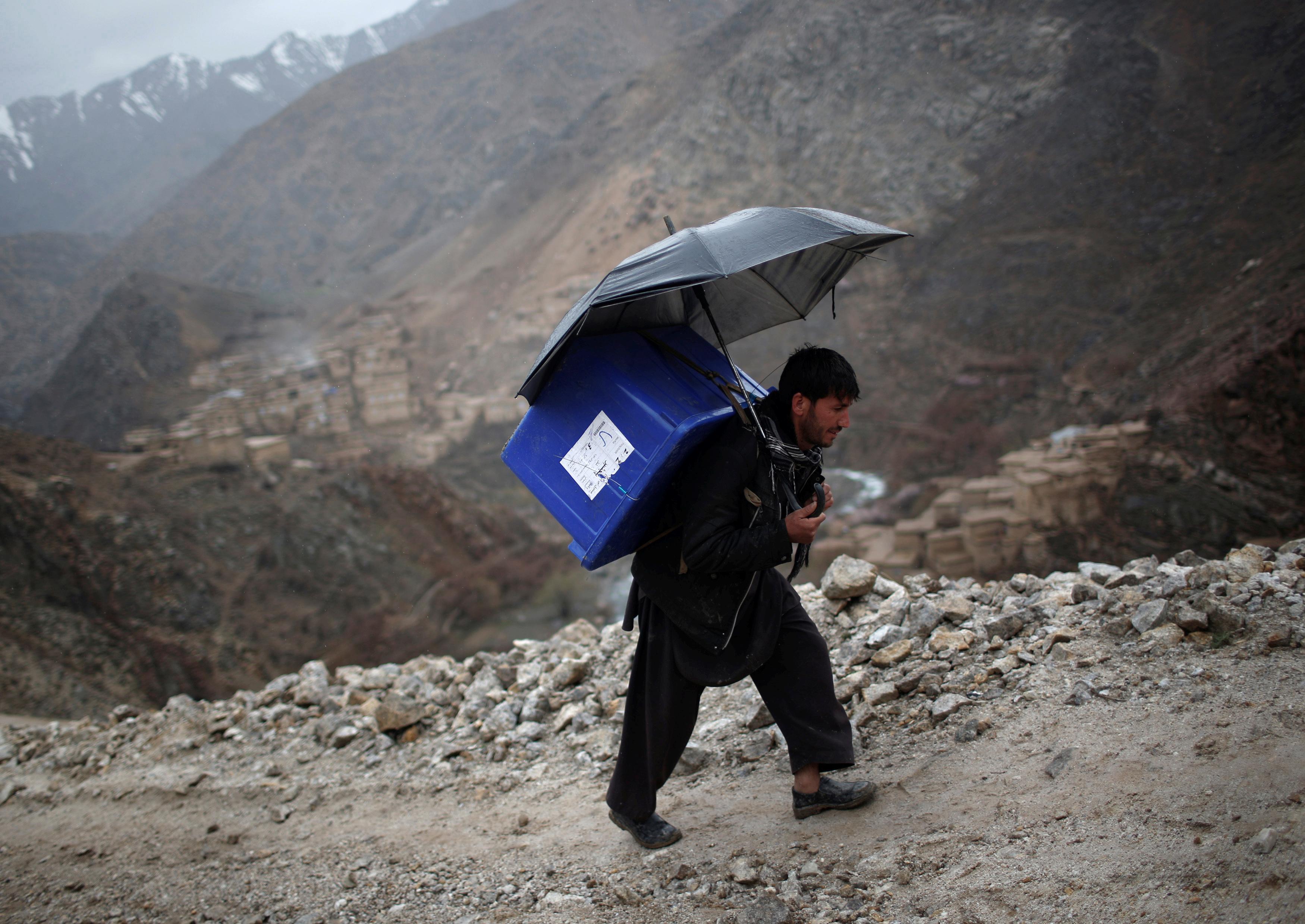 Other candidates:
Zalmai Rasoul, whom President Karzai had supported – though not officially – has ended as distant third with 11.5% of the total votes polled. He, however, managed to get the majority of votes in Kandahar province and has got considerable votes in other Pashtun dominated provinces in East Afghanistan.
Known for his hardline stand, Prof-Abdo Rabe Rasool Sayyaf could garner only 7.1% of the votes, but he did manage to get over 30% of votes in Nuristan, over 25% in Wardak and over 13% in Pakita. Other candidates, Eng- Qutbuddin Hilal (2.7%), Mohd. Shafiq Gul Agha Sherzai (1.5%)), Mohammad Daoud Sultanzoy (0.5%), and Hedayat Amin Arsala (0.2%) could manage less than 5% of votes among themselves.
Future course:
Although father of Abdullah was a Pashtun, because of his long association with the Northern Alliance and being close aide of 'Lion of Panjshir' Ahmad Shah Masoud, he is seen more as the leader of Tajiks and other groups and not so much of Pashtuns. All the other Presidential candidates are Pashtuns that led to division of the majority community votes. In the event of a face-off, a consolidation of Pashtun votes, may give Ghani an edge. In such a scenario, Rasoul and even Sayyaf could emerge as the 'king-maker,' as their support might prove decisive.
One cannot completely ignore the outgoing President Hamid Karzai as well, who has earned the respect of the people for not meddling directly in the transition process, but his tactic support can clearly swing the decision. Abdullah and Ghani has publicly urged Karzai of taking up some role in the future government, but so far he desisted from accepting any official role.
In the 2009 Presidential election, Abdullah had received over 30% votes, but withdrew from the race just few days before the second round, accusing Karzai of widespread corruption using state machinery. Over the years, he is seen as bête noire to Karzai.
Ghani, an academic, former World Bank employee and Finance Minister in the first Karzai Government had finished fourth in the 2009 election. He has been closely associated with the Karzai's government though, serving in past three years as his adviser in charge of transition, the process in which responsibility for security was being gradually transferred from the Americans and NATO to Afghan security forces.
Afghanistan had created history on April 5 by turning out in large number to vote for the first transition of power since Hamid Karzai took over after NATO intervention in 2001, braving the incessant rain and threats issued by Taliban. 7 million of the 12 million eligible voters (about 60%) had turned out at 6,212 polling stations defying Taliban's attempt to sabotage the election process for a peaceful transition.
If Afghanistan is successful in democratically choosing the successor to Kaarzai, this will be the first peaceful transition in over a century in Afghanistan's recent history. Meanwhile, the mood on the streets of Kabul does not appear in favour of a re-election as they fathom long wait for the next government, wastage of large amount of money and security risk.
Also Read:
No clear front-runner in Afghanistan presidential election
Ethnic allegiance remains strong ahead of Afghanistan presidential elections
(M Reyaz is a Delhi based Journalist, who was in Afghanistan during the Presidential Election. He tweets at @journalistreyaz)
(The opinions expressed in this article are the author's own, and do not necessarily reflect the views of dna)