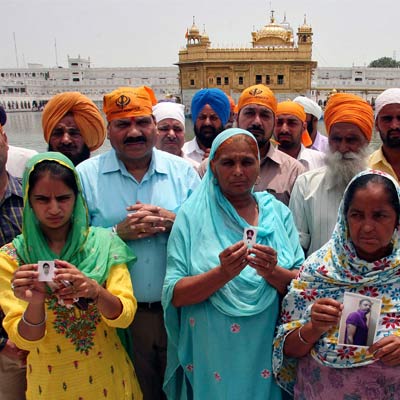 Fears for civilian safety have been rapidly rising in Iraq as fighting between state forces and armed opposition groups led by the Islamic State of Iraq and al-Sham (ISIS) spreads across the West Asian country. Reports suggest over half a million civilians have fled northern Iraq as news filtered in of ISIS capturing Mosul and Tikrit. With the ISIS reportedly advancing towards Baghdad, more displacement is expected. Among those most vulnerable are Indian migrant workers based across Iraq who went to the Gulf in search of a better future for themselves and their families back home.
Fears for Indian workers in Iraq started growing when news came of around 40 Indian construction workers having been taken hostage by armed groups. There are also concerns for 46 nurses stranded in Tikrit, which is now under the control of ISIS. While the Indian government says it knows where the abducted Indian workers are being held, and makes assurances of their safety, the families of these workers say they have not received enough helpful information.
Even though the Shia-majority regions of southern Iraq have not been affected by the conflict, there is fear in these parts as well. A group of Indian migrant workers Amnesty International India spoke to in the southern province of Najaf said they were scared of being caught up in the violence, but could not leave the country because their employer refused to give them their passports. They said they had not been paid in five months. In times of violence, not having money and travel documents at one's disposal can increase vulnerability manifold. The confiscation of passports is a reality for thousands of Indians who emigrate to the Gulf and are made to hand over their passports to their employers as soon as they arrive.
Studies have shown that a large number of Indians who emigrate to West Asia do so due to unemployment or poverty at home. Many of them come from impoverished backgrounds and take on large debts to be able to move abroad and support their families in some manner. It is also this lot that often falls prey to deception by some recruiting agents, which piles on more despair in their lives.
The Indian government has reacted quickly to the conflict in Iraq. It has been trying hard to reach out to Indians working in the country. The need of the hour is for the government to provide whatever assistance it can to Indian nationals in Iraq, including evacuating them if they want to leave. But there are also other lessons. While we can never predict how and when emergencies will erupt, more can be done to support Indian migrant workers when they reach the Gulf, and also before they leave India.
Despite the introduction of some pre-departure orientation programmes, Indian migrant workers are still at risk of being deceived and exploited by rogue recruiters in India. Indian migrant workers are known to arrive in Gulf countries without really knowing who their employer will be and where they will be working. If they are really unlucky, they can even be trafficked to end up as forced labourers.
Indian migrant workers in the Gulf are often unaware of what kind of support they can expect from the Indian government. There needs to be a better system of regulating recruiters in India, and of informing and training migrants about their rights and the risks they face so that they can be better protected abroad. The government must ensure Indian migrant workers are empowered, so that they are able to react more quickly and effectively in times of emergency, and reach out to the right authorities for help. Crucial to the welfare of migrant workers is a transparent and effective complaints mechanism through which they or their families can seek redress for rights abuses.
The events of the last few weeks also reiterate the need for a better system of registering Indian migrant workers in Gulf countries, so that the government is better able to track and assist them in times of trouble. This is particularly important because we know there is a history of Indian migrant workers being exploited and abused, and ending up working in a different place from what they had signed up for.
Migrant workers in the Gulf are not only major contributors to nation-building in the countries they work in, but also in India, where they send home crores of rupees every year in remittances. Yet, they continue to be a much neglected group. As hundreds of thousands of Indians continue to leave for the Gulf in search of a better future, India needs to do more to protect their rights in foreign lands.
Raghu Menon is the Advocacy Coordinator for Amnesty International India.