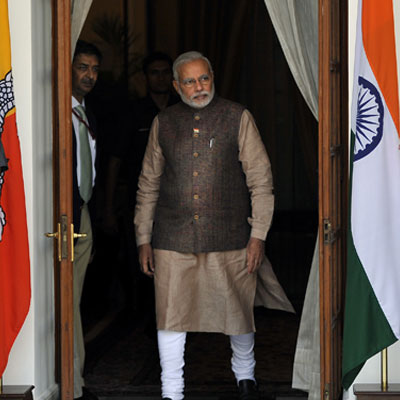 There are only a few cricket matches or daily soaps on television which can garner the same amount of eyeballs as the Budget presentation every year. Every Indian turns into an economist and analyst, willing to give his or her own piece of advice to the government, which is always dabbling between managing expectations and managing revenues. This time, expectations are sky high from the government that sold itself as the panacea for everything wrong with the country, and yet, revenues haven't really started to come.
Stock markets touch new highs regularly since the elections have happened, and they responded with a huge spike even on the exit polls results which projected Narendra Modi to be our new prime minister. Behind celebrations and climbing return on the stocks, which brings a sparkle into the eyes of every bookmaker and investor, there is a story of the average Indian on the streets who suffers from the soaring inflation that comes with it. He is the one who is actually hopeful of the budget, and he is the one who is going to be most disappointed this time for more reasons than one.
Bitter Pill Marketing
The BJP was the first one to register protest and announce 'dharnas' whenever the Congress raised prices of commodities including petrol, and disrupted daily lives while championing their cause. The government hasn't been in place for 100 days yet, and we have already seen multiple price hikes with more expected to follow in the coming days. It is clear that the prime minister wants to accumulate funds by charging more from people rather than cutting down on wasteful expenditure or planning resource usage. The Rs 100 crore jet for Anandi Ben Patel, chief minister of Gujarat, can be called a case in point.
Modi has what nobody has had in the country for a long time: authority and the support of a large number of people from the 1.2 billion strong country. When he speaks, everyone listens. This is probably why not many people vehemently protested against the price rises and claimed to understand how important this 'bitter pill' is for our long term.
Budget's Backbone
Finance Minister Arun Jaitley has already warned against "mindless populism" and the budget is expected to consist of many more such bitter pills which will hopefully power up the economy, but it is unlikely that the common man is in for a respite in the coming few years.
India's Current Account Deficit (CAD) is finally at less than 1% of GDP, which has been a cause of concern, but we are far from becoming an export surplus nation. And until we do, there is going to be an imminent fear of restrictive policies and suppressive taxation hanging on our heads.
The revenue streams are working fine for the country as of now, but the government should stop giving alms and luxuries to ministers who don't care one bit about the economy of the country and promise similar alms to their audiences whenever they protest their policies.
Budget is a statement of income and expenditure, but it becomes a vehicle of appeasement of various sections that extend support to the party, and corporations are going to be the biggest gainers as the common man who can't afford a meal in McDonalds stands on the sidelines and pays his taxes on time from whatever little he makes.
Worsening Economic Plans
The BJP manifesto is full of anomalies and self-negating promises which range from 'giving boost to the agriculture economy by promoting indigenous brands' to 'Rethinking FDI policy and making sure that economy grows with infrastructural support'. It will be interesting to see how the party makes its way through the mess it created for itself by promising everything and giving wings to the imagination of people.
Earlier, the party stood against FDI, and now, it is actively calling for FDI. Some reports suggest that FDI in railways is in the offing, which might prove to be as bad an idea as it was to give Mumbai Metro to Reliance. Coffers of these corporations are never full and a great service to consumers is the last thing on their mind, since lobbying is a cheaper way of securing consensus.
Great Expectations
The Budget of 2014 might not be as path breaking as we are all hoping it to be. The government might stick to basics and give some tax relief in tax brackets and call for implementation of GST. On the other hand, corporates should get ready to pay more taxes which they can pass off as price rises to the last consumer who has no choice but to believe that 'bitter pill' is only way to 'acche din'.
The budget has been long misused as a promotional vehicle instead of a financial tool but it is high time the government changes this and makes the most of this opportunity. Actually fixing things requires more than just iron will and a '56 inch chest' and I am sure our honourable prime minister has it in him to make his ministers toe the line before they teach fiscal discipline to the electorate.