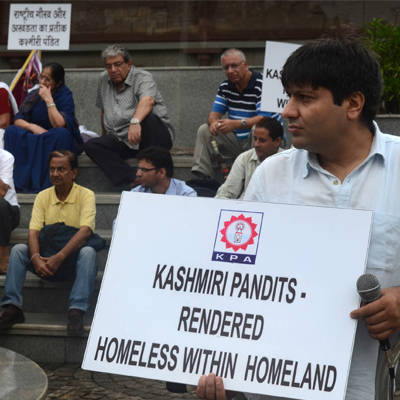 In his inaugural address to the joint session of Parliament, President Pranab Mukherjee spoke for a few minutes about Kashmiri Pandits and their rehabilitation while outlining the Narendra Modi-led government's agenda for the next five years. Those few minutes came after years of apathy, neglect, protests, petitions, tears and struggle. Those few minutes meant a lifetime of prayers answered for a tiny community that has been languishing in despair and hopelessness.
President Mukherjee said special attempts will be made to ensure that Kashmiri Pandits return to the land of their ancestors with full dignity, security and assured livelihood. This was the first time since the shameful exodus of the Kashmiri Pandits in 1990 that their return and rehabilitation was mentioned by the highest offices of power in the country. Needless to say, there is a rekindling of hope in the community, which has been pining for home for two decades now. Strife and struggle aren't new to the Hindus of Kashmir, who over centuries of suppression have been reduced to a micro-minority in their own land. The 1990 exodus is their seventh known exodus.
As the Kashmir Valley became one of the first known laboratories of jihad in the world, the valley's Hindus were the first to bear the brunt. They were seen as 'agents' of the government of India, symbols of Hindu India that needed to be wiped out. The exodus, the only known exodus in Independent India, was no doubt smaller in scale compared to the 1947 Partition, given the number of Kashmiri Pandits, but the tragedy and horror was no less.
Over the years, what has pained the community more than the loss of their homeland is complete apathy by the governments in power. Any time the Kashmir issue was discussed, separatists, terrorists and secessionists were invited, but the Pandits had no voice, and if any of them spoke, it was ignored. So far, there is no consensus even on the reasons that lead to the exodus.
The liberal narrative, which has taken its cue from the jihadi narrative emanating from the valley, still believes the Pandits left on their own volition and there was no threat to their lives, their women and their property. That the then governor of Jammu and Kashmir, Jagmohan, coaxed and coached the Pandits to leave is still the dominant narrative. The Pandits have seen truth mauled and butchered. That perhaps, pains most than murders, rapes, and loss of homes.
As a candidate prior and during the Lok Sabha elections, Modi promised to do his best to resolve the issue of the Kashmiri Pandits and give it the attention it rightfully deserves. Prime Minister Modi has kept his promise. He has reiterated his government's resolve to work on their rehabilitation and ensure they are no longer refugees in their own country. He deserves kudos for bringing the issue to the mainstream. It is lot more than his predecessors have ever done or attempted.
However the Kashmiri Pandits' rehabilitation is not an easy task. It is not easy to overwrite history, but if there was ever a time to fix this tragedy, this is it. Such windows of opportunity come rarely, and when they do, they need to be seized.
In order to ensure that seventh exodus of Kashmiri Pandits is the last one and this rehabilitation is the final one, there are few things that must be kept in mind by the government of India.
No Pandit will ever feel safe in the Kashmir valley unless those who killed them, raped them, maimed them, and burnt their homes are made to face court of law. What happened in 1990 was a crime against humanity. Those who perpetrated the violence are roaming free on the roads of Kashmir. No one has been punished, no convictions have been made, no cases have ever been registered or pursued against the murderers. Justice must be brought against those who were actively involved in killings. No Hindu will feel safe in his own home while Yasin Malik and murderers like him roam freely.
There are hundreds of variations of what happened in 1990 floating around. So far the jihadi narrative has been bought lock, stock and barrel by the liberal media that dominates the news space. A Special Investigation Team (SIT) must be set up to probe and put the jigsaw puzzle together so that we have one official narrative of what led to the exodus. We must have official version of how many lives were lost, how many houses were destroyed, how many women were raped and how many people were tortured. No tragedy can be quantified, but at the same time it is important to have one official version of what happened, which everyone accepts. This helps in countering the jihadi narrative that relentlessly propagates that wanderlust suddenly gripped the Pandits and they left their homes of 5,000 years in search of some sort of adventure. Truth has been a casualty in Kashmir and it is important that truth comes out. Only when the truth is established can the process of reconciliation begin.
This brings us to the real issue of rehabilitation and how it can be achieved. The easiest way is probably to announce a financial package, establish ghettos and leave the Pandits to their destiny in the valley. This is also the least effective way and will not lead to any rehabilitation, but will make the Pandits sitting ducks for the next cycle of jihadi violence.
Kashmir was and continues to be one of the most dangerous places on earth. Given the volatile situation in Pakistan and the American withdrawal from Afghanistan, Kashmir surely will become one of the stages for jihadi terror again. The Pandits will become easy targets if that happens. So, more than a financial package, it is important that the Kashmir Valley is insulated from terror. That can happen with zero tolerance for secessionists, terrorists and serious building of bridges with the local population.
Hitherto, the Congress policy of throwing financial packages at secessionists who are also on the payroll of the ISI helps no one. Opening of employment and entrepreneurial opportunities for Kashmiris will make jihad less attractive to some section of the local population at least. Reviving and modernising tourism industry will also bring prosperity to the local population and this might make them less susceptible to the brainwashing of the global jihad network. Abrogation of Article 370 will go a long way in achieving prosperity and opening up Kashmir to the mainstream. It will encourage corporations to invest in Kashmir, Jammu and Ladakh, thus heralding the era of prosperity. Rehabilitation of Kashmiri Pandits is inter-linked with the abrogation of Article 370. Both must happen simultaneously.
Given the complexity involved in rehabilitation of Pandits, many Pandit organisations have demanded that a separate Union Territory of Panun Kashmir be carved out for them. Pandits feel that given their unique history and their suppression over centuries they now deserve a piece of land that they can call their own. Panun Kashmir will comprise citizens who owe their allegiance to the tricolour and to the constitution of India. It will be a home that Pandits will finally call their own and a chunk of land where they can cremate their dead. Is Panun Kashmir a viable alternative? Can a union territory like that be carved or will it lead to further ghettoisation of Pandits? Modi government must initiate a dialogue with Pandit organisations over Panun Kashmir to come to a suitable solution that will be acceptable to all. It is important that Pandits elect a few representatives amongst themselves for negotiations with the government of India. It is an opportunity that comes rarely in history and it is imperative that they work closely with the government to find an acceptable solution to all.
Yesterday I spoke to my grandmother who has been living in exile in Jammu since 1990. She complained about heat and how she does not like the water in Jammu. Chilled water is fine, I chided her. She stopped and then slowly said, "I want to quench my thirst with water of Chashme Shahi in Srinagar. This refrigerated water only increases my thirst." For my grandmother and many in her generation who only want to quench their thirst in the rivers of Kashmir, my generation must seize this opportunity presented by the Modi government and work towards justice, peace, reconciliation and rehabilitation, and yes, in that order.
Sunanda Vashisht is argumentative and a news junkie, for whom writing is both a passion and catharsis. She is community editor for "Centre Right India" and can be reached on twitter at @sunandavashisht.
Originally published on 12 June 2014