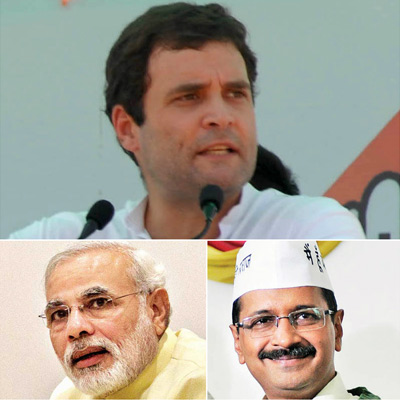 Rahul Gandhi's interview with Arnav Goswami was revealing in the sense that it brought out the thought processes of both the interviewer and the interviewee. One was at liberty to fire questions, while the other had to defend, deflect, reply, and repeat, and in some moments, smile sheepishly while being frustrated at not having an answer.
Apart from the most debated points, what stood out for me was the importance of excellent communication skills for a leader.
Leadership in any field is all about having a vision and being able to communicate that vision effectively. During the span of my career I have had the opportunity to observe many leaders, and I have admired some and wondered at others. But I have learnt from both.
Leaders with the right attributes of vision and effective communication are rare. They have the great ability to move an entire organization or a country with their leadership, and most often positively influence people in their personal lives as well.
Generally, people are intelligent enough to distinguish the superficial leaders from the genuine. And in the worst cases, the old adage rings true – one can fool some people some of the time, but one cannot fool all people all the time.
In his interview, Rahul Gandhi came across as a humble person who probably has worked hard within the Congress in the last decade. But there was a lack of articulation of what the vision was, and most importantly, what aspects were being worked upon. His lack of experience in handling interviews like this one was obvious. He stood out for being unlike seasoned politicians who have mastered the art of smoothly deflecting questions and subtly playing the blame game or aggressively passing it on. As a last resort, such people get loud or start challenging the interviewer. Rahul Gandhi did all of that sparingly.
Leadership styles differ from leader to leader, as do their communication styles. Mahatma Gandhi, Barack Obama, Nelson Mandela, Bal Thackeray and Narendra Modi all have very different approaches, and yet each of them have a powerful hold on their followers.
Today/nowadays, we are witnessing three people trying to hold India's imagination: Arvind Kejriwal, Narendra Modi and Rahul Gandhi.
Arvind Kejriwal has the advantage of starting from scratch. He has no baggage. He is making fresh promises and helping young India dream of a fairytale that could come true. His focus is the "young and ordinary citizen".
Narendra Modi's Gujarat success story is his trump card and gives him the upper hand, especially if marketed shrewdly. His experience in politics is an added bonus. He has planned strategically, well in advance, to include the youth in all his agendas. So he is already on a strong wicket.
Then there is Rahul Gandhi, who is calmly trying to climb above the vast baggage that weighs him down. The baggage of a party that is perceived as jaded in age and thinking, the baggage of belonging to the Gandhi family, of being young and non-aggressive, of being perceived as being "mama's boy" and living under his sister's shadow. The baggage of circumstances that have pushed him into where he is, the baggage of a sub-optimal ruling party that has no clear leadership.
In that rare interview, we saw glimpses of him struggling with these very things. Things that don't allow him to express his individual vision, that don't allow him to break free and create a new dream for the people of India. He is clearly at a disadvantage, in a tight corner, having to defend the actions of others as he has none of his own to speak of.
Yet there was the glimpse of a spark that was trying to shine in all that darkness. A hint of wanting to be heard and seen as Rahul, the person we don't know of, who thinks positively below the party's murkiness, the real "ordinary citizen" who has mingled with the masses of India in his ten years of work. As the Rahul who is confident of making his party win the race by contributing meaningfully to the progress of India's people. If he succeeds in breaking free from the shackles, his genuineness could surface. If not, it is a ruthless world of politics.
Unless there is depth in the leader's mind, the communication will not reach the hearts of its recipients, and we as voters have the challenge of piercing through the clutter and single out that one voice that touches our heart as truly "genuine".
May the worthiest win.
Sharada Sunder is Executive Vice President, Regional Channels, at Zee Entertainment Enterprises Ltd. She is also interested in poetry, prose and painting, and has published a collection of poems, The Illegitimate Tree & other poems. She blogs at Heartfelt expressions of life on Wordpress.