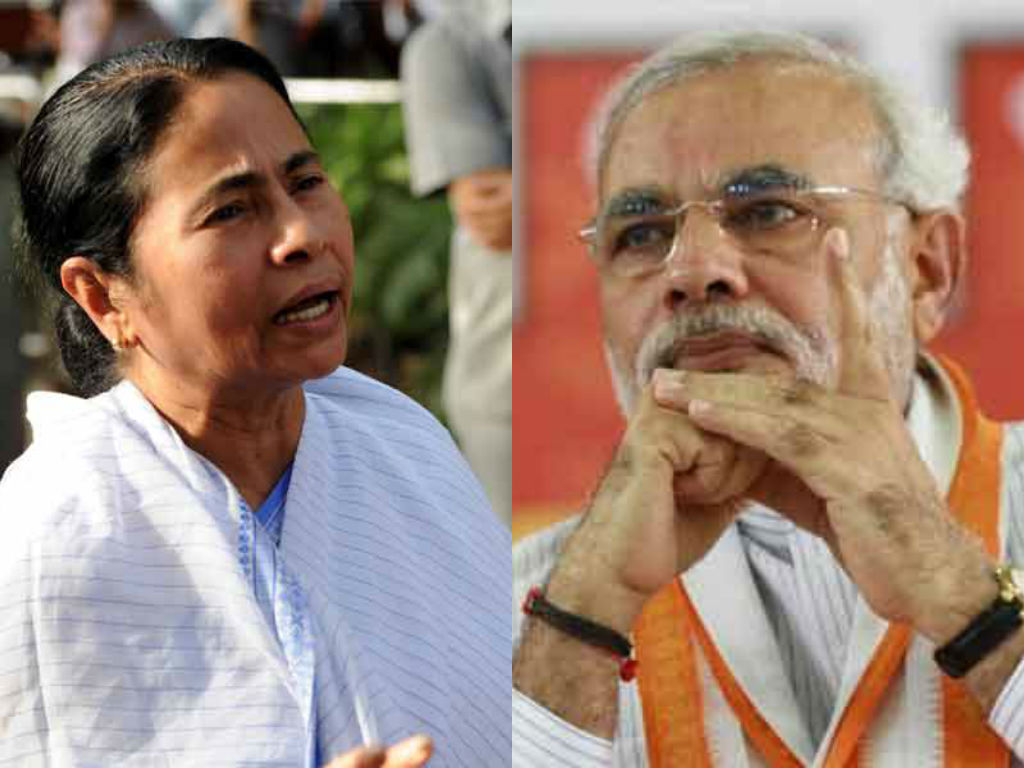 The political landscape of Bengal has changed with the impending Lok Sabha elections. The question that whether it is due to the so called Modi wave or not could be debated, but it's written on the wall that Bharatiya Janata Party (BJP) is going to emerge as serious political force in the state after May 16.
According to reports in local media, state's Intelligence Bureau has predicted that the vote share of BJP is going to rise from 6% in last elections to 15% this time.
Apparently, Trinomool Congress (TMC) chief Mamata Banerjee is wary about this particular development as it could hurt her party's prospect most in the elections. The rising BJP is supposed to cut into the TMC's middle class and urban votes benefiting the left front candidates at some places.
This can be guessed from the fact that Mamata unlike in past is more aggressive towards BJP and Modi in her election rallies instead of her previous foe Communist Party of India (Marxist) or CPM.
However, most political observers agree that it's very difficult to predict seats for political parties in Bengal given that everyone is going alone this time and we should be ready for surprises. There is no TMC-Congress coalition this time which did quite well the 2009 Loksabha elections. BJP, not a political favourite here scored their best in the 1999 elections with 2 seats in alliance with newly formed TMC that time.
Here it would be interesting to ask that how the growing graph of BJP in the state would impact the CPM which aims for a comeback in 2016 Bengal's assembly elections? More so when BJP has brought earlier politically non-existent issues like minority appeasement, Bangladeshi infiltration or Hindu pride in Bengal's polity.
The recent bitter public exchange between TMC supremo Mamata Banerjee and BJP's PM candidate Narendra Modi has only added a new angle to the political equations in the state.
There are two main questions need to be answered first before addressing the previous question. Who is more anti-BJP or rather anti-Modi, TMC or CPM? And the second question should be, among CPM and BJP who will be the most active opposition in the state? The first question is obviously linked to the influence over state's 26% Muslim voters. Though the CPM leadership has always tried to counter TMC by quoting Mamata's vote for NDA during the post 2002 riots parliamentary debate or her sending congratulatory flowers to Modi after his victory in 2003 assembly elections, but it never yielded the intended benefits.
She made it clear that if needed, she can go to any extent in opposing Modified BJP.
With regard to the second question, it is a fact that CPM is still far ahead than BJP in terms of their political reach and organisational capacity in Bengal. Moreover, after the initial backlash of expelling senior leaders like Rezzak Molla and Lakkhan Seth, CPM has seriously started working on its strategy and become very aggressive in its dealing with the TMC government's mistake.
The way its youth wing could mobilise people to protest against mismanagement in the Teachers Eligibility Test which caused few suicides in the state is a sign that the party is working hard to regain their loyal voters.
On the other hand, BJP till now have only piggybacked on the Modi wave and star power to make a serious electoral impact. As many predicts, state BJP may be successful in their attempt but the real challenge comes after that. It is yet to connect with masses on many pertinent issues that have rocked the state recently and expand their organisational base in the rural areas. But it is expected that central leadership would now put more focus in the state given the changing political scene here.
There is no denying that the initial euphoria around Mamata is not there anymore. Political violence has gripped the state and parties looking helpless on this issue including CPM because of its own murky past. In such a time, there are great chances for an opposition party to play an important role in shaping the political discourse of the state. BJP can definitely captures this space and challenge CPM's role as opposition in future.
CPM on the other hand should not be in fool's paradise that they can counter BJP only by parroting communalism versus secularism debate. Rather than touching emotive issues, a fair debate on the socioeconomic visions of both the parties for the Bengal's problems can make things clearer to people.
The main thing is whether these political parties can walk the talk to reinvent themselves to make them more politically significant in Bengal's affairs. Come May 16 and Mamata will find her worthy challengers.