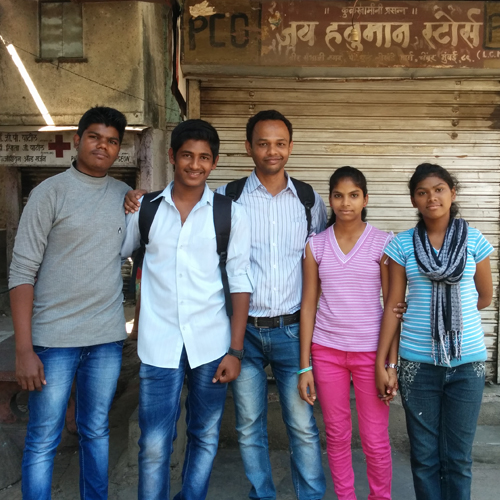 I am a social worker at the Akanksha Foundation. Over the course of my time here, I have seen how I am truly exactly where I'm meant to be.
After I graduated I was sure of one thing – I must do something to bring about change. Purely by chance, I was exposed to the possibilities in the field of social service, which led me to study for a degree in social work, and finally brought me to Akanksha. Then, there was no looking back. Community work with Akanksha gives me immense gratification. The kind of work I do contributes to the betterment of society, and allows me to build a lifetime of rich, human experience.
Akanksha runs schools in partnership with municipal corporations in Mumbai and Pune. One might wonder why a school required a social worker but Akanksha's unique perception creates the niche for a social worker in its system.
What, then, is my role at Akanksha, and what is the rationale of my work at the grassroots level?
I am, to begin with, the point of contact with the community. I interact with the people every day, share their food and water, understand their struggles and anxieties, their fears and frustrations, hopes and aspirations. I establish a line of communication that allows me to know and understand what they truly want and need. We may have some glorified notions for their future, but we must be careful not to superimpose our dreams onto their lives. Grand though it may seem to us to enable some of the community to rise above and beyond their background, we must bear in mind that sometimes, what they really want is the chance to come back to their humble beginnings and help others like themselves. The most important task of a social worker like me is to gauge the needs of the community and match them to the resources Akanksha can offer.
The joy of the job lies in the care invested by every stakeholder. There is passion for the task, honesty and sincerity in its execution, and dedication to carry it forward. I am not a mere faceless employee in a huge organisation. I am "bhaiya" to the people I work with. This imparts an intimacy that becomes the very raison d'être of my work and a constant motivation to make my presence more meaningful.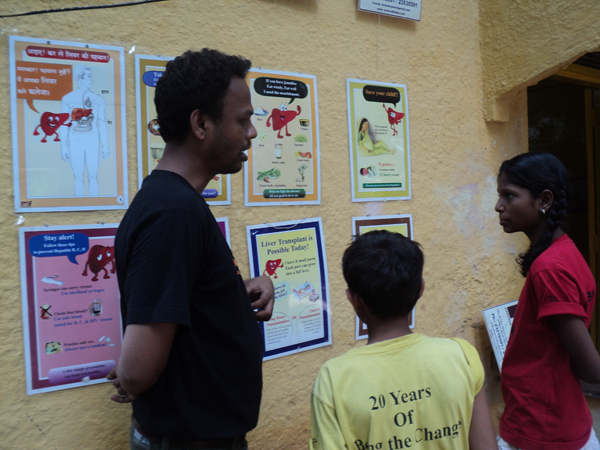 Rakesh Ghone, a social worker with the Akanksha Foundation, interacts with schoolchildren. Image credit: Akanksha Foundation

The greatest satisfaction often comes from the greatest challenges. Sometimes, a student will stay away from school for days on end. As a social worker, I will go to his home, speak to his parents, understand the problem and offer a solution. I will doggedly urge the child to attend school regularly. The interest is personal and the follow-up relentless. Today, Akanksha can boast of an annual student retention rate of 98%.
I shall cite here an example of a particularly difficult situation. While I was working in the D'Mello community, the BMC proposed to demolish the hutments and rehabilitate the inhabitants. It was the month of March and examinations were imminent. Displacement at this time meant children would not appear for exams. And the year's hard work by teachers at Akanksha would have been futile. Somehow, the move had to be stalled until May. But how does one convince a slum dweller to give up the opportunity of more decent habitation for the sake of a school exam? It required all my persuasive and argumentative skills to obtain the consent of every parent. Subsequently, the BMC refused to hand over the keys to the new homes, and the parents were livid. In this atmosphere of seething resentment, I had to return to the community and plead for faith and patience. Only the courage of one's own convictions and the desire to mean well can help in such times. As a social worker, I have developed grit, resilience and infinite empathy.
It is only natural that a donor or philanthropist will look at measurable impact before making a contribution. How many children are fed and educated? How many get gainful employment? How many more schools can the NGO adopt? Yes, numbers are important and Akanksha does have the statistics. Today, Akanksha has an 84% parent engagement and gets four times the number of applications for the available seats.
But, it also has something more – qualitative impact. A case in point is the story of Babloo, who suddenly stopped attending school. We were perplexed. Many visits and much coaxing later, I discovered that Babloo was helping his mother sell fish. He had become her mascot and the daily earnings took precedence over school. It was my task as a social worker to make his mother understand the few extra fish that she could sell were nothing in comparison to the education Babloo was missing out on.
At Akanksha, we care deeply, and go all the way to guide and direct our children and their families. This is not always quantifiable but it does enhance the numbers eventually, and it does matter, immeasurably.
– As told to Shruti Mehta
Rakesh Ghone is a social worker at Akanksha Foundation. Shruti Mehta is executive assistant to the CEO at Akanksha.
The Akanksha Foundation runs 15 municipal schools in Mumbai and Pune in partnership with the BMC and the PMC respectively. Follow them on twitter at @Akanksha_India.