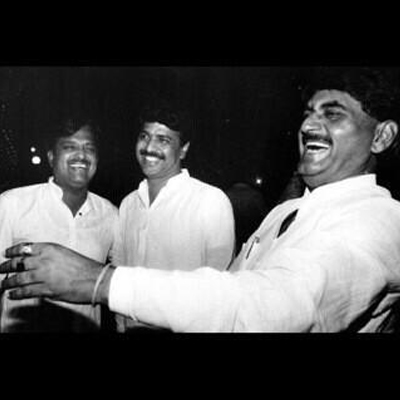 Thousands had gathered at In Maharashtra's Beed district on Tuesday to celebrate the victory of one of the most popular sons of its soil, Gopinath Munde. But such was fate that his rally was turned into a funeral.
During his career, Gopinath Munde changed the face of Maharashtra politics and, to a certain extent, the BJP as well. Before the 1980s, Maharashtra's politics was dominated by Marathas. The likes of Yashvantrao Chavan, Sharad Pawar and others played a pivotal role. But Munde, hailing from Parli village in Marathwada, along with his close friend and relative, Pramod Mahajan, who was also from the same village, targeted that dominance.
To carry out the mission of targeting the Maratha domination, imperative changes had to be made within the BJP as the party had the stamp of being upper caste. Vasant Bhagwat, then leader of the Rashtriya Swayamsevak Sangh (RSS) and guru to Munde and Mahajan, realised this. He started assembling leaders from various walks of life, and two of them were Munde and Mahajan. Though they were close to the RSS, both of them were quite different from quintessential Sanghis. They were both in the mould of Atal Bihari Vajpayee, believing in inclusive politics.
Munde hailed from the Vanzari caste, but did not limit himself as the leader of that particular caste. Every other caste gradually started looking at him as their representative. The Namantar Andolan, a 16-year-long Dalit campaign to rename Marathwada University in recognition of BR Ambedkar, brought paranoia for Dalits in Marathwada district because of grave civil strife. The andolan was met with widespread antagonism but Munde and Mahajan backed it.
Munde had a knack of ecumenism. Even in 2014, we could see that with the likes of Raju Shetty, Ramdas Athavle, Mahadev Jankar and Vinayak Mete coming under one roof. The very fact that Munde endorsed inclusiveness transformed him into a mass leader. And among other constructive moves, Munde and Mahajan's decision to tie up with Shivsena in Maharashtra proved to be a masterstroke in bringing them to power in 1995.
Earlier, the Shiv Sena had not made a mark in rural Maharashtra. However, its alliance with the BJP changed the equation. Munde projected himself as a strong opponent of Pawar in the early 90s. He was at the forefront of raising the contentious issue of criminalisation of politics and the alleged nexus between politics and builders. The fact that the issue of Mandal Commission was fresh helped his cause as he hailed from a lower caste. During his tenure as the leader of opposition in 1992-95, he undertook his whirlwind Sangharsh Yatra, where he addressed more than 150 meetings, exposing various frauds of the Congress-led government. The social engineering was churned at the grassroots level. Eventually, the Congress government was capsized in 1995, paving way for a BJP-Sena government.
Meanwhile, Mahajan rose to prominence after he organized the LK Advani-led Rath Yatra and became a major factor in national politics. As the mid-90s approached, Mahajan became the most powerful man in the BJP, a kingmaker. And if Mahajan was Chanakya, Munde was Chandragupta. They complimented each other perfectly. The duo, as Prakash Mahajan said, took the BJP from the dining room to the maidans.
Another hallmark of Munde was that he had friends across parties, a trait he shared with his political rival, close chum, and another man from Marathwada who left a mark on Maharashtra's politics, Vilasrao Deshmukh. Munde and Deshmukh were college-mates as well and both shared an anti-Pawar sentiment. Deshmukh did so, despite being a Maratha.
Deshmukh was indeed a smart, pragmatic, astute leader who helped his cadres but unlike Munde, he was not an agent of social change. It would be an exaggeration to call him a mass leader. He was, more or less, limited to Marathwada. However, Deshmukh carried forward the tradition of augmenting cooperative institutions, which was originally introduced by Shankarrao Chavan. Being the chief minister of Maharashtra, he was the first person to ask for farmer loan waiver in the UPA-I. This was one of the reasons the UPA-II came into being. He had his fair share of controversies as well, with the Adarsh swindle and his resignation post the 26\11 Mumbai attacks.
Just like Deshmukh, Munde too recognised that the strengthening of institutions and factories need to accompany the agitation-based politics. The sugar factory set up by Munde is one of the best in Maharashtra. There were talks of Munde being pitched as the chief minister of Maharashtra in the upcoming elections. Pundits believed this was his best chance. Alas, destiny had other plans.
Nonetheless, Mahajan, Munde and Deshmukh will go down as three of the key leaders who left a stamp on Maharashtra's politics. All three of them, despite leaving this world relatively young, personified what Rajesh Khanna told Amitabh Bachchan in Anand, 'Babumoshay, zindagi badi honi chahiye, lambi nahi'.