Girls regularly drop out of school due to the lack of functional toilets. What needs to change to get them back to school?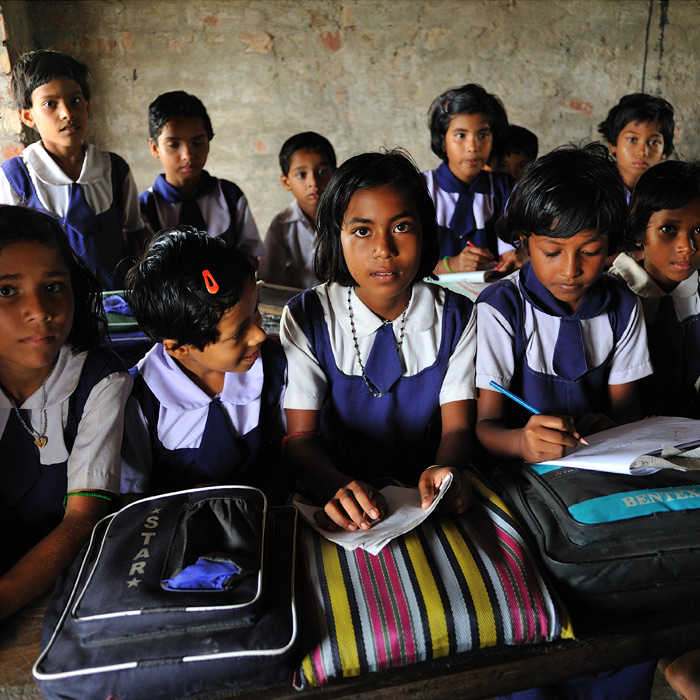 A dusty path in Gopidinne, a village in Madanapalle, in the Chitoor district of Andhra Pradesh, leads to the Gopidinne High school. On a normal day, many 14-year-olds can be seen studying under the almost non-existent shade of trees, earnestly preparing for the approaching SSC (class 10) board exams.
The school boasts of cent-percent results, but a cursory glance at the school toilets leaves a lot to be desired. The toilets do not have a water connection, and so have never been used. Ninth grade children reveal in hushed tones that girl students have to walk over to the other side of the school wall compound and relieve themselves in the open – a practice that has become the norm in most schools here.
The 35 years of experience that Child Rights & You (CRY) has gained working with child rights issues has revealed that the non-existence of toilets and water facilities in schools invariably leads to irregular attendance and dropouts among children, especially girls. Parents hesitate to send their daughters to schools that do not have toilets. Fourteen-year-old Jyothi says holding her bladder for the whole day leaves her with terrible cramps, and hence attending school regularly is an issue.
It has been more than three years since the Right to Education (RTE) Act was passed, where over ₹46,282 crores was reportedly spent on school infrastructure. Yet, recent reports point out that even today, 1.28 lakh government schools across the country don't have toilets – a basic necessity. CRY's Learning Blocks, a 2013 report on RTE implementation, gives an account of how government schools in India fare as far as basic infrastructure and amenities are concerned. The report states that 11% of the government schools in India do not have toilets, 20% do not have safe drinking water, and only 18% have separate toilets for girls. Also, around 49% of schools had common toilets for staff and students.
In 2011, the honourable Supreme Court asked states to ensure basic toilet facilities were provided in all schools within six months, particularly for girl students. In its directive, the court had stated, "Experience and empirical survey have revealed that parents are reluctant to send their children, particularly girls, to schools where basic toilet facilities are not available. The direct consequence is breach of children's fundamental rights guaranteed under Article 21-A. If it is not possible to provide permanent toilets, then at least temporary toilets are provided on or before November 30, 2011 and permanent toilets be made available by December 31, 2011."
Despite the apex court's firm recommendation, it did not yield much except for states and union territories asking for time to implement the same. Time is one precious commodity we can't afford to give anymore, because every day that a child – especially a girl – doesn't go to school, it puts him/her in danger of being forced to work or becoming a victim of child marriage.
A firm commitment by the state is the need of the hour; a commitment that needs to be backed by aggressive and dedicated efforts and a clear plan of action. Every day that goes by, a young girl who aspires to study and do well is forced to stay back at home because we as a society are not empathetic towards her most basic needs. This can and must push each one of us to stand up and demand for her rights.
Kreeanne Rabadi is Regional Director, West, for Child Rights & You (CRY).