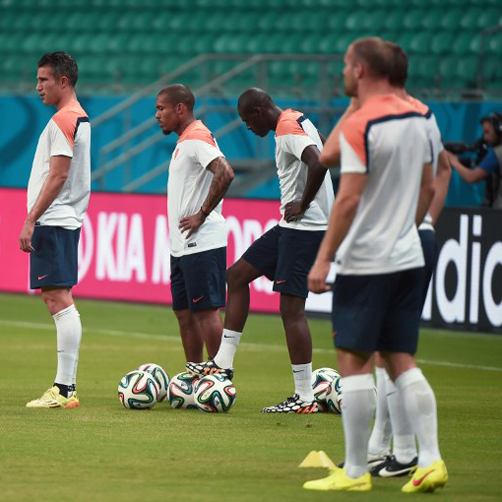 Pls Note: This article was written before the Netherlands-Spain match in which Spain lost by 4 goals
Netherlands vs. Spain (Group B) | Kickoff: June 14, 00 30 IST | Stadium: Fonte Nova, Salvador
The finalists of the last World Cup play each other on the second day of Brazil 2014 in the first Group B match at Fonte Nova, Salvador. Last time, only a goal from Andrés Iniesta separated the two sides after 90 minutes but scorelines can tell such lies. The match four years ago set a record for yellow cards (14) in a World Cup final and was thoroughly dominated by the Spaniards except for occasional flashes of brilliance from the Oranje. Arjen Robben, the most hyped player of the side who played for the famed club Bayern Munich in Europe, failed to fire on all cylinders and World Cup glory evaded the Dutch yet again.
Vincente del Bosque will probably have la Furia Roja stick to the 4-3-3 formation that has worked so well for them in the past. The team reached the World Cup with no losses in the qualifying stages and, it must be remembered, two back-to-back European Cups and the interceding World Cup. However, Spain is an older team; experience is paid for with age and loss of physical form. Commentators have wondered if Iker Casillas' eleven can dazzle as they did four years ago and fans are eager to see their team open against another great footballing nation.
The Netherlands is fully aware that they are playing one of the three tournament favourites. Van Gaal has his three heroes, Robin van Persie, Arjen Robben and Wesley Sneijder up front but his midfield and defence has been plagued by injuries. To stem the Spanish tide, the Dutch will probably play a 3-4-1-2 or 5-3-2 formation, one that worked for Italy against the Rojas in Euro 2012. The Oranje have maintained their very physical style.
The two other teams in Group B are Chile and Australia and therefore both these sides can be fairly comfortable in the expectation to qualify for the second round.
Undoubtedly, the Rojas have been the high priests of the beautiful game for the past six years, but I must throw my support behind the Netherlands. Spain may have the best cuisine in the world, sangria, the women, and the sacred Mare Nostrum, but the Dutch have a liberal marijuana policy, tulips, the real Enlightenment, and are of a civilised height! Quite importantly, the Oranje do not have to atone for chasing Baruch Spinoza out of the country, the Inquisition, taking the wrong side in the Fifth and Sixth Coalitions against Napoleon Bonaparte, or the defeat of Germany in the World Cup 2010 semi-finals and the Euro Cup 2012 finals. This is why they say that football is not about life and death, it is much more important than that.
Wij houden van Oranje! Or if you prefer, Hup Holland Hup!