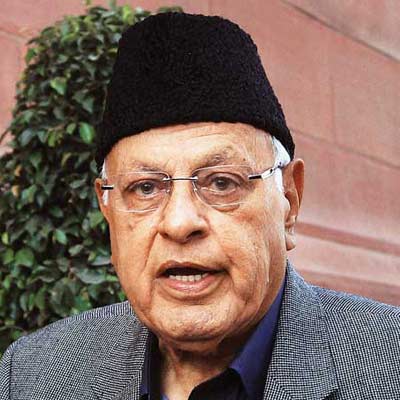 People fall into controversies because of some solid and genuine logic but there are few people in this world who become a controversial figure just like that.
A doctor by qualification but a politician by profession, Farooq Abdullah is still young at heart even at 77. His age was also a point of controversy recently when Aam Aadmi Party in Srinagar
Kashmir filed a complaint with Election Commission blaming that Farooq Abdullah had filled in wrong information. According to various news reports, Farooq Abdullah who will be again contesting the Lok Sabha election from Srinagar constituency, has written his age to be 77 in the nomination papers whereas in the last 2009 elections, he mentioned age in the papers is 67.
Although, the Election Commission cleared his papers but he did manage to capture the attention of media and people for some time.
Farooq Abdullah who got politics as a gift from the legacy of his father Sheikh Abdullah, never ceases to surprise us with his unwanted and not so needed statements ever.
Farooq Abdullah currently the Union Minister of New and Renewable Energy, is also President of the National Conference and Jammu and Kashmir Cricket Association.
He has always been successful in making news from the state party to the national party at the centre. The most recent controversy being the statement given by him about the people of Kashmir. Farooq Abdullah while attending some function had said that 'Kashmiris are Maha chor'.
This remark created quite a spark within different political parties and the people of Kashmir also reacted sharply after which he denied of having said anything like that ever. This matter was even taken up by the opposition in the Assembly calling the remark as shameless.
The minister before that was also in news for his comment on the safety and security of women in India. While responding to some questions from media, he said, "These days the situation is such that one is scared of talking to girls. We feel that a lady should not be hired as a secretary. God forbidding, if there is some complaint we may land in jail".
There was a huge uproar all across the country over this statement with people coming down heavily on him. He of course later said sorry for the same.
When the Congress leader Raj Babbar had claimed that one can have a full meal for Rs.12 in Mumbai, Farooq Abdullah could not lag behind. He was very quick to even go a step lower and claim that even 1 Re. was enough for a day. Mr. Abdullah said on the ongoing debate on poverty, "One can eat for Re.1, if desired.
It depends on the common man how much they can afford and they have to manage in that only". This also triggered a huge controversy and resentment from various corners who blamed Congress and its leaders of mocking the poor of the country. But after it created a furore, the leader issued a statement regretting his comment.
He again raked up controversy in the valley when he said that the liquor shops and cinemas should be opened. While his statement of cinema shops was not given much importance but regarding the liquor shops, he for sure created another news. People were totally against his this statement and proposal given the political nature of the place and religious reasons as well. He was also in news when he was talking about the elections and said that the people of Kashmir should take money from every party but only vote for NC at the end.
Farooq Abdullah can be seen at various functions and platforms where other politicians of his age and position would probably keep themselves away. Farooq Abdullah never shies away from talking to media on any issue whether it is of his concern or not, and he makes a space for him any day he wants.