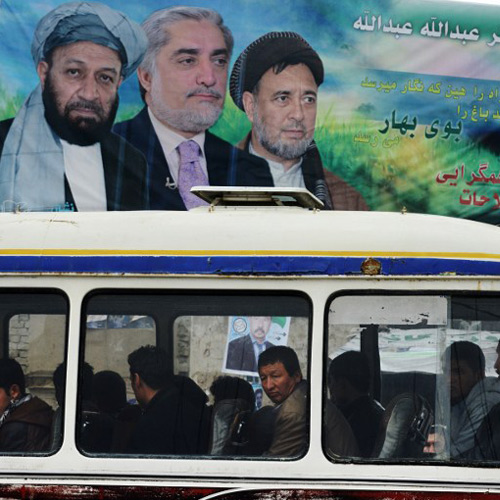 "I have come here to visit the grave of our champion, the hero of Afghanistan," says 25-year-old Haroon, at the half-built mausoleum of Ahmed Shah Masood in Panjsher. Haroon is a Tajik now settled in Kabul, who is unemployed and does not mince words in declaring that he will vote for Abdullah Abdullah, a close aide of Masood, in the April 5 presidential elections.
In the last 12 years' stride with democracy and development, Afghanistan saw tremendous growth, particularly when we consider the dilapidated conditions during the Taliban regime. However, ethnicities still appear to be playing a critical role in the coming elections, although clearly it's not as simple, as each candidate has tried to keep in mind ethnic diversity while choosing respective running mates.
To tap into the Tajik votes, Zalmay Rassoul has fielded Ahmad Zia Massoud, the younger brother of Ahmad Shah Massoud, as his running mate. Zia earlier served as vice president in the first elected administration of President Hamid Karzai. In fact, in the Tajik dominated provinces of Parwan and Panjsher, one finds several posters of them, with Burhanuddin Rabbani and the "Lion of Panjsher", Ahmad Shah Masood.
In fact, in February, 187 Pashtun tribal elders from all over Afghanistan gathered in Kabul to work on forming an alliance between Zalmay Rassoul and Qayum Karzai, the younger brother of Hamid Karzai, on the initiative of the president. Qayum Karzai has since withdrawn his candidature in favour of Rassoul, who also has the support of the president.
However, not every Pashtun seems to support Rassoul, a doctor by profession, as he is not seen as "Pashtun enough". Rassoul had shifted to France, where he studied medicine. "He can't even speak very fluent Pashto," his critics point out, adding that often times he reads his speech.
Ehsan Uddin, 27, is a BBA graduate, but drives a taxi in Kabul for want of a better job. He is a Pashtun and says he will vote for Ashraf Ghani Ahmadzai. Ghani has earned the popularity, particularly among young Pashtuns, for his "intellect and clear vision on policy matters". They are confident he will win the race this time, and deliver in bringing employment for the youth, his prime vote target.
However, many people, particularly the educated class, have their reservations on his choice of his a vice-presidential candidate, the former warlord and Uzbek leader Rashid Dostum, who was notorious for war crimes.
Rahmatulla Muqbel, a 24-year-old BBA student, himself a Pashtun and a first time voter, however, defends Ghani, saying, "One needs to take into consideration the number of votes from the Uzbek population Dostum would bring." He is confident that a smart and intelligent Ghani will not let Dostum bypass him in matters of policies.
By choosing Dostum, Ghani might be certain to win over the Uzbek votes, but he may not get any of the Tajik votes, the second biggest community, as none of his running-mates represents it (the third mate is a Hazara).
Aslam Jawadi, the editor of Ghani's mouthpiece, Tahawul Daily, however, defends the decision, saying the Tajiks would anyway vote for Abdullah Abdullah. "Identity based politics is not good for the country… we need to evolve 'civil politics,' based on civil rights and agenda of development." He too noted that Dostum brings with himself the chunk of Uzbek votes.
Meanwhile, there is one minority community whose votes everyone is aiming for: the Hazaras. They comprise about 9% of the total population (according to the CIA data, though many argue that the exact number may be higher), and have seen oppressions during the Mujahid and Taliban era. Almost all of the presidential candidates have one running mate (of two) who is a Hazara.
Although ethnic divides still remain entrenched 12 years after the Taliban were forced to retreat and a new government under was formed Hamid Karzai, interestingly, the jargon appears to have changed. Except the staunch supporters, no one openly says he/she will vote for someone due to his ethnic allegiance. For instance, almost everyone in Panjsher who has fought alongside Masood and Abdullah Abdullah, whose father was a Pashtun from Kandahar, says they will vote for him as he was a "Mujahid".
Similarly, supporters or critics of Ghani or Rassoul point to their association with the US, the development agenda, etc, and do not directly refer to their ethnicities.
While talking to the press, however, many people turn diplomatic and say they would vote for the candidate who would work to bring prosperity, peace and stability in Afghanistan (and serve Islam), as clearly security is their major concern. However, probe them a little or check the posters at the back of their shops and you can almost be certain about their choice.
Mohammad Reyaz is a Delhi based Journalist, currently in Afghanistan. He tweets at @journalistreyaz.