In this series we profile voters who were affected by the 2002 riots in Gujarat to try and understand what their election issues are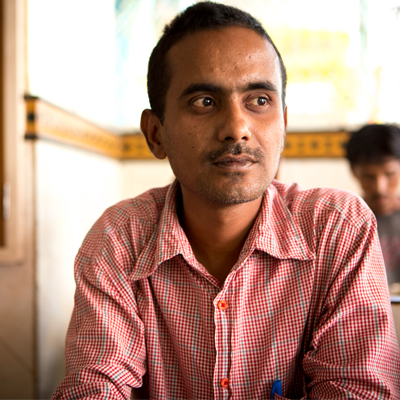 Shafiquddin Shaikh's life turned upside down in 2002 when he was attacked by a mob and had to move to a relief camp with his family. He has since worked with many NGOs and is on the verge of getting a BA degree in Political Science. His social work has brought him close to political parties in the state and he's able to point out key issues with most of them. However, at 30, he is still to vote. This will be his first time.
When mobs assaulted the police vehicle that Shafiquddin Shaikh was in, the policemen did nothing. "They were jeering, spitting on us, throwing stones at us," he remembers. "But no one so much as raised a lathi." It was February 28, 2002. Shaikh, in the vehicle with his parents and sister, was bleeding from being attacked with pipes and stones, but there was no way to get to a hospital. "I finally received medical aid almost a day later, when we reached a relief camp in the middle of the night."
Shaikh, 30, will be voting for the first time. Slightly built, he is wearing a red checked shirt. His hair is cropped short. He has a dark, narrow face with keen, intelligent eyes, fairly sharp features and the shadow of a moustache and beard. "Call me Shafi," he says.
Shafi and I are drinking chai at the New Lucky Restaurant in Ahmedabad's Lal Darwaja area. Around us are tables full of customers. And graves. Over 50 years ago, a tea-seller had set up a stall outside a cemetery here. In time, he took it over and turned the land into a cafe. This isn't uncommon in Ahmedabad. There are quite a few residential quarters and offices that have been built on graveyards. But the owner of New Lucky Restaurant kept the graves intact. He believed they brought him good luck.
This belief that is honored by the current owners, whom the café passed to, as well. The graves are cleaned everyday. Fresh flowers are placed upon them.
"I've wanted to vote before," says Shafi. "But for the last 10 years, I've been working with NGOs and so haven't been in Gujarat during elections. I was in Andhra Pradesh during one, Punjab during the other, elsewhere… "
At the relief camp his family took shelter in, in 2002, Shafi and his sister Shabnam were among the few who could read and write. So the convener would direct social workers and journalists to them for information about the camp, or about the riots that had shaken India to its core, after a train was burnt at Godhra on February 27, 2002. Shafi went on to work with many NGOs and welfare projects (including Bal Muskan, Aman Samuday and Aman Vedika) especially in the areas of children's welfare and minority rights.
After some time at the camp, Shafi relocated to Hyderabad for his 11th and 12th standard studies. "We were broken financially back then and couldn't pay for my education," he says. "There weren't many scholarships in Gujarat, but Hyderabad had good educational institutions offering support."
Also: "The riots left me with a lot of fear. I felt if I went across the river to study (across the Sabarmati, where the schools were) I would face prejudice as a Muslim."
Near Mehendi Kua, Shahpur Gate, where he stayed with his family till 2002, there were "14,000 Hindu houses and 12 Muslim houses". "I actually saw people on the road checking lists to decide which houses to attack," Shafi says. "Neighbours who knew my family for over 40 years, who had shared meals with us, betrayed us."
Hanging on the wall opposite Shafi is a painting of two camels on a journey by Maqbool Fida Husain, one of India's best known artists, who had been forced into self-imposed exile, in his last years, by lawsuits and death threats from right-wing groups for his portrayal of Indian deities (particularly the goddess Saraswati and Bharat Mata— in the nude). Husain had gifted this painting to the cafe.
Shafi hopes to complete a Bachelor's degree in Political Science this year from Meghalaya. He had returned from Hyderabad after two years to take care of his father, who had cancer. Doing so left him "little time for studies" till later.
He won't be voting BJP. "I don't have a problem with any one person in the BJP or the party per say," he says. "I have a problem with the ideology driving it— the fascist, RSS ideology."
During the NDA rule, believes Shafi, the country witnessed the induction of a number of people with RSS backgrounds into public service and positions of authority. Positions that ranged, in Shafi's words, from that of "a peon to a judge". "When (Narendra) Modiji was asked in his interview with ABP News whether a government under him will have the stamp of the RSS, he avoided giving a direct answer, instead saying: 'We work according to the constitution.' But my fear is that, if he has sufficient majority, Modiji will try to change the constitution to suit the RSS."
He adds: "He has worked with the RSS from early years at the grassroots. He will incorporate the RSS ideology in a fine way, baariki se, so that it is entrenched."
However, Shafi isn't a Congress supporter either. Years ago, he had supervised Youth Congress elections in Firozpur, Punjab, as DRO (Deputy Returning Officer), on the behest of some friends in the party, but he isn't a party member.
However, he seems to have many sources in the party. "I agree with Rahulji's (Gandhi) and Soniaji's (Gandhi) policies," he says. "And I believe Manmohan Singh is clean. But the people under them, people like (Rashid) Masood, they're the problem."
Shafi lauds the promotion of newer faces such as Sachin Pilot (Rajasthan Congress Chief) and Manish Doshi (Spokesperson, Gujarat Congress), and he understands that "the process of building a new party will take at least 10 years." But he feels there are some pressing matters the party is ignoring.
When Rahul Gandhi had arrived to address a public meeting at Bardoli on February 8 this year, Shafi had waited for him with a letter in which he had listed these issues, of a more immediate nature which he feels the Gujarat Congress is grappling with. "But he arrived by helicopter," says Shafi. "We were told he would do a padyatra. That's why I'd gone there with this letter. I thought I'd be able to hand it over to him."
What was in the letter? While waiters bustling around, carrying tea and bun-maska, Shafi makes his points succinctly, like someone who has been waiting to speak about these issues for a while.
"I don't endorse (Arvind) Kejriwal, but what he's saying about there being no real opposition in Gujarat is true."
Shafi narrates detailed accounts of alleged deals between key players in the Congress and the BJP in Gujarat. A BJP minister who awards contracts to an INC leader. A Modi confidante who manages the property of a Congressman in Goa. However, he has no proof for any of these claims. He says he has heard them from "Congress insiders who've been with the party for over 30 years". His central thesis is that leaders of the Gujarat Congress are hand-in-glove with those of the Gujarat BJP, with regard to corrupt practices both have profited from. There is rampant mutual backscratching.
Shafi is appalled at Gujarat Congress Chief Arjun Modhwadia saying on TV, when asked why the party fares so poorly in Gujarat, that they are, after all, increasing their assembly seat count by two to four every term. "Congress is a national party," he says, angrily. "How can they not have won a single election in nearly 20 years?" The BJP shows off the UPA's Central schemes as their own, Shafi claims. They spread the message that, "If the Congress comes to power riot cases will be reopened and many Hindus will be sent to jail." Leaders like Togadia say these things, Shafi claims. "Modi is too clever to do so." And the Gujarat Congress does nothing to counter this. "And still Modhwadia and Ahmed Patel give Rahul Gandhi the impression that they're doing the best they can."
Shafi doesn't buy this. He is disappointed because he feels Patel lost Congress the Jamalpur-Khadia Vidhan Sabha constituency (estimated to have an 61% Muslim vote share) by removing the sitting MLA Saberbhai Kabliwala and replacing him with Sameer Khan Pathan. The result was that BJP candidate Bhushan Bhatt won by a margin of just around 6000 votes. He had polled around 48,000. Pathan had won around 42,000 votes and Kabliwala, who stood independently, around 30,000— dividing up the Muslim vote in the constituency. Shafi sees such a blunder by Patel as symptomatic.
His tirade is relentless. He doesn't think Shankarsinh Vaghela, an ex-RSS man and BJP defectee who is currently Leader of Opposition in the Gujarat assembly, should be trusted with so much power. "The party should have known what kind of man Narhari Amin (former Gujarat Deputy CM who defected from Congress to BJP in 2012) was," says Shafi. "He used to call Muslims 'miyan', but no one objected to his derogatory language." Even Madhusudan Mistry, has "not been really effective so far", he thinks.
What does he think of AAP? He admires what he sees as a strong stand by AAP on tainted candidates: "Within just an hour of such candidates being announced on Satyamev Jayate the party denied tickets to two of them, even though the Congress and BJP, who had more tainted candidates, did nothing," Shafi says. But he feels they won't really do well in these elections in Gujarat. "For one, I don't think they have enough funds. But, also, in Gujarat AAP has inducted many Patels. This won't do them much good because most of the Patel electorate will continue to support BJP and this may alienate voters from other communities."
Shafi says that though one should ideally vote for the candidate and not the party, "no matter how good the BJP candidate is I wouldn't vote for him or her, because that would make Modi PM." He'll vote, instead, for the "strongest of the non-BJP candidates".
Who would that be? Shafi draws a blank here. Stranger still, he isn't sure of what his Lok Sabha constituency is. "Vatva is the Vidhan Sabha constituency. I don't know what that falls under."
For someone so politically aware, Shafi is surprisingly clueless about who he actually has to vote for. Most voters I speak to in Ahmedabad tell me Gujaratis vote, 'not locally, but nationally, on national issues'. Shafi is epitomises. "All I remember is that Shankarsinh Vaghela had stood from my constituency two terms ago."
Two terms ago, Vadva would have fallen under Kapadvanj, which Vaghela did stand from, and win, in 2004.
Today, however, it's a part of Ahmedabad East. Paresh Rawal is the BJP candidate. Himmatsinh Patel represents Congress.
"During the riots my family voted from Shahpur, hence the confusion," he says, apologetically. "Also, I'm voting for the first time."
Hopefully. When I speak to him again, today, he is laid up in hospital. "Kidney stones," he says. "But I'm getting better soon. I have to cast that vote."