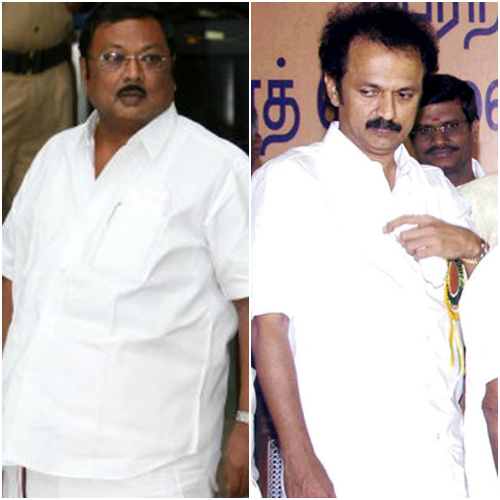 For a party that has always displayed 'unity in adversity', yesterday's final act in the acrimonious family feud that has led to the dismissal of DMK patriarch M Karunanidhi's elder son MK Alagiri, couldn't have come at a worse juncture. With just about three weeks to go before polls in Tamil Nadu, where for the first time in many years, the two principal parties in the state, the DMK and the AIADMK, are fighting on their own without the usual allies, the Madurai strongman's expulsion will dent the rising sun's chances to some extent, especially in seats where there is a close fight, given the six-cornered contest.
An unfazed Alagiri is reported to have termed the action against him as "the DMK's loss". But is this mere bravado or a real cause of concern for the party? The 63-year-old former Union chemicals and fertilizers minister who has been a thorn in his younger brother MK Stalin's flesh for a long time, has lost a good number of his followers in the last few months. Even yesterday, before his expulsion, some of his loyalists deserted what they probably considered a sinking ship and defected to Stalin's camp. None of his supporters were given tickets and the list of candidates picked to contest the elections was largely Stalin's doing.
While it may not be fair for Alagiri's detractors to call him a spent force, the clout of the 'Braveheart', as he is nicknamed, in southern Tamil Nadu, is not what it used to be. There was a time when Alagiri used to singlehandedly manage the DMK's election strategy, even at AIADMK bastions like Andipatti, from where Jayalalithaa once contested. There was the time when he delivered a perfect ten in the 2004 Lok Sabha elections when the DMK-led rainbow coalition swept all the 39 seats in Tamil Nadu. There was a time when he virtually lorded over the south, prompting some political commentators to joke that Karunanidhi could adopt King Solomon's formula and split the mantle of the party into two to accommodate his warring sons!
I remember interviewing him at his home in 2006 during the much hyped Madurai Central by-election. To a pointed question on complaints about the deteriorating law and order situation and his perceived extra-constitutional authority in the temple city then, he posed a counter question: "Who says there is a law and order issue?" I insisted that it was a reason for the Election Commission to order the transfer of officials. Quick came the barb: "Thankfully, they didn't order the transfer of voters too!"
There was the time when he delivered nine out of the 10 southern Tamil Nadu seats in the 2009 polls. There was a time when as chief minister, J Jayalalithaa quipped at her 2011 election rally in Madurai that Stalin needed a "visa" to visit Madurai! However, while political rivals like the MDMK's Vaiko may have sought his support in Virudhnagar and the BJP's H Raja dropped in for a good word in Sivaganga where he is pitted against P Chidamabaram's son Karti, Alagiri is now arguably just a shadow of his earlier self.
Facing the party and his father's wrath is not new for Alagiri. Before the 2001 assembly polls, the DMK high command had ordered its workers not to have any truck with him. Alagiri responded by fielding 10 rebel candidates who ate into the party's vote share. In 2003, Alagiri was arrested in connection with the murder of former DMK highways minister T Kiruttinan, as a fallout of intra-party rivalry. The case was transferred to Chitoor in Andhra Pradesh but Alagiri and the other accused were acquitted. The ruling AIADMK Govt had planned to file an appeal against the acquittal.
Next in 2007, his supporters set fire to the office of Tamil Newspaper Dinakaran, owned by Karunanidhi's grandnephew Kalanidhi Maran, following a controversial survey on succession in the party, which showed that only 2% of the respondents favoured Alagiri stepping into his father's shoes as against 70% backing Stalin. Although three employees of the paper were killed in the blaze, all the accused were acquitted as witnesses turned hostile.
In the last few weeks, Alagiri, his rivals, argue, had been asking for trouble. First, he had openly criticised the DMK's efforts to rope in the DMDK in its alliance – a move that failed as the BJP snapped up Vijaykanth. Then came the comment that his younger brother would die in three months, which upset Karunanidhi a great deal. His visit to New Delhi to meet Prime Minister Manmohan Singh raised eye brows. As did his so called 'courtesy call' on superstar Rajinikanth. A prediction that the DMK would be decimated in this election and not win even "a single seat unless the candidates were changed" – a possible sulk as his acolytes were ignored in the ticket selection – was viewed as defamatory by Anna Arivalayam, the party headquarters. This coupled with his take on a "Modi wave" was the penultimate straw. Considering support to rivals in the election was the proximate cause of his expulsion.
Ever since younger brother Stalin was elevated as deputy chief minister in 2009, and his promotions from Youth Wing president to deputy general secretary, and later as treasurer of the party, Alagiri had consistently scoffed at overtures by his father to hand over the reins to the younger sibling, even going on record to say he would throw his hat in the ring.
Now that he has been shown the door, Alagiri may extend tacit support to the constituents of the BJP coalition in Tamil Nadu to spite his Alma Mater, float a rival outfit or end up in the wilderness for a while. He may decide not to undertake that US trip as he wanted to avoid being around for Karunanidhi's election rally in Madurai next month. What this will mean for Stalin is more significant than the Alagiri effect on the party's immediate poll prospects. The eternal 'prince in-waiting' now has the decks cleared for his eventual elevation as the DMK Grand Old Man's political heir. Stalin has worked hard and earned his spurs. When a Mulayam Singh Yadav could make way for his young son Akhilesh, Stalin's succession, many would say, is long overdue. The 'Thalapathi' will finally be in command.
Sanjay Pinto is a lawyer, columnist, author and former TV journalist. He tweets at @Sanjay_Pinto​.