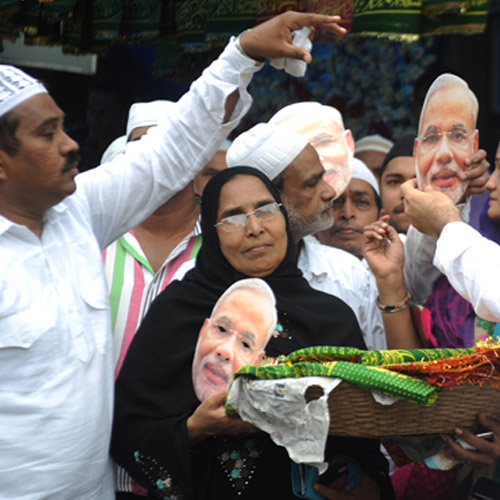 As an Indian Muslim, born and lived in the country my entire life, I am still surprised at the misinformation and nebulous ideas majority of Indians have about Indian Muslims.
First and foremost, one should remember that Indian Muslims are the descendants of those Muslims that volunteered and chose to live in a secular Hindu majority India and did not migrate to the Muslim majority Pakistan. They were politically and ideologically divided among themselves as much then as they are now—a healthy trend for Indian democracy.
I can speak of my own family; my grandfather's siblings chose to migrate to Pakistan but my grandfather who was a firm believer in secularism and in leadership of Nehru, Gandhi and Maulana Azad preferred to live in India. One must also remember that there was a formidable support to Congress among the Muslims of Sindh and NWFP. So one must understand the Indian Muslims never had a common agenda or a unifying ideological, or political factor, even before the creation of Pakistan.
Post partition most of the prominent Muslim intellectuals, primarily the supporters of Muslim league, left for Pakistan. The descendants of the Indian Muslims who chose a secular India have continued to vote for secular Hindu parties. Some may not like the use of the term "secular Hindu party" but let's be honest about it. With the exception of northern Kerala where Muslims have a history of supporting Indian Union Muslim league and MIM Old Hyderabad which is dominated by Owaisi's, in the rest of India, Muslims have primarily voted for secular Indian parties and on the issues that affect the common citizens of this country like Bijli, Sadak, Paani.
Even in the Muslim majority region of Jammu and Kashmir, the mainstream political parties have been secular Muslims.
If there was any alternate agenda that was brought on the Indian political landscape in form of the issue of Ram Mandir again was done by politics from within the majority community. The Ram Mandir issue clearly led to consolidation of certain sections of Hindu votes towards a right wing political party.
Till 1993, the Muslim leadership in India was virtually nonexistent. There was a toothless tiger called Babri Masjid Action Committee which was led by a certain Shahbuddin who had received brick bats from Muslim community for calling for the boycott of January 26, Republic day celebrations. None of the Indian Muslims, apart a few intellectuals and pockets of North India, had any idea, connect of what BMAC or Shahbuddin was or stood for.
As many Hindus rallied behind right wing political party the Indian Muslims did not consolidate to form a Muslim party and rather maintained their faith in secular Indian parties but there was a need for some kind of Muslim face which was hard to find. In fact among the few existing news channels that were present in 92 and it was harder for them to find some kind of Muslim leader to speak on TV channels on Muslim issues and the non Muslim leaders too wanted certain Muslim face and under those prevailing circumstance emerged Shahi Imam who beyond the narrow alleys of Jamma Masjid and Old Delhi had no relevance nor connect to Gujarati, Marathi or Assamese Muslim.
The volatile Ram Mandir movement virtually created a schism in India and the ground was fertile for a Muslim party or emergence of a Bhindrawale or a Ayatollah Khomeini among Indian Muslims yet credit to Indian Muslims who continued to look up to protection of their interest from secular Hindu political parties. There have always been attempts to create Muslim parties in India but they have all failed as Indian Muslim continue to vote and affirm their faith in secular parties.
In spite of having a sizeable number of Muslim population in large number of districts in Uttar Pradesh, Bihar, West Bengal and Assam. Where a pan India Muslim party can easily win at least 40 to 50 seats Muslims have reiterated their supported for secular Indian parties the only new entrant would perhaps be the AUDF of Assam which again is a secular party that does not shy away from giving tickets to Non Muslims.
In previous 15th Loksabha elections the total number of Muslim MP's in Parliament was 30 MP and all the Muslim MP were elected from Muslim majority constituencies and hypothetically speaking If these MP would have been from a Muslim political entity we can imagine the formidable political force this political front could have been in Indian politics yet Indian Muslims continue voting for Congress SP, BSP, JDU, TMC, JD(S), and others and are often taunted by the right wing party of voting for seculars in droves.
I find it extremely surprising when someone accuses Muslims of not voting in the interest of India which primarily is an allusion to vote for right wing. When most of India votes on the basis of caste, language and religion, It's a matter of great pride that till now it's the Indian Muslims who have been consistently voting on the basis of national issues for all the secular political parties in India and have shunned from creating or voting for a Muslim political party and have continued to practice the secular values of our forefathers.
Sameer Khan is a playwright and author and he can be contacted on twitter handle @samkhan999