Ideas like the Non-Aligned Movement and true socialist states, which were revolutionary when they were conceived, are not necessarily relevant today. But they continue to be part of India's foreign policy, according to the Congress' election manifesto.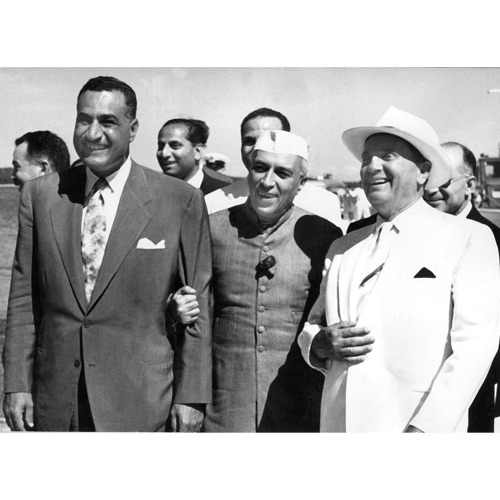 The Congress party today is on the verge of losing everything it has become accustomed to as the centre of power in New Delhi over the past decade. If this was not visible enough by the lacklustre mood and stoic presence of most of its senior leadership, the party's recently released manifesto has its very own bizarre moments.
With signs of oversight, poor consultation with relevant experts and ministries, inadequate attention towards crucial areas such as defence, the manifesto is imbalanced towards the sops on offer rather than development strategies. However, this is not something exclusive to the Congress, as the BJP manifesto is not expected to be exceptionally different.
Foreign policy almost always doesn't find itself in the crux of an election campaign; it is not something the everyday Indian citizen dwells over. Those who do, also in most cases stop their thought process at the India-Pakistan border. Nonetheless, in our increasingly globalised world, a steadfast foreign ministry is a crucial requirement.
The Congress has a rich history of developing India's foreign policy, for better or for worse. India's first Prime Minister Jawaharlal Nehru was very fond of foreign affairs, as is current Prime Minister Manmohan Singh. However, despite Singh's proclivity for foreign affairs, the party's foreign policy aims in the manifesto have shades of language one rarely hears these days, let alone reads in a manifesto.
"We will continue to support the goodwill nurtured for decades amongst the socialist countries," reads the document under its 'foreign policy' sub-head. It is difficult to wrap one's mind around this, to understand what exactly this means. And one can be sure that if this sentence is shown to a Congress member, it will make little to no sense for them as well.
A question that perhaps the Congress needs to ask itself is, do any true socialist countries even exist? Other than perhaps, if one may say so, the likes of North Korea and Cuba, what socialist countries is the party so prominently angling towards?
Some people still suggest Sweden in Scandinavia are good models of a 'socialist political structure' that the likes of India should follow. However, in countries such as Sweden, the private sector is still prominent in most areas except health, education and a few others. In fact, Sweden is home to the world's oldest stock market. In other European countries, socialist parties are fairly active. However, socialist states that adhere to the definition of the term do not exist anywhere. It may be even debated whether they have ever existed in such a form, even during the existence of the erstwhile Soviet Union. Another example is Sweden's neighbour Norway, which is labelled as socialist mostly because the oil wealth of the nation is the state's hands. Otherwise, the private sector enterprises of this relatively small nation have made global impact, both name and profit wise.
In this same manifesto, the Congress also raises a toast to the "cumulative heritage of Non-Aligned Movement," (NAM). The NAM, another foreign policy tool in whose formation in the 1950s the Congress played a pivotal role, still finds itself at the centre of the party's ideals when it comes to external affairs. Recently, during Iranian Foreign Minister Javad Zarif's maiden visit to New Delhi, he praised India's socialist background and hoped the NAM ideal would reign. However, such attempted models in the 21st century, such as the example of Hugo Chavez's Venezuela, provide Indian politics (and others) of the importance of realistic ideological balance.
From a distance, perhaps in private, even Zarif and much of India's political class would appreciate the fact that the idea of the NAM is absolutely irrelevant in 2014. That fact that today the NAM has 120 members highlights their archaic ideologies, by which even its founding members, such as India, floundered by remaining close to the Soviet Union during the Cold War. New Delhi remains close to Moscow to this day, as highlighted by its recent stance on the Ukraine crisis.
Is there anything wrong in taking sides? No. In fact, as a country looking to not just be a regional super-power, but a permanent member of the United Nations Security Council (UNSC), India needs to drop its 'cut-copy-paste' self-righteous policies of the bygone Nehruvian era. Just because what was once conceived with large Indian support at the time seemed revolutionary, doesn't mean it is relevant today. In 2014, both the NAM and looking for non-existing "socialist" countries seem like ideas that should be now removed from political manifestos where the onus lies for a political party to map out the future, not hard-sell the past.
Kabir Taneja, 28, is a Delhi-based journalist and scholar at The Takshashila Institution. He tweets at @KabirTaneja.