One of the walls in my home has some iconic photographs of Guru Dutt from his films. The magic of light and shadow in these black and white stills bear testimony to a master technician who was known as "Guru Dutt's eye".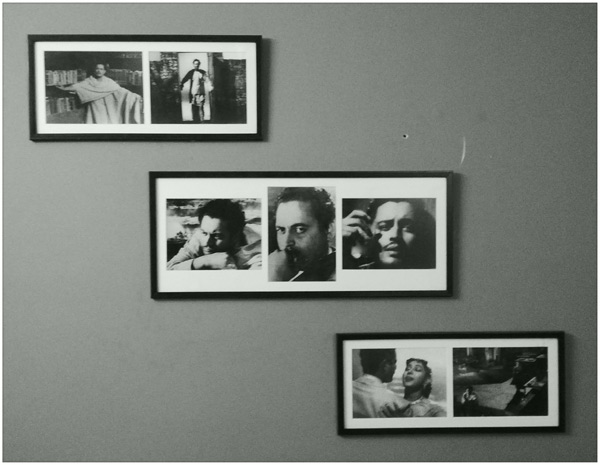 VK Murthy passed away at the age of 90 in Bangalore on Tuesday, April 7, 2014. Tributes followed on Facebook and Twitter with lovers of good cinema paying their tributes to the first cinematographer to receive the Dadasaheb Phalke Award. Surprisingly there were not many from Bollywood remembering the iconic cinematographer, though a few did pay their respects.
Subhash Ghai remembers acting in a film where he was the cinematographer:
V k murthy sir passed away today but he will remain the institution in indian cinematography 4 good.I was blessed to be his actor in umang

— Subhash Ghai (@SubhashGhai1) April 7, 2014
Siddharth, the actor, pays his respects:
One of the greatest men to ever light a movie frame, legendary cinematographer V. K. Murthy sir has left us. RIP great sir.

— Siddharth (@Actor_Siddharth) April 7, 2014
Vijay Venkataraman says it all:
RIP V.K. Murthy. Arguably the greatest cinematographer India has ever seen. If u work in the film industry & don't know who he is, quit now!

— Vijay Venkataramanan (@7th_Samurai) April 7, 2014
Writer and director, Pravesh Bhardwaj remembers him at work in 1992:
A cherished memory is watching V K Murthy light up... He was shooting for Jai Vikranta in Chandivali studio in 1992.

— Pravesh Bhardwaj (@AuteurPravesh) April 7, 2014
Ashoke Pandit salutes the man:
Cinematographer V.K.Murthy is no more. His 'Kagaz Ke Phool' will always remain the best in the world of photography. Salutes. RIP.

— Ashoke Pandit (@ashokepandit) April 7, 2014
Viveck Vaswani remembers the magic:
RIP VK Murthy. Legendary DoP. You did work magic. No video assist. No jibs. No DI. Only your eye and your unerring steady hand.

— ViveckVaswani (@VIVECKVASWANI) April 7, 2014
Election pressures did not stop the I&B Minister from expressing his condolences:
I&B Minister: Shri Murthy's contribution to the celluloid world resulted in classic masterpieces etched in human memory for ever. RIP

— MIB India (@MIB_India) April 7, 2014
On Facebook, scriptwriter and director Charudutt Acharya pays his respects: "Adios Master VK Murthysahab. One of our finest cinematographers. Gurudutt's better half. Thank you for Baazi, Jaal, Aar Paar, Mr.& Mrs. 55. CID, Pyaasa, Saheb Biwi aur Ghulam, Kagaz ke Phool. RIP sir. Total respect."
Without equipment that today's technicians take for granted like video assist and steadicam or technology like DI, VK Murthy created visual magic on screen and some of the most momentous shots of the black and white era of cinema can be attributed to his creative and technical skill. One shot which brought him into the limelight was the classic 'beam of light' shot in Kaagaz Ke Phool. He recalled in an interview, "When Guru Dutt was working on his magnum opus Kaagaz Ke Phool, he asked me to shoot a beam of light falling in a shed. I wondered how to go about it when inspiration struck with the afternoon sun reflecting on a makeup man's mirror. Removing some tiles of the house, I let the sunbeams fall on two large mirrors to create a dazzling effect. Blending the sunlight with artificial light, I created the perfect ambience." This innovative shot turned this memorable song sung by Mohamed Rafi into an all time classic and won Murthy the Filmfare Award for Best Cinematographer.
His mastery of lighting brought to life Rafi's voice, Sahir Ludhianvi's lyrics, and SD Burman's music as Guru Dutt's Vijay expresses his disillusionment with society in "Yeh Duniya Agar Mil Bhi Jaaye Toh Kya Hai…". Pyaasa was selected as one of the all time great 100 movies of the 20th century by Time magazine in 2005, and it cannot be denied that VK Murthy's haunting black and white cinematography contributed to the classic status of the film.
The partnership between VK Murthy and Guru Dutt is brought out briefly in the memoir Ten Years with Guru Dutt – Abrar Alvi's Journey, by Sathya Saran. "Abrar mentions how Guru Dutt felt constantly driven to reproduce the feel and finish of Hollywood films. Together with his cameraman Murthy he would sit for hours working out the lighting and thinking up new techniques. He was fascinated by the matte technique that he had experimented with in Baaz to create a sense of ships being tossed round in a stormy sea. The result was far from satisfactory, and only a fleeting segment was kept to inform the viewer of the progression of the tale. Now, with Kaagaz Ke Phool ready to roll, Murthy was sent abroad to work and learn more about the matte technique from J Lee Thomson, who later directed The Guns of Navarone."
In an interview with Patcy N in 2004, VK Murthy remembers his first meeting with Guru Dutt. "I first met Guru Dutt while working for Famous Studios as an assistant cameraman. Dev Anand's Navketan had hired the studio to make Baazi. It all began when I suggested a difficult shot, which Guru Dutt said his cameraman would not be able to execute. I requested him to ask for his cameraman's permission for me to attempt the shot. Guru Dutt allowed two, three takes, but I managed the shot in the first take. After the day's pack-up, he asked me if we could work together from his next film."
This lead to his first independent assignment Jaal, which developed into a successful collaboration over many films including India's first cinemascope film Kaagaz Ke Phool (1959), Aar Paar (1954), Pyaasa (1957), Baazi (1951), CID (1956), Chaudhvin Ka Chand (1960) and Sahib Bibi Aur Ghulam (1962).
But as Abrar Alvi's memoir suggests, the relationship was not without its share of clashes. "He (Guru Dutt) told me two things. One was to shoot with the third eye that I possessed as the man who had written and recorded the entire film. And the second was to ignore Murthy's laments. He said, 'Murthy ki bilkul nahin sunna, bahut kun-kun karega, but direct him properly and he delivers the goods.'"
Murthy had this to say in the interview with Patcy N, "We quarrelled a couple of times because of the time I took to set up the lighting. We had a big argument during the making of Aar Paar. Later, he explained how he was under pressure to deliver quickly, and that we needed to cooperate and work faster. He was a reasonable man, and from then on, we worked harmoniously."
Murthy's journey began in 1923 in Mysore. Losing his mother at an early age, the love and support of his family saw him completing his schooling followed by a diploma in cinematography at the SJ Polytechnic in Bangalore. In an interview he said, "But as the institute had no camera, I subsequently underwent practical training in a Bombay film studio." He played the violin, composed music and acted in plays while working as an apprentice in Bombay. He worked with noted cinematographers of the time like Dronacharya and Fali Mistry before his meeting with Guru Dutt.
Murthy believed that a good director needed to have good knowledge of the camera. After Guru Dutt's untimely death, Murthy worked with Kamal Amrohi in Pakeezah (1971) and Razia Sultan (1983). He worked with Pramod Chakravarthy in eleven films from Ziddi in 1964 to Deedar in 1992. He also worked with Govind Nihalani on the TV series Tamas (1987), and with Shyam Benegal on the Bharat Ek Khoj series (1988). He worked on Hoovu Hannu, a classic of Kannada cinema, directed by Rajendra Singh Babu, and also acted in it.
Besides the Dadasaheb Phalke Lifetime Achivement Award, he was awarded the IIFA Lifetime Achievement Award in Amsterdam in 2005, the Kodak Award for Technical Excellence in Indian cinema at the 4th MAMI film festival in 2001, and a Lifetime Achievement Award from the South Indian Cinematographers Association (SICA).
After Abrar Alvi's death in 2009, it is now the turn of another of Guru Dutt's partner and collaborator. As the lines of the song go in Kaagaz Ke Phool, "Bichhde Sabhi Baari Baari..."
Kailashnath Koppikar is a producer known for his work on Raincoat, Shesha Drushti, and Chalo America.