Child labour is not a labour of love. How does one go about addressing it?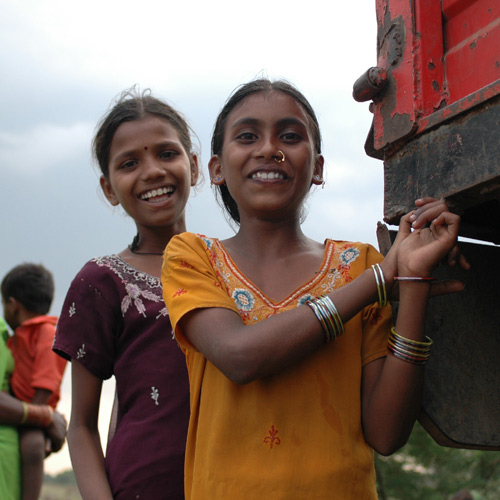 It is 5.00 am. Three rundown trucks trudge down the lonely stretch of road in Nillakotai village in Tamil Nadu's Dindigul district. It is an eerie scene. The trucks carry children aged five years onwards, who wear gear that holds torches in place around their heads. These children will be engaged in plucking flowers from dawn until dusk.
Recreate the scene in your mind, if you will, of children being trooped out on cold mornings with just a headlight for company and sacks tied behind their backs to work all day.
Child labour in India is an accepted endemic reality.
Officially and legally speaking, anyone employing a child below 14 years of age attracts a maximum jail term of three years of a fine of up to Rs 50,000. But the fact of the matter is, not many understand that such laws remain only on paper, and are very weakly enforced. So far, government statistics point to around 17 million child labourers in India. Unofficially, the number is believed to be closer to the 100 million mark.
Typically, industries like carpet-making, gemstone polishing, silk, fireworks, etc., are guilty of patronising child labour because of their deft fingers and the fact that children are non-unionised, hence becoming instant victims to bullying. And let's not forget the millions of children who are forced to work in hotels, garages and households – the child labour we see every day. These children have no access to education; respect and dignity thus become victims of lost childhood.
Rescuing child labourers is never easy. Rehabilitating rescued children is even more cumbersome. There is a serious requirement for different systems in place to bridge courses for such rescued children in order to make up for their lost schooling, wherein their parents can be assured of decent employment and housing as an outcome of their education.
In February 2013, the union cabinet had given a nod to amending the existing law against child labour, in which all forms of child labour under the age of 14 years will be banned, any employment of children aged 14-18 years in hazardous work will be illegal, and child labour will become a cognisable offense. As of now, the amendment is back with the labour department owing to the parliamentary standing committee's request to review and relook the number of provisions in it.
But even if the amendment is approved and becomes law, one wonders, will the issue of child labour really end with it?
It is apparent that such a law will help, but to oust a deep-rooted social evil requires much more than that. A good law needs to be backed by an effective implementing authority, appropriate measures to eliminate major causes of the issue, and a drive towards changing the peoples' mindsets so that all factors promoting/aiding child labour can be reduced and removed.
As child labour is essentially born out of a maze of issues connected with poverty, one approach is to push for children's right to education, where engagement with communities and schools can ensure regularity and retention in schools, because 'if a child is not in school and not at play, then he/she is engaged in labour somewhere' –a pull factor that we at CRY have deduced.
Elimination of child labour necessitates an inclusive approach where the poverty that spawns and perpetuates this heinous practice needs to be tackled effectively.
Atin Das is Regional Director, Child Rights and You (CRY).