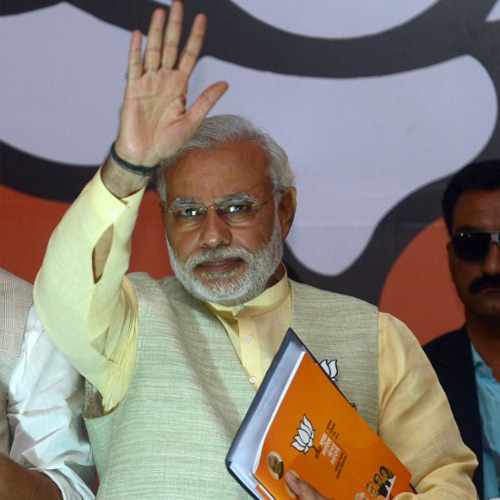 Finally, the Bharatiya Janata Party (BJP) has released its manifesto for the 2014 Lok Sabha elections. When one reads it (with an open mind), one realises why it took so long for BJP prime ministerial candidate Narendra Modi to approve it. Regardless of what the Indian National Congress or other so-called secular parties allege, the fact remains that the BJP Manifesto 2014 is a document that reflects the further shift within the BJP away from its core Hindutva ideology. The talk about the 'Thatcherisation' of BJP has been there for some time now, and the 42-page manifesto clearly reflects the growing mood within the party to move beyond identity politics and take up good governance as the core mantra.
The question however is – is this a shift for real, or it is just a tactical move to come to power? Yes and no. Clearly there are two factors which seem to have influenced the framing of the BJP Manifesto: 1) Ten years of the UPA government and a strong anti-incumbency, 2) The huge number of first-time and young voters. Let me explain how identity politics have found its way out due to these two factors.
First, we must look at the second factor. Between 18- to 33-year-olds, i.e., first time, second time and third time voters, we have nearly 40% of Indian electorates. This writer, 30 years old, was in class two when Babri Masjid was demolished, and class 12 when the Gujarat riots took place. While faint memories of 2002 are still there in my memory, I have no recollection of 1992. And imagine the generations who came after me, for whom 2002 and 1992 are only incidents mentioned in Wikipedia and racked up by politicians of their grandparents' age.
But having said that, this generation is certainly not into identity politics, or at least some of them pretend to be more concerned about development and governance. And it is this corps of electorate that Narendra Modi very smartly tapped into. What helped him further was the mismanagement of the Manmohan Singh-government and a completely leadership-less Indian National Congress. It is a clearly a tactical move on part of Modi, who in the eyes of an entire generation has moved beyond the riots of 2002. BJP insiders say even as a person he has evolved in the last 12 years. Even those within the party who are critical of his 'dictatorial' way of governance, say the Modi of 2002 and the Modi of 2014 are entirely different.
Having said all this, let's not discount the importance of the 'Hindutva' agenda. Yes, on the face of it all Modi supporters will tell you that they love him because his focus on development, but scratch a little more and they will open up. "He taught 'them' a lesson" is the usual thing one hears. Hope you remember Amit Shah's recent statement in Muzaffarnagar. Immediately after the manifesto was released, I had a long chat with a party ideologue who tried to explain what makes Modi such an attractive leader even though Shivraj Singh Chouhan and Raman Singh are equally competent chief ministers. "Let's be honest. The only thing Chouhan and Singh do not have is 2002. And perhaps a good marketing team," he said.
Kunal Majumder is Associate Editor (Digital) at Zee Media Corporation. He tweets @kunalmajumder.