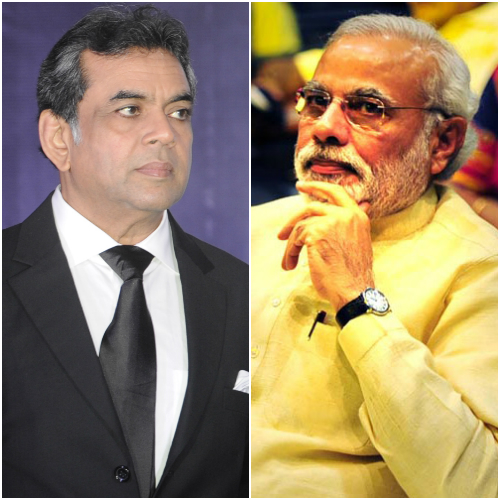 As we cross the half-way mark of the marathon Indian elections, it seems as if the fatigue of this lengthy process mixed with the searing heat of the infamous summers has started to affect both the political and public discourse. And some of this public discourse seems to be suffering from a heat-stroke.
The BJP's candidate from Ahmedabad East, the celebrated Bollywood actor Paresh Rawal, is the latest to offer uncooked political musings. The problem here is not so much what Rawal said, but the absolute naivety of him animating his stance perhaps also explains why Adolf Hitler's Mein Kampf is often seen on the 'Top 10' shelves of Indian bookstores. The idea of a 'dictator' has some sort of mystique amongst many of our countrymen. Why? Well, it's anyone's guess, although one may find very little logic behind most of the offered reasoning.
To quote Rawal: "Main toh bolta hoon ki benevolent dictator chahiye. (I say we need a benevolent dictator) That's the best combo. We need a benevolent dictator, one who is well-meaning, thinks about people, their welfare, one who understands."
It is certainly clear that Rawal has absolutely no clue about dictators, dictatorship, history, politics or any of the traits one would expect from even a semi-decent Member of Parliament hopeful. You don't need to go far into the depths historical readings to find that dictatorship, usually accompanied by despotism, never leads to long-term desirable results. Not to mention the task of finding a "well-meaning" dictator has its own comedic value.
But Rawal does not stop there. He adds that when Sanjay Gandhi brought in the Emergency in the 1970s, people were apparently relieved because putting a stop to democracy meant trains were running on time and bureaucratic processes had gained sudden efficiency in the ardent task of moving files between clerk to clerk.
The search for an "ideal dictatorship" is not new; former US President Harry S Truman once said that when you have an efficient government, you have a dictatorship. However, the search for an absolute ideal political system is akin to looking for a unicorn. There is no such thing as a perfect political system, and there never will be. The debate between capitalistic and socialistic methods of governance is one that will (unfortunately) never see the end of the day. However, how many legitimate socialistic-democracies can you find today, and how many despotic one-man regimes?
What Rawal suggested is again not a new thought in India's public discourse. "We need a dictator" is heard more than often in the public sphere from malls to offices to gyms. People have this strange expectation of finding a dictator who is likeable, will give them all what is required of a democracy (without being in one), such as a free press, and after he or she has settled all the long-running grievances of the system, walk away into the sunset, never to be heard off again.
This sort of want perhaps stems from looking at China, a one government system which has arguably done well for itself. The shiny skyscrapers of Shanghai, the huge infrastructure projects along with celebrated GDP growth give the allure of a well-oiled machine. Nonetheless, information on China's deeply engraved social issues, massively under-reported corruption, secret executions in the hundreds every year and lack of institutions such as a free press raises questions over it credibility as a successful state. However, the grandeur of materialistic might is enough to paint a very different story for the majority.
To put it further in perspective, other than China, how many dictatorial regimes around the world have survived? In fact, why not just look within the South Asian neighbourhood? We berate Pakistan on becoming a puppet state for its army chief, but don't many Indians still look for a similar one-person situation for India?
This fairy-tale obsession with dictatorship is not just petulant, but decidedly misinformed and ill-read. Democracies such as India, which has no shortage of challenges, take decades to evolve. It involves building institutions, setting up regulations, and long-term commitments to constitutional processes.
Would you rather be in a position where you can read this article freely or where it's junked by state machinery?
Kabir Taneja, 28, is a Delhi-based journalist. He tweets at @KabirTaneja.