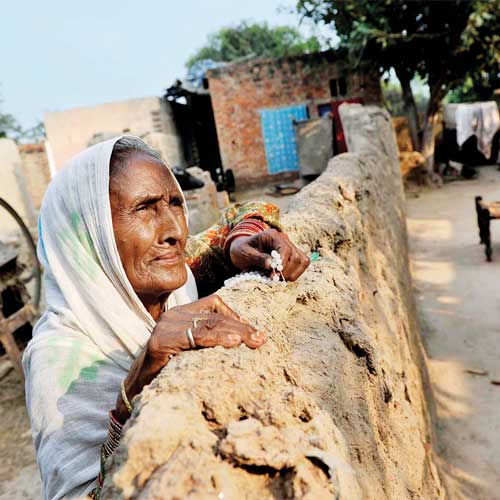 Two girls were gang-raped and hanged from a tree. Their gruesome pictures are being circulated on social media and people are again thinking of the curse that being born a woman in this country is.
But it has been so in Uttar Pradesh for a long time. With politicians like Mulayam Singh of the ruling Samajwadi Party stating nonchalantly that death penalty is too harsh for the poor little rapist boys, it is a surprise that there were no celebratory rapes the very next day. When the incumbent government had dislodged the Bahujan Samaj Party after getting majority in the Assembly elections in 2012, the enthusiasts declared at chowks and addas, "Ab toh soongh soongh kar maarenge" (Now we will sniff them out and hit) a reference to legendary body odour of the dalits. The twin gang-rape and murder at Bhagana brings every possible social discourse to its knees.
No other state seems to have treated its women as brutally as Uttar Pradesh routinely does. And I make this statement as a woman and a UP-walli at that with data from NCRB (which only accounts for reported crime) to back it up. While UP comes after Andhra Pradesh and West Bengal, let us not forget that that these two states are badly riddled with Naxalism which gives another turn to the discussion. When I conjure a magic realist imagery of my growing up in UP, I see the state as a menacing man who holds a woman's hair in one hand and pushes her inside a crevice on the monsoon wet ground. Much like a grotesque parody of Shri Ramchandra during Sita maiya's Samadhi. Yes, this is an exaggeration albeit one that is rooted in years of getting pinched, groped and seeing wives, sisters and mothers being kicked in belly (or sometimes fired at) for too much talk, too less salt, too little dowry, too large an appetite, getting married, not begetting sons, worshipping a different god, and countless similar crimes.
The names of Sucheta Kriplani, Sarojini Naidu and Isha Basant Joshi—the first Indian women to become chief minister, governor and IAS officer respectively—are proudly etched in the annals of UP's history.
Did UP really deserve such an honour? Going by the rising rate of crime against women in the state, it appears that women achievers are to it, what the 'trophy wives' are to their chauvinist husbands. These women are both a matter of pride as well as a serious threat to the masculinist monopoly and thus need to be shown their place every now and then. It serves many vested interests that women forget to assert themselves even when they become 'powerful.' And therefore we have a slew of women who act as their menfolk's proxies: both in panchayats and at home.
It may be argued that other states like Bihar, Jharkhand and Chhattisgarh or even Punjab and Haryana fare equally bad on the gendered violence scale. My limited point, however, is that nowhere in the country is the contrast as prominent as in UP. By virtue of its geopolitical positioning, UP has the habit of being on national agenda and grabbing substantial media attention. We UP-wallahs boast of being king-makers because, obviously, the politics of India seems to be nucleated in UP. For example, in the recently concluded general elections psephologists were looking keenly at UP to make predictions about the new government. With such 'power' has come zilch responsibility.
Whether it is the 'alleged' mass rape of women demanding the creation of Uttarakhand, raped women of Muzaffarnagar or the molested women during the Babri demolition, each time it is the women who paid a price for lofty political actions. Statistically speaking, each heart-warming success story from Uttar Pradesh is outweighed many times by the stories of atrocities. In a schizophrenic way, literacy among women is rising along with the degree of violence that they are now facing.
This state does not seem to deserve its women. Outlandish though it is, a feminist commune that Simone de Beauvoir proposed in France a few decades ago is what women need here. As I mull over the idea of a commune, it becomes clear to me that it may not be all that outlandish after all. The skewed sex ratio in the state is already working towards a woman-less society. Lesser women are seen in public in small towns of UP once it gets dark. In my tehsil, we used to have four cultural clubs which have vanished within a matter of less than two decades since no girl or a grown up woman wants to give a performance in front of a rowdy crowd which has no fear of law.
Rarely do people frequent libraries now. Women fear molestation, men have better things to 'read' out on streets. Once a seat of oriental culture, the degeneration of UP is now almost complete.
It is not merely a coincidence that the most vociferous opposition to the Women's Reservation Bill came from the parliamentarians of UP. The threat posed by women who "cut their hair short" or "get whistled at" is bigger than anything else and certain lessons must be taught. Yes we learn it, dear 'Uttam' Pradesh, we must abandon you sooner than later.
Nishtha Gautam is an Associate Fellow at the Observer Research Foundation, where she focuses on gender issues. She also teaches English Literature in a Delhi University college. A committed equal rights activist, she expresses her concerns through articles, stories and poetry on her blog compulsivescribbles.blogspot.in. She can be reached at nishtha@orfonline.org and tweets at @tedhilakeer.