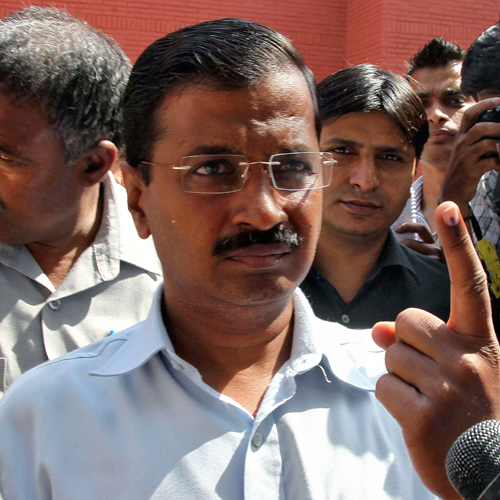 Mahatma Gandhi, during his odyssey in South Africa, led the movement for equal rights for South Asian workers. The movement was met with strong resistance from South African officials, of whom Jan Smuts was one of Gandhi's main adversaries. When Smuts sent Gandhi to jail, Gandhi prepared a pair of sandals and gifted them to Smuts when he was set free.
Arvind Kejriwal has often said he is influenced by Gandhi, and he did something similar when he presented a bouquet of flowers to Lali, the auto-rickshaw driver who had slapped him. This kind of reaction would not have taken place with any other modern day politician. Kejriwal's brand of politics, which makes him look no different from the common man, sets him apart from the others, and that seems the need of the hour as far as India's gloomy and dire political scenario is concerned.
However, the Aam Aadmi Party (AAP) is expected to get single digit seats in the ongoing general elections, and surprisingly, people have started writing its epitaph. Kashiram once said, "Pehle paanch saal haarne ke liye, dusre paanch saal haraane ke liye, aur teesre paanch saal jeetne ke liye." Apart from not considering the straightforward fact that a one-and-a-half-year-old party needs time to expand and make a mark at the national level, the mistake many pundits have committed is measuring the AAP's success in terms of numbers.
When the Congress suffered a rout in the Delhi Assembly elections, Rahul Gandhi made an interesting statement: that the Congress could learn from the AAP in some areas. Plus, no party put up a candidate with a criminal record in the Delhi Assembly elections. Rajasthan chief minister Vasundhara Raje spoke about a small house and a car without a red beacon after Kejriwal took a stand on the issue. Rahul Gandhi went against his own party and chastised the obnoxious ordinance, but it would be unfair to forget that Kejriwal had threatened to file a PIL against it. Along with other smaller parties, his role should be appreciated as well. In a sense, he has forced his rivals to take some important steps and rethink their strategy, which is a commendable achievement.
Moreover, the litmus test of the AAP will be in the re-elections in Delhi after the general elections. Most Delhi citizens of Delhi were quite pleased with Kejriwal's 49-day sarkaar and it would not be a surprise if he gets an absolute majority and does a fine job. Even if he does not get an absolute majority, he could be an effective opposition to the BJP and work as a watchdog, as the Congress will most likely be third in the race. The performance in Delhi, as an opposition or a leader, might prove to be catalyst in persuading the Indian liberal voter to accept the AAP as a long-term alternative. Of course, Kejriwal will have to be clearer about many of his strategies and policies depending upon the circumstances, but assuming that he will fail to live up to that task would be cynical.
Another encouraging aspect of the AAP is that their representation of women has been robust and the keenness to avoid candidates with criminal records is clearly visible. As of now, it seems like one of the very few political parties, which do not suffer from son's stroke. No relative of its member has been parachuted in politics.
Moreover, the structure of the AAP is federal. On the one hand, it has Meera Sanyal, on the other, there is Medha Patkar. It resembles the Congress during Independence, where there were representatives of every ideology under one umbrella, respecting the constitution.
Having said that, there are predictions of the AAP meeting the same fate as JP Narayan's Janata Party in 1977, and VP Singh in 1989. However, the well-read and cunning politician that Kejriwal is, it would not be too much to expect him to learn from history. Because of his awareness of grassroots reality, he comes across as the most convincing politician at the moment with his ability to give astute answers to the toughest of questions. He takes everything on the chin and is not afraid of facing the media and the people.
Of course, the downside of this easy access is the attacks on him. It has happened four times in successive weeks. We have had so many blighters in the political domain, yet no one has been attacked with such consistency. Hence, any sane mind would think that there is more to it than public anger. However, it shows that his rivals perceive him as a long-term threat.
Therefore, whether we like him or hate him, agree with him or disagree with him, one thing is clear: Arvind Kejriwal is here to stay.