Has Arvind Kejriwal been a victim of politics? Or is his resignation for the Jan Lokpal Bill all part of a well thought out script? Sudhir Chaudhary analyses.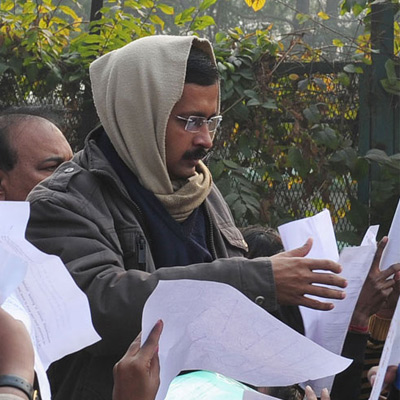 Arvind Kejriwal has resigned as chief minister of Delhi. He and members of the Aam Aadmi Party (AAP) are portraying his resignation as an act of political martyrdom. His supporters claim that Kejriwal didn't have to think twice about quitting the chief minister's post for the Jan Lokpal bill.
But is this really the case? Has Kejriwal been a victim of politics, or has he himself victimized the political culture? Has he really sacrificed anything? Or is his 48 day tenure as chief minister and then his resignation for the Jan Lokpal Bill all part of a script?
Let's look at this situation right from the beginning.
Arvind Kejriwal and the AAP won only 28 out of 70 seats in the Delhi assembly elections, whereas the BJP won 34. The AAP needed a total of 36 seats to form the government. A larger part of Delhi's people saw the AAP as the opposition than as the ruling party, which means that the AAP had no mandate in Delhi. However, after the whole drama of the elections, a referendum was held and the AAP, calling the wish of a limited number the wish of all of Delhi's people, formed the government in Delhi.
Kejriwal did marvellous job in 48 days. He fulfilled some promises rapidly. He announced a reduction in electricity prices by up to 50%. He announced that his government would supply 700 litres of water free everyday to Delhi's residents. A call centre was set up so people could file complaints against corruption. A helpline for nursery admission was constituted. Moreover, Kejriwal and the AAP's activities were always known to the people, either by direct conversations, through press conferences or via pure drama.
But there are some questions Kejriwal must answer after his 48 days as chief minister.
First, why has he been silent on Robert Vadra? He was very vocal about and against Vadra before he became chief minister, and the issue made a good pitch for him to start his political career. The people expected him to take some action against Vadra, but he has done nothing about it so far.
Also, why was he mute on law minister Somnath Bharti's antics? And he made no trouble for the Congress in his 48 days as chief minister. He did bother former chief minister Sheila Dikshit, but Sheila Dikshit had already been marginalized within the Congress.
Kejriwal also needs to answer why, if the AAP has the habit of issuing mandates, why didn't they ask the common man's opinion before he stepped down?
Indeed, the AAP's goal is not the Lokpal, but the Lok Sabha, and at the centre of it was not the common man, but the general election. And keeping this purpose in mind, Kejriwal wrote a script, a well thought out and tight one. This script had all the formulae to become a cult hit. It had the pain of the common man, waves of emotion, a hero defying the law, the crowd, the villains, and the gimmickry of sacrifice.
Arvind Kejriwal has created a brilliant script, and for 48 days he did not once deviate from his character. This was his USP. His scripting was so fine that even Salim-Javed could never have imagined such a masterpiece. Because, right from the beginning till the very end, everything happened according to the script, exactly as Kejriwal wanted it.
Meanwhile, with his offbeat, unconventional thinking, Kejriwal has proved where there's a will, there's a way. He sabotaged the weak political system and campaigned against red beacons & VIP culture. By communicating directly with the people, Kejriwal has shown experienced political parties like the BJP and the Congress that there's no room for traditional politics anymore, and that if a party wants to remain in politics, it can only do so by working for and with the common man.
It is true that we did see Kejriwal turning from a common man into one of the elite, as in the matter of his residence as chief minister, and his security. He was also targeted by the people for not fulfilling his promises. But Kejriwal knew that the Jan Lokpal Bill would be his way out, the climax of his script. And he has ended this storyline at a cliffhanger, which paves the way for an interesting sequel.
So will we now see the sequel to this film on Kejriwal? Or, if his 48 days as chief minister are to be seen as a television soap opera, will we now see Kejriwal, Season 2, coming soon?
Sudhir Chaudhary is Editor, Zee News.