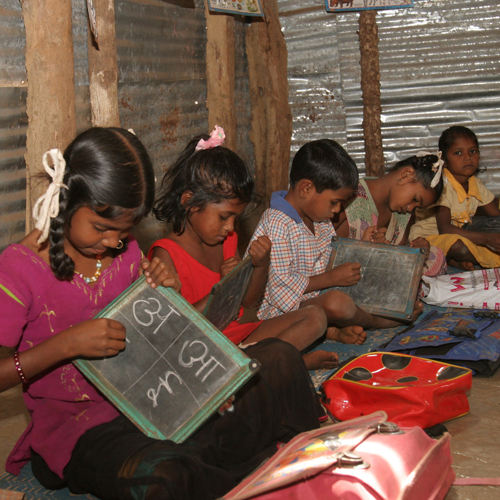 Sordid infrastructure, cramped and unhygienic spaces, inadequate lighting, and young children struggling for space. This is what you are likely to find at most anganwadi centres in India. It is hard to believe this represents one of the most ambitious and widespread projects for children undertaken by the government in the world's largest democracy.
Started in 1975 as a project to improve the nutritional and health status of children below the age of six years, the Integrated Child Development Services (ICDS) has gradually evolved with an objective of aiding holistic development of these children. In his Union Budget 2009-10 speech, soon after the Congress-led UPA-II government took office, Finance Minister Pranab Mukherjee said, "Government is committed to universalisation (our emphasis) of the Integrated Child Development Services scheme in the country. By March 2012, all services under ICDS would be extended, with quality, to every child under the age of six."
The statistics and the situation, however, are quite contradictory to this commitment. Today, there are an estimated 1,053 million anganwadi centres under the ICDS programme in India that provide a diverse set of outreach services to poor families who require immunisation services, healthy food, water and a decent environment for infants. While it sounds a promising concept to enhance early childhood interventions, the implementation is far from what needs to be accomplished. According to the National Family Health Survey (NFHS)-3, though 81.1% of children under the age of six years were covered by anganwadi centres, the actual percentage of children who availed of their services remains at a dismal 29.4%.
Anganwadi centres are not mere crèches; they are formed with the objective of overall development of children. Their aim is to lay the foundation for proper psychological, physical and social development of the child. The focus is to reduce the incidence of mortality, morbidity, malnutrition and school drop-out. The aim is also to achieve effective coordinated policy and implementation amongst various departments to promote child development. Another major role is to enhance the capability of the mother to look after the needs of the child through proper nutrition and health education. It gains even more importance at the village level, where it is the only institution responsible for health and well-being of mothers, children and adolescent girls.
More often than not, anganwadis are in the most deplorable conditions, where infants are kept in a room with inadequate ventilation, light, sanitation and/or hygiene facilities. A seriously overworked and underpaid anganwadi worker (earning Rs 2,100 per month) manages the anganwadi (which is supposed to cover a population of 1,000) while he/she is assisted by a helper and is supposed to receive additional guidance and assistance from the Child Development Project Officer, an Auxiliary Nurse Midwife and an accredited social health activist.
Public policy debates on anganwadis generally veer towards the considerable budgetary allocation that will be required to increase these centres and make them universally available for all eligible children and mothers. But the requirement of such centres cannot be emphasised enough because early childhood intervention is crucial to the well being of the child later in life, as 80% of brain growth happens in the first six years.
Since anganwadi workers are selected and recruited from low income communities, they tend to develop strong bonds with local families and can turn into significant child rights advocates. Very often, they manage to ensure anganwadis can transform into spaces for the local women to meet, exchange information and ask for advice on different issues. Many anganwadi workers help the women to enrol the children into schools, direct them to the local public health centre, and assist them in applying for public benefits.
Not many know a child is most vulnerable in the first six years, when its survival is a constant battle. If they are not properly nurtured, we run the risk of having a wasted generation, since it is an established fact that the foundations of health and the capacity to learn are laid during these crucial years. Research suggests children who do not do well in school are more likely to have been adversely impacted by a low quality of early childhood. Inadequate facilities for growth monitoring and nutritional support provided through these centres have a direct impact on the status of malnutrition amongst India's children. We certainly cannot afford to neglect these centres, especially when every second child in the country is malnourished.
Anganwadis need to be looked at with a different lens. They are the veritable instruments that can help in enhanced and deeper early life intervention. They need to have extensive legal and institutional support. What we witness however is the lack of political will, which reflects in the fact that childhood and maternal care finds scant or superficial mention in the manifestos of most political parties. This dearth of political interest hinders implementation of the programme in its full form. It is thus imperative to make ICDS centres functional as per the norms of the ICDS Mission, which includes infrastructure development, allocation of adequate budget and its proper utilisation, capacity building, monitoring and evaluation. Also, effective coordination between various departments & bodies – WCD, the Health Department, municipal authorities, district administration etc., and convergence of schemes and programmes for better results is essential.
We still have a long way to go before we transform the current anganwadi centres to ones responsible for early childhood care and pre-school education. It is only the steps that we take now that will gradually lead to this becoming a reality.
Soha Moitra is Regional Director, North, for Child Rights and You (CRY).