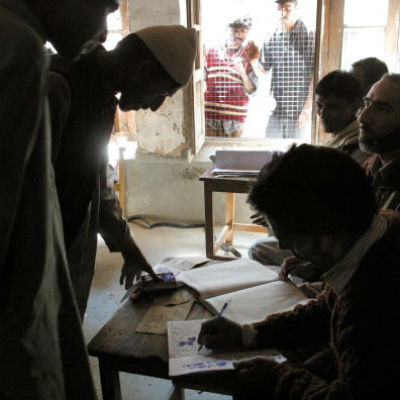 After long delay and criticism, the Bharatiya Janata Party (BJP) finally released its manifesto on Monday that talks of both 'unity and diversity' as well as the uniform civil code.Here is the sneak peak of what the major political parties have promised to the Muslims.
Bhartiya Janata Pary:
It is interesting that the main-opposition party that may come to power if all the 'waves' and 'opinion polls' are to be believed, has termed the part on Muslims as "Minorities - Equal Opportunity." It says that the party "believes that in India's 'Unity in Diversity' lies India's biggest strength," and "cherish the depth and vibrancy that the diversity in Indian society adds to the nation." The BJP, it says, is "committed to the preservation of the rich culture and heritage of India's minority communities; alongside their social and economic empowerment."
It is the same party that in 1998 talked of "One Nation, One People and One Culture." Desperate for power, the party wants to create the façade that does not gel well with its own track record, and recently giving tickets in UP to those accused of inciting communal frenzy and the 'revenge' remark of the party's UP Incharge Amit Shah.
Like all parties, BJP too is talking of education and jobs for Muslims, particularly girls, without "discrimination;" Madrasa modernization programme, encouraging entrepreneurial opportunities, particularly in small-scaled cottage industries, empowering Waqf boards, preservation and promotion of Urdu and facilitate the setting up of a permanent Inter-faith Consultative mechanism to promote harmony and trust, under the auspices of religious leaders.
But the biggest surprise is that it will "ensure a peaceful and secure environment, where there is no place for either the perpetrators or exploiters of fear."
Indian National Congress:
The Congress party claims to "understand our minorities have specific development needs." After all they created a separate Ministry of Minority Affairs in 2004. The UPA government that failed to pass the Prevention of Communal and Targeted Violence Bill for a decade now that they had first promised in 2004 general election, says will "endeavour to pass" it. They too promise to create a corpus to promote entrepreneurship and skill development.
Again after failing to deliver on their long held promise of reservation, the party says that they will "enhance focus on providing reservations for minorities in educational institutes and government jobs."
The UPA I government did one commendable job by setting up a committee to assess the socio-economic conditions of Muslims, under Justice (Retd.) RajinderSachar, but it miserably failed in implementing most of its recommendations and that of the Rangnathan Mishra Committee. They once again ensure that"every single Sachar Committee recommendation is reviewed and implemented."
Although Home Minister Sushil Kumar Shinde wrote to respective state home ministers on Muslim youth arrested on fabricated terror charges, the manifesto is quiet on this.
Aam Aadmi Party:
AAP says that they will "strictly deal" with those practicing politics in the name of religion and have "zero tolerance towards attempt to spread poison towards any religion." They also talk of time-bound investigation and punishment in the events of any riots. Opposing both the "Communal politics of the BJP as well as the vote bank politics of the Congress," AAP promises to "put an end to political tension and riots by ensuring equal rights and security."
They also assure to put an end to harassment of Muslim youth by police and prosecution of officials found guilty of wrongly implicating them. They have also promised judicial reform to ensure that the cases are decided in six months.
AAP also wants to make reservations religion neutral, and based on actual disadvantage. Besides, they have also promised quality education and economic security to Muslims. They also want the management of Waqf properties to be "de-bureaucratized and oriented towards benefit of the community."
Samwajwadi Party:
The manifesto of SP too talks of the Sachar Committee Report to point out the deplorable conditions of Muslims and promises to give 15% reservations if they come to power at the center. SP had made similar promises in the UP Assembly elections, but has so far done little in this regard.
Pointing that the communal polarization is not good for the country, they further speak of brining an "extensive and stern" law to prevent communal violence bill, after opposing the same in last session of the Parliament.
SP is quiet this time on the arbitrary arrest of innocent youth after they failed on their promise to get a single one acquitted.
Rashtriya Janata Dal:
Lalu Prasad Yadav's RJD too has promised reservations for minorities in educational institutions and jobs, particularly for SC/ST. RJD too talks of Sachar Committee Report, and promises to review the cases of those Muslim youth languishing in jail for years on terror charges.
Trinamool Congress:
Giving a "shining example from West Bengal," Mamata Banerjee's TMC promises that a "special thrust will be given for the social and economic empowerment of Minorities."
Muslims have been reduced to mere vote banks by all the political parties who disregard them once the elections are over and seldom appear serious to take up their causes, except easier emotional diatribe in the name of secularism.
M Reyaz, 28, is a Delhi-based journalist. He tweets @journalistreyaz