Nagaland Chief Minister Neiphiu Rio wants to enter Parliament so he can solve the Naga peace process, which has been stuck in limbo.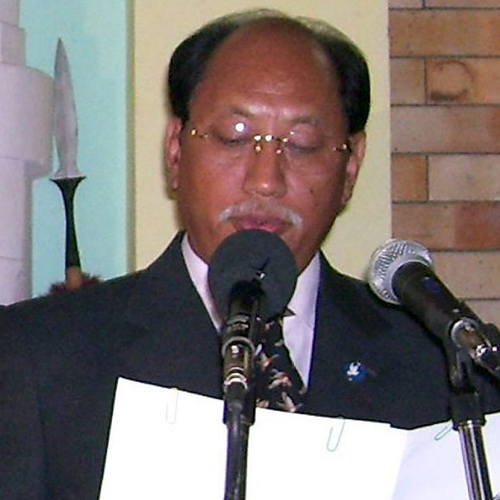 Apart from Gujarat Chief Minister Narendra Modi, Nagaland Chief Minister Neiphiu Rio is the only other chief minister who is running for Parliament. He aims to solve the Naga peace process deadlock by reaching New Delhi.
It was in 2002 that Neiphiu Rio, the then home minister in the cabinet of the Congress government led by SC Jamir, resigned and also left the party, accusing Jamir, the stalwart of Congress politics in Nagaland, of blocking the possibility of a solution to the vexed Naga peace process between the Centre and the National Socialist Council of Nagalim (NSCN-IM).
For a year Rio made his plans. In 2003, he joined the Naga People's Front (NPF). It got together several other smaller parties in Nagaland and formed the Democratic Alliance of Nagaland (DAN), which won the 2003 assembly polls in Nagaland.
Rio has been chief minister of Nagaland ever since, but the solution to the Naga peace process, which began in 1997 and has covered several rounds so far, is still stuck in limbo.
If sources are to be believed, since the BJP is an alliance partner of the DAN, once Rio makes it to the Lok Sabha, it is almost but certain that if the NDA comes to power, the NPF will support it.
To make a strong statement in the Northeast, the BJP will, in all likelihood, induct him in the cabinet. Rio will try to play a pivotal role to break the jinx and bring a negotiated solution to the peace parley, and if he does, he will be the champion of the Naga cause and the NDA will gain politically from it.
Rio contesting the Nagaland elections also has impact on the NPF's protests in the Arunachal Pradesh Assembly elections and the Manipur Lok Sabha polls, where the NPF is contesting in Naga-dominated areas of the state. Rio perhaps feels that the people of Nagaland no longer appreciate the delay in the pace initiative's solution.
The Congress, the main opposition, has fielded KV Pusa against Rio. But is seems Rio does not have a big challenge.
It has been over a decade that Rio has been in the hot seat, yet his main promise of a solution to the Naga peace process remains unfulfilled. Thus to combat anti-incumbency Rio wants to show his voters he can make any sacrifice for the cause of peace, and he can always return as chief minister since in the NPF, there is hardly anyone who can revolt against his wishes.