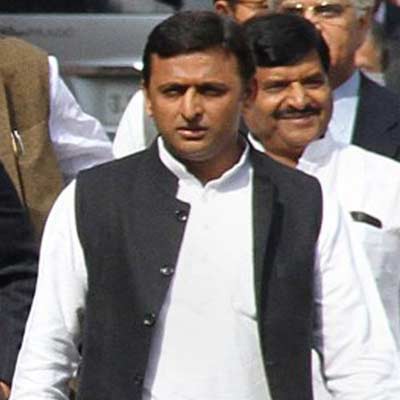 "Politicians, journalists and experts will analyse this election for many days to come. Leaders will continue to argue and disagree with issues and ideologies. A lot will be lost in these debates. But What should never be forgotten is the people's verdict. I respect and accept the people's mandate."
These were the words by young Indian socialist revolutionary leader and UP Chief Minister Akhilesh Yadav after SP's record loss and BJP's victory on massive numbers and almost a white wash in Uttar Pradesh.
Socialist Turk Akhilesh Yadav who was the heart-stealing campaigner in the crowd during the last elections of 2012 and was absolutely exemplary in his very refined campaign somehow failed at all corners this year. He tried all the same things to lead the campaign this year also along with his dialogues with electorates across the state and he continued to be replete with his wit, soft words and wise-cracking one-liners also.
On one hand, when these elections proved to be indecent due to remarks by some senior leaders of different parties he remained soft and replied that vast army of foul-mouthed opponents with some of the finest one-liners. The best one which was most acclaimed was his self made full form for 'MODI' which stands for "Model of Dividing India", But the liners went in vain and the smiling cheerful face of India's one of the youngest CM became serious and clueless.
The pain of defeat is also very easily visible on SP Supremo Mulayam Singh yadav's face, the pain is more than the grief of defeat as Netaji would never had thought that even if the party got massive number of seats in the assembly elections of 2012 they even failed to achieve a double digit mark in the Lok Sabha elections this year.

Two years and the mandate vanished in the fumes of the Modi wave. After Akhilesh sworn as CM of India's most populous and politically dominated state and Mulayam Singh Yadav started eyeing on the prime ministerial seat is now only a topic of history now. He also thought of using the youth figure of Akhilesh so that he could take the party and the state to a new high as the last victory was only due to the planned action politics where Akhilesh spent all his time burning calories at cycle rallies during there opposition tenure in Mayawati's regime of 2007-2012.
Mulayam thought that he will be the sole performer in Uttar Pradesh again and will be able to stop the Modi wave but the results came with nocturnal surprises not only for him but also for the senior and junior cadre of Samajwadi party when they resulted only to 5 seats and among them two were owned by Netaji aka Mulayam Singh Yadav and rest got distributed in the family itself.
The message came loud and clear that none of the senior party leaders had won any of the seats and only the family performed well due to the legacy and austerity. Gone were those days when Mulayam Singh yadav was the Chief Minister and Samajwadi party and his party got 36 seats in Uttar Pradesh which consolidated him as a power cliff in the parliament after 2004 general elections and Mulayam gave birth to his prime ministerial ambitions. In 2009 Congress got double digit seats in Uttar Pradesh specially due to MNREGA and other plans and SP ended up with almost similar numbers like congress and Mulayam postponed his dreams again.
Mulayam had all eyes on 2014 and the way Akhilesh handled the last Vidhan Sabha elections he was again given the opportunity to be the In charge of elections of Lok sabha for similar results by the same performance but the results dismayed everything for everybody in the socialist communes and corridors.
The samajwadi party ended up with 18672916 votes total 3.4 % vote share nationally and with 17988792 votes they got 22.2 % in uttar pradesh in these elections standing second after BJP if compared as per the vote share, the BJP had around 42% vote share in Uttar Pradesh.
The political grief of "Netaji" is not only the failure of Akhilesh led election campaign, but he is also said to be aware of the real causes behind the close numbered defeat of some senior party leaders at various constituencies with very close margins.
Out of 80 seats of Uttar Pradesh SP left two seats of Amethi and Rae Bareily vacant for Rahul and Sonia and fought on rest 78 seats and got 5 seats only.
These five seats are also pot burners because two of them arrived due to Mulayam's magic and out of that Azamgarh and Kannuaj were again close battles. Whereas the party stood second in 31 constituencies out of which a dozen were close calls of defeat. Similarly the party stood 3rd in 30 constituencies and 4th in 11 constituencies and even 5th at one constituency of Varanasi.
After this defeat when Mulayam Singh Yadav held the meeting about the aftermaths of elections and the expulsion drive of ministers happened, before all this there was a set of events where he witnessed allegations by contestants on some of the ministers and senior portfolio bearers about non co-operation in the elections and even helping rivals at various locations. Akhilesh kept mum when Mulayam confirmed that he knew, who did what and gave signs of serious actions for those last moment problem-makers which later on resulted in some massive changes in the party caucus as well as the ministerial profiles.
He even demanded the reasons of defeat from the contestants in writings , while some close loosers like Shafiq Ur Rahman Bark from Sambhal also openly alleged that he lost due to non-cooperation of a minister of Akhilesh's cabinet while in answer to this Mulayam replied that he knew that the concerned minister did supported a rival party in the same time span.
The only sigh of relief came in the meeting of SP camp when Mulayam lastly boosted up the morale of the party members by saying that "haar jeet to raajneeti ka hissa hai, jayiye logo ke beech dobara aur aane waale chunaav jeetne ka jatan kijiye . " victory and defeat are two parts of politics, go again among the mass and try to win the upcoming elections " The Socialist Supremo also assured that he is not depressed with the defeat and he considers the results as lesson he also claimed that he is aware of the reasons of defeat and he showed signs of complete over haul by using his favourite social engineering techniques again.
When some party leaders discussed about the migration of yadav voters towards BJP, Mulayam's answer was shocking, he openly took the responsibility of the mogration of yadav votes and made it sure that he will have to go back to the community to understand there real demands. "Agar ghar me dikkat hai too usko ghar me rakhiye, samaaj me jo pareshanee hai use hame door karna hoga."
If there are problems at home, keep them to the home, but the difficulties of the society and people should be eradicated. When arch rival BSP also again signs to get back to the dalit path, Mulayam's get back drive for Yadav's was again a reliever for the Yadav clan leaders among the party.
The meeting became more serious when he openly asked Akhilesh about the good state wise performance of different Chief Ministers like Jayalalitha in Tamil Nadu , Mamta Banerjee in west bengal , Naveen patnaik in Odisha and Prakash singh Badal in Punjab and questioned him on how did they manage to maintain the numbers in there respective states as compared with Akhilesh and why SP was not able to set the benchmark.
There was sheer silence in the meeting hall which later resulted in the serious discussions over internal hygiene check drive.
Although Nitish Kumar in Bihar also lost the battle in same fashion as SP and Akhilesh did in Uttar Pradesh and he resigned in order to give a diplomatic answer to both the opposition as well as to people by using the reasons of moral grounds. But Mulayam strictly ruled out any kind of resignation or government dismissal, he rather assured of getting back the structure again with the young team and new plans.
" Isteefa dena koi vikalp nahi hai ,pradesh em hamaree sarkaar hai , janta ab bhee hamare saath hai , janta ka viswas dobara jeet lenge aur acche se sarkaar chalayenge " resignation is not a solution , we have our government in state , the people still are with us , we will win over there confidence again and we will let the government perform in a better way, he added.
But the road ahead for Akhilesh is not easy now, If he really wants to be the champion of the caste-dominated political state of Uttar Pradesh, it will be again better for him that he should not only get rid of the so called closed advisors and he should also give back the command of the state to MSY so that he can work on making assurances for the party to get back to its roots.
Some social scientists of the state still believe that if Mulayam Singh Yadav again becomes the Chief Minister and Akhilesh is again asked to be in the public in order to re-connect then the party may get the old fortune and legacy back in the state.
SP now desperately needs to showcase there ideology that despite they lost but there organisational structure is still better than BSP which is still looking like a one man show conducted by Mayawati.
The distance from the common man resulted in defeat and the mandate gives result after every five years, SP got the result of being distant in just two years which can not so easily be called as a litmus test because it had burned out all such tests into ashes.
Popularly called as Teepu Bhaiya which is also his nick name, Akhilesh still carries a personal image of being clean, clear, educated and understood as well as he is accepted among the masses,his new ideas, innovative vision and soft spoken attitude to deal with the opposition had gained him applauds from the rival camps also.
He still has the grit and zeal to be the young socialist turk and the way he had pioneered a wave of tech-socialism in order to politicise the urban and rural boys and girls with the direct digital connect by his 1.5 million laptop distribution program and the way he deals with the issues are still positive signs.
The SP senior leadership is still pretty confident that Akhilesh has all the capabilities to corner the party with the highest stakes in the plethora of North Indian politics in the upcoming years.
He is said to have the epitome of cultural and social etiquette with his humour-laced high-value sophisticated political discourse which keeps him different when compared with rivals.
So if he regains his quest for victory its is still not so difficult under his dynamic, humble and mesmerizing leadership but looking after BJP's dreams of getting Uttar Pradesh back the road ahead is still crunchy for him and his cycle.
All views expressed are writers own