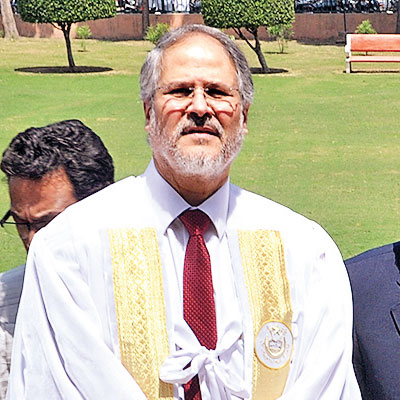 South Block's recent decision to boot out UPA-era Governors has once again brought back focus on the constitutional, political and moral proprietary of an institution which is by and large perceived to be ornamental. But it is not always that Governors remain titular. During episodes of political vacuum, the Governor's office absorbs much of the administrative responsibility of the state. And if such a vacuum slips into extended periods then the administrative capability of the Governor deserves to be put under scrutiny and evaluation.
In case of special states such as Delhi, South Block doesn't need to look beyond seven miles if it wishes to assess the governance track record of Governors before deciding on their continuance in office. Apart from heading the Delhi Police and the all powerful Delhi Development Authority, Delhi's Lt Governor has had the privilege of virtually governing the city state since the Aam Aadmi Party government quit office earlier this year. And by every yardstick Lt Governor Najeeb Jung's performance has been below optimal. His supporters could well argue that as a caretaker administrator, Jung's mandate is primarily to maintain status quo rather in 'governing' in the true sense. But the root cause of Delhi's current problem stems from the fact that even 'status quo' has not been maintained.
The ongoing power crisis at the peak of a heat wave is a clear elucidation of the Lt Governor choosing to look the other way at a time the city was suffering from a serious governance deficit. While Delhi's power distribution has been privatized, its transmission still rests with the state government. And there was nothing which prevented the Jung-lead administration, which took complete control in the beginning of the year, to expand transmission capacity in the view of increased power consumption during the summer months.
Between 2008 and 2013, figures show that Delhi's power consumption during summer witnessed an annualized growth rate of over 10 percent. So logically, the state government should increase transmission capacity at a similar annual rate. While it is evident that both the Congress and the AAP government failed to perform this task, Najeeb Jung had all the resources at his disposal – from February 2014 to be precise – to issue relevant directives to Delhi Transco Ltd, the state's power transmission firm. Had appropriate planning been done – by either Sheila Dikshit, Arvind Kejriwal or Najeeb Jung – then Delhi would have been well equipped to handle the 30 May storm during which a major transmission line was damaged resulting in a complete chaos of the power supply.
It's not just the power crisis which raises serious questions about Najeeb Jung's administrative capability. The ongoing water shortage is another manifestation of poor planning by the city government to prepare for the grueling summer months. Delhi is known to have extreme summer and winter months. Understandably, Najeeb Jung doesn't have the mandate for carrying out long term city planning, but he clearly had the responsibility of taking short term advance measures to address expected challenges in power, water and health for a summer which has a history of being notorious.
At a time when Delhi's 10 million residents were looking for assurances that the government is working to resolve power cuts, water scarcity and rising vegetable prices, as the de facto chief executive of the city, the Lt Governor should have been proactive and effective in his communication. Instead, he chose the old fashion method of restricting his role to being reactive and 'receiving delegations' that came to him with mounting complaints.
Delhi's 2013 Assembly Election results have shown that expectations of the electorate have surged immensely and an impatient population is out of sync with 'status quo'. In such changed circumstances the role of the Lt Governor should be far more responsive to citizen needs, as even in ordinary times this office wields extraordinary power by controlling the city's police and vast land banks. The latter two are also critical instruments of good governance.
Delhi is unique in ways more than one. It has an active citizenry and its Governor has well-defined constitutional and administrative mandates, unlike Governors of other states who are largely ceremonial except during transient phases. Therefore to appoint a loyalist with not the best credentials has a great likelihood to boomerang, especially in transitory periods.
Najeeb Jung's appointment and prior credentials are both shrouded in controversy. He served as a joint secretary in the petroleum ministry in the early 1990's, when the privatization of the Panna-Mukta oil fields took place and the contracts were given to a consortium. He then quit the civil services and went on to work with one of the private companies part of the same consortium. After relatively short stints with the academia, in 2005 the UPA government appointed him as the Vice Chancellor of Jamia Millia Islamia. During his tenure as Vice Chancellor, Jung faced immense criticism from the University's students and teachers for removing tenured professors, making senior positions contractual in an attempt to curb dissent and granting a minority status to a University famed for its non-denominational character. And just months before last year's Assembly Election, his proximity to the UPA leadership earned him the Lt Governor's office.
Since Najeeb Jung's appointment is derived through his loyalty to a particular dispensation and his actions as Lt Governor has very little accountability, he remains at liberty to hide behind the veil of a "caretaker administration". While loyalty to the incumbent regime should be a pre-requisite, it shouldn't become the only prerogative especially for appointments to executive "governorships". Also, governments need to evolve a performance metric for Governors who have an executive or administrative responsibility. And these metrics could go into the guidelines for appointing or dismissing governors.
As an agent of the Central government, which jointly administers Delhi along with the state government, an effective Lt Governor can have a profound impact on the image of the city and quality of life enjoyed by its citizens. The city has been a witness to some proactive Lt Governors in the past. The success of the 1982 Asian Games remains largely credited to then Lt Governor Jagmohan Malhotra, who was also a Gandhi family loyalist but an efficient administrator. Similarly, Lt Governor Vijay Kapoor, who is perceived to be close to the BJP, did a remarkable job over the implementation of the Delhi Metro Rail project during his six-year tenure between 1998 and 2004.
The experiences over the past few years have demonstrated that Delhi's image is closely tied with the image of the Central government. The new administration cannot afford any disenchantment within the capital's population so early in its tenure. If there is no government in Delhi and Najeeb Jung doesn't perform, it is Narendra Modi who might end up becoming the target of popular discontent. And very soon he would need to decide between a "jung" at his doorstep or the Jung at Raj Niwas.
(The opinions expressed in this article are the author's own, and do not necessarily reflect the views of dna)
Siddharth Mazumdar is a Mumbai-based political analyst