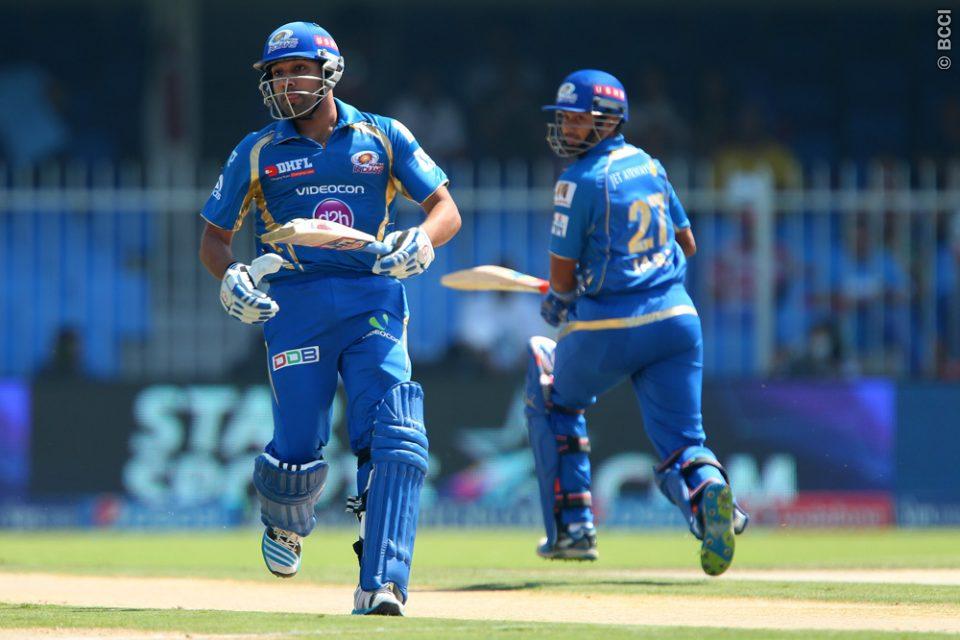 When Mumbai Indians lost their fourth consecutive game in the Indian Premier League 2014, they set an unwanted record. No other defending champion has lost as many opening games in the past. Mumbai Indians, which started with a bang last year, are looking hapless.
T-20 is a fickle format. One bad over can turn the game on its head. However, the worrying aspect of MI's losing streak is that their matches have not even reached a stage where one decisive over would matter. They have gone down far too easily, without a fight.
Most of the blame has to go to the batting. They batted first thrice out of the four games and on every occasion, the batters did not give the bowlers enough to play with. Paltry 115 versus Bangalore, modest 141 against Chennai, which was never going to trouble the robust batting unit of MS Dhoni's team, and again a scant score of 125 when they took on Delhi. When they had to chase against Kolkata, they lost by 41 runs, which is a big margin in a short game. Plus, losing by 41 runs while chasing 163 makes it look even worse.
In a short format, the opening partnership always proves pivotal in deciding the course of the match. Last season, Sachin Tendulkar and Dwayne Smith opened the innings and they complimented each other perfectly. The master used to anchor the innings while Smith went after the bowlers. With Tendulkar retired and Smith bought buy Chennai, MI had to figure out a new opening pair. Did MI err with the batting order? Rohit Sharma has been opening the innings for India for quite some time now.
And doing it successfully. He scored a double ton in an ODI against Australia at the top of the order. It was baffling to see him dropping himself down in the middle order. When there are only 120 balls to make an impact, you have to get your best players in as soon as possible. Rohit Sharma might have realized it and promoted himself up the order in the fourth game but momentum plays an important role in the great game of cricket.
Many pundits feel it is the post-Tendulkar effect but I am not entirely sure. Of course, the mere presence of the great man makes a difference but let us not forget that in the last season, he was out injured toward the end of the season yet they won those games handsomely. The impact of Tendulkar in longer versions was far too great than in T-20.
The middle order too, has failed to impress and more importantly Kieron Pollard's famine of runs is hurting MI the most. The imposing West Indian all-rounder did not have a superlative IPL-V with 220 runs, including two half tons to show, at an average lingering around the 24-mark. However, he was in the thick of things last season as he plundered 420 runs — 200 more than the previous year — at a remarkable average of 42.00 and an overwhelming strike rate of 149.46. While it needs a collective effort to win over two months, one cannot deny that Pollard's form played a key role in deciding Mumbai's fortunes. Coming in the death overs, Pollard either finished off the innings with a boom or chased down a tricky score with ease. This season though, he has struggled and so have MI. Moreover, when Harbhajan Singh walks out to bat at number seven, it can never be an encouraging sign. You know the tail is far too long.
MI made a huge blunder in letting Glenn Maxwell go, who is creating havoc with Punjab. The decision to buy him for a million dollars and not retaining him seemed preposterous. Dinesh Karthik too, was let go.
A few tactical errors have cost MI dearly. In spite of retaining maximum number of players (five), which means that MI had least problems as far as revamping was concerned, the team does not look a settled unit. Tendulkar, Ricky Ponting, Anil Kumble, John Wright, Jonty Rhodes, and Robin Singh are part of the support staff. One might argue that the support staff looks a stronger unit than the playing 11.
As far as bowling is concerned, MI has arguably the best limited overs bowlers in Lasith Malinga and his new ball partner Zaheer Khan is a class act as well. Harbhajan Singh and Pragyan Ojha too, are canny customers. The batting has to step up and deliver. Having lost four on the trot, it will require a special effort from Rohit and his boys to turn the tide. But they are surely more than capable of doing that.